Introduction
Introduction of SHR Laser Hair Removal Equipment
SHR stands for Super Hair Removal, a technology for permanent hair removal which is having a sweeping success. The system combines laser technology and the benefits of the pulsating light method achieving practically painless results. Even hairs which until now have been difficult or even impossible to be removed, can now be treated. "In Motion" represents a breakthrough in permanent hair removal with light technology. The treatment is more pleasant than with the conventional systems and your skin is better protected.
Working Theory of SHR Hair Removal Equipment
Applying the technique of SHR and Bi-polar Radio Frequency, the equipment acts on the entire skin corium and connective tissue, stimulates the collagens of different depth to realign and grow, then gets treatment effect. Bio-polar RF release energy at the same time, with the selective absorption for the skin to light energy, various pathological tissues of corium and epidermis creates Photothermolysis effect. Since light energy is far below conventional IPL, the pigment tissue and vascular pathological tissue of the corium and epidermis would absorb more energy without injuring the epidermis, and then remove these pathological tissues better and get the effect.
Functions of SHR Laser Hair Removal Equipment
1.Remove hair permanently from various areas of the body for all kinds of color hair

2.Remove epidermal pigmentation: speckles, age spot, birthmark, ect

3.Remove red blood vessels: bottlenose, erythema, change bottle nose

4.Skin rejuvenation and whiten skin

5.Acne and scars treatment: papule, blain, ect

6.Shrink and tighten pores

7.Remove wrinkle

8.Breast lift up
Advantages of SHR Laser Hair Removal Equipment
1.Durable sapphire filters with excellent cooling result.

2.Many interchangeable sapphire filters for option applying to different applications and skin types;

3.New connection for machine and handle piece, will not leak any water when replacing handle piece.

4.Have the alert device for conk out of water level, water temp, water flux and refrigeration

5.Remember system and Reset function ease for medical or esthetic institutions to decrease cost

6.Professional and modern design; Elegant appearance, competitive price and perfect after-sale service

7.Long continuous work time, stable function, shot period of treatment, easy operation, no down time, delivery in time without delay.
Benefits of SHR Laser Hair Removal Equipment
1.Adopts the newest OPT ( Optimal Pulse technology )SHR technology, it can continuously shot for fast hair removal (SHR),1 second emits 5 to 10 flashes (adjustable),and you can slide the treatment heads on the skin very quickly back and forth, So fast and virtually painless.

2.All internal parts and machine rear cover adopts Stainless Steel Framework and Modular Design for more gorgeous appearance, long lift time ad more stable working. Machine case with ABS materials for more stable working. Special designed cooling system ensures constantly working.

3.Imported True 3000W OPT super big power guarantee enough power input and assure more effective treatment and more longer working time.

4.OPT SHR Function and Normal IPL Function ( PR,SR, HR,WR,AR ) with 6 filters. Super large spot size(20*60mm²) for easier and faster body hair removal treatment.

5.5 advanced technologies (OPT SHR & IPL & RF& Bipolar RF& Nd Yag Laser) and 2 operating screens in one machine,easy operation: the 8.4 inch TFT True Colorful Touch screen for OPT Elight system, and 5.7 inch Chromatic touch screen for Laser system. You can do the Elight / RF treatment and Laser treatment for customer at same time in 1 machine to save time and cost.

6.The intelligent Water temperature Alarm System. Special technique, automatic energy adjustable system.

7.100% imported sapphire crystal of Real -5ºCmore incomparable comfortable, and safety.
Technical Parameters of SHR Laser Hair Removal Equipment
| | |
| --- | --- |
| Power | 2500W |
| RF frequency | 10Hz |
| RF energy | 1-50J |
| IPL energy | SHR:1-15J/E-LIGHT:1-50J |
| Pulse frequency | SHR:1-10Hz |
| Nd yag laser power | 200mJ 400mJ 600mJ(Optional) |
| Laser pulse width | 6 ns |
| Number of handpiece | 2 pcs |
| Cooling System | Air+water+semiconductor |
| Voltage | 110~220V±10%,50/60Hz |
| Machine dimension | 64*37*52cm |
| Package dimension | 76*56*63cm |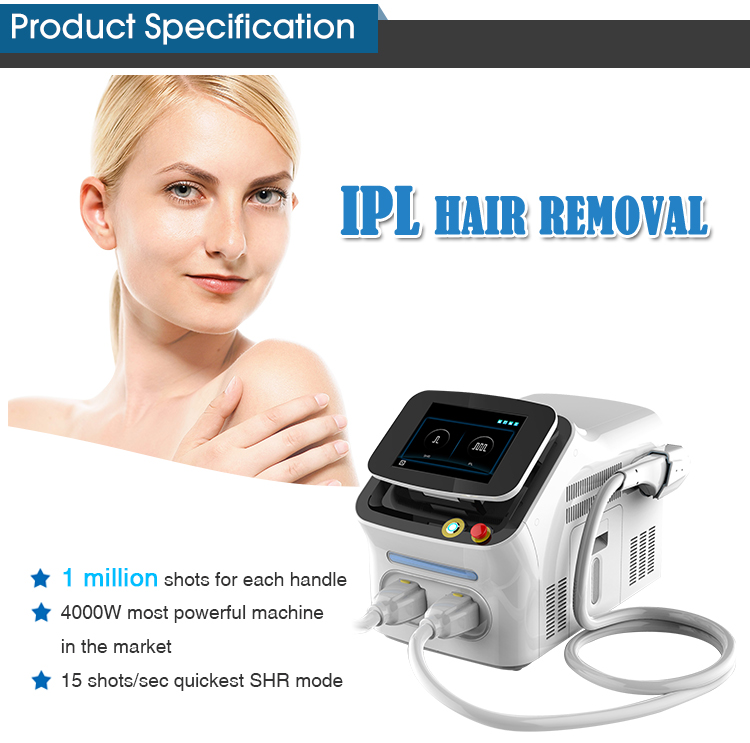 Product Videos
Before & After the Treatments
Treatment Operation Video
SHR Laser Hair Removal Equipment Price
Standard Price

Manufacturer Price: Negotiable/ (Free Shipping)

Custom Price

Custom Price: Negotiable / (Free Shipping)