Introduction
Introduction for Portable SHR Laser Hair Removal Machine
SHR unique gradual heating method effectively damages the hair follicles while avoiding injury to the surrounding skin.
The sweeping in-motion delivery technique keeps the laser in constant motion ensuring full coverage.
Simultaneous contact cooling prevents burns and allows for more comfortable treatment, while a specialized applicator allows your physician to treat large areas in less time.
Whether you have light, dark or tanned skin, coarse or fine hair, it achieves complete hair removal for all areas of the body that's safe, quick and best of all- virtually painless.
Working Theory for Portable SHR Laser Hair Removal Machine
The special feature of the SHR technology is the applicator equipped with an anti-reflective sapphire crystal. SHR is a gradual process. SHR heats the dermis gradually to a temperature that damages the hair follicles and prevents re-growth. Meanwhile, SHR laser treatment will not injury to the surrounding tissue.
Functions for Portable SHR Laser Hair Removal Machine OPT-BP
1.Everlasting hair removal: The unwanted hair under arms, legs, lips, or other body parts.

2.Skin rejuvenation: Shrink pores, tighten skin, improve skin elasticity and glossiness.

3.Pigmentation removal: Remove various kinds of pigment such as freckle, chloasma, aged spots, sunburn, etc.

4.Acne removal.
Advantages for Portable SHR Laser Hair Removal Machine OPT-BP
1.Designed according to abundant clinical data worked out by many famous clinical doctors.

2.Most advanced technology, E-light + excellent skin contact cooling, no side effect.

3.Easy to operate, big color touch LED screen, multi-language, smart handpiece tip can be applied on the skin directly.

4.Powerful cooling system (air + water + semiconductor) makes treatment more comfortable.

5.Specially designed temperature monitor device can monitor the skin temperature to ensure a safe treatment.

6.Suitable for different kind of skin and all kinds of hair.
Benefits for Portable SHR Laser Hair Removal Machine OPT-BP
1.FCA technology: Depends on different skin types and hair colors, the FCA technology (Fluency Calibration Automatically) will calibrate the output fluency automatically, safe and comfortable.

2.In-motion technology: In-motion technology combines concurrent cooling with a gradual thermal rise to the target' s therapeutic temperature, without the risk of injury and with much less pain for the patient.

3.Safety handpiece design: Optimized handpiece structure, combined intelligent water cycling and xenon lamp protect system, never burn lamp.

4.Cooling plus system: Air+water+semiconductor+radiators. Twin radiators can cool down water temperature always below 39℃, ensure handpiece in safe working status.

5.Advanced protective plug and play handpiece.
| | |
| --- | --- |
| Display | 10 inch colorful touch screen |
| Power | 2500W |
| RF frequency | 10MHz |
| RF energy | 1-50J |
| IPL energy | SHR:1-15J / E-LIGHT:1-50J |
| Number of pulses | SHR:1pc 1T / E-LIGHT:1-6pc 1-6T |
| Pulse frequency | SHR:1-10Hz |
| Discharge interval | E-LIGHT:1-4s |
| Number of handles | 2 pcs |
| Spot size | 10*50mm |
| Lifespan of lamp | 1 million shots |
| Cooling System | Air+water+semiconductor |
| Cooling temperature | 0~10℃ |
| Voltage | 110V~240V AC |
| Machine dimension | 610*370*520mm |
| Package dimension | 760*560*630mm |
| Net/Gross Weight | 37.5KG/60KG |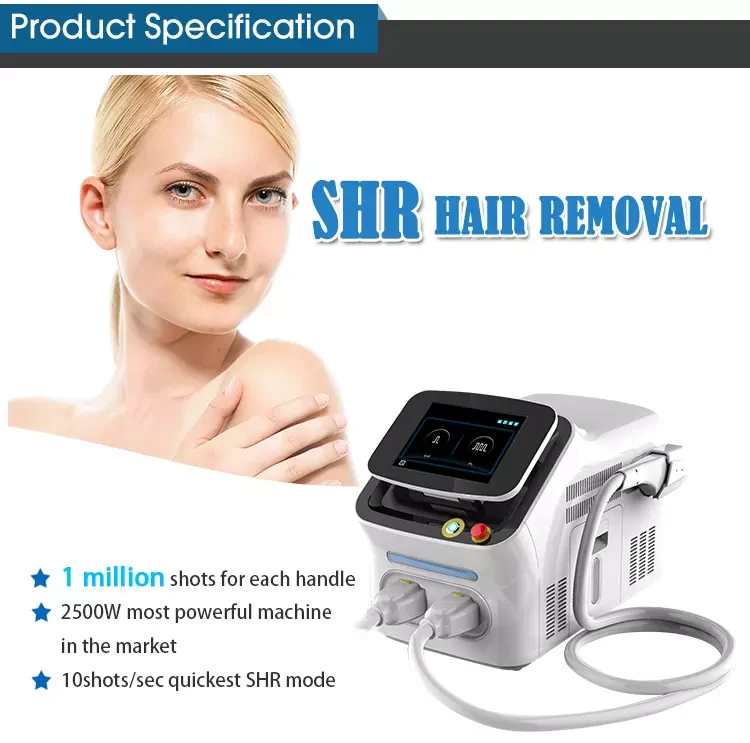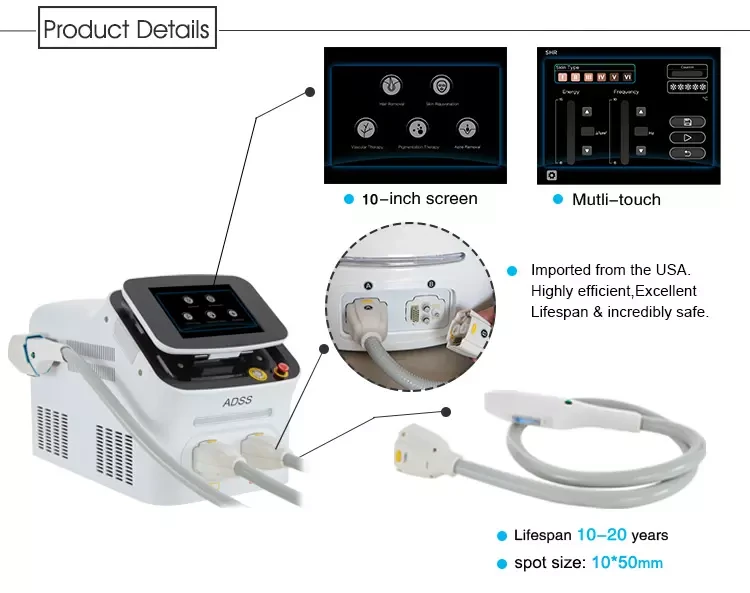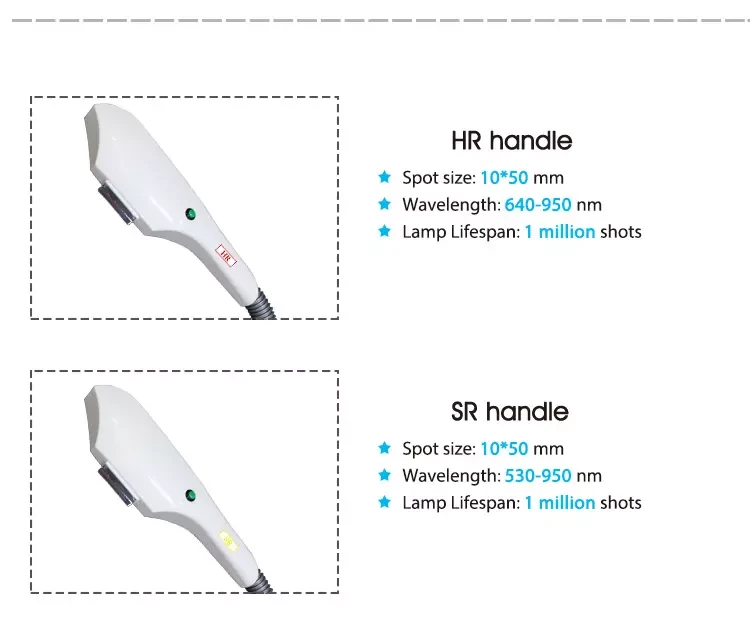 Product Videos
Before & After the Treatments
Treatment Operation Video
Portable SHR Laser Hair Removal Machine OPT-BP Price
Standard Price
Free Shipping For A Limited Time
Add any language into the machine system
Print your company logo on the machine
Customize the machine's color and appearance
Customize marketing services including posters, brochures, videos, and pictures
Design a machine shell that is customized to your branding needs
Create new user interfaces for the ease of your clients
Support sufficient customer resources in your sales market
Support accessories customization including handpiece, screen, handle, etc
Buy Now
Pro Price
Free Shipping
Add any language into the machine system
Print your company logo on the machine
Customize the machine's color and appearance
Customize marketing services including posters, brochures, videos, and pictures
Design a machine shell that is customized to your branding needs
Create new user interfaces for the ease of your clients
Support sufficient customer resources in your sales market
Support accessories customization including handpiece, screen, handle, etc
Buy Now
OEM/ODM Price
Free Shipping
Add any language into the machine system
Print your company logo on the machine
Customize the machine's color and appearance
Customize marketing services including posters, brochures, videos, and pictures
Design a machine shell that is customized to your branding needs
Create new user interfaces for the ease of your clients
Support sufficient customer resources in your sales market
Support accessories customization including handpiece, screen, handle, etc
Get Custom Made Price