Introduction
Introduction of Portable SHR Laser Hair Removal Machine for Beauty Salon
SHR hair removal instrument uses super perfect pulse technology to release pulse energy uniformly and perfectly; according to your different skin types, different skin lesion characteristics and different properties of the disease, intelligently select light sources with different wavelengths. The combination of optical energy (IPL) + radio frequency (RF) + surface cooling and other systems has no effect on tissues and normal skin. Using the principles of selective absorption and black absorption, accurate light with specific wavelengths of light energy is given priority to diseased parts. Absorbs light and floats to the surface of the skin to achieve freckle and hair removal effects. On the other hand, it can penetrate deep into the dermal collagen, stimulate collagen proliferation, inhibit the secretion of sebaceous glands (grease glands), increase skin elasticity, become delicate, eliminate fine wrinkles, etc., and shrink pores at the same time, so that the skin is restored from the deep texture to tender and delicate. Comprehensively dissolve the problems of dullness, sagging, rough, and enlarged pores, keep the skin supple and fresh for a long time, and restore your natural beauty to the technology that truly serves the skin rejuvenation project.
Working Theory of SHR Laser Hair Removal Machine
The SHR hair removal is a colored light with a wavelength of 530 ~ 950nm, which simultaneously integrates multiple therapeutic effects. Hair removal effect is more durable than traditional hair removal methods. At the same time as the hair is removed, the skin can be relatively better. SHR is the abbreviation of strong pulsed light. Photon hair removal can penetrate the epidermis and is absorbed by the hair follicles in the dermis to generate thermal energy, which destroys the hair follicles and achieves permanent hair removal effect. At the same time, it can cause chemical changes in the molecular structure of collagen fibers and elastic fibers in the dermal layer, and promote regeneration and rearrangement of skin collagen.
Advantages of Portable SHR Laser Hair Removal Machine for Beauty Salon
1.More advanced: the wavelength range is 530 ~ 950nm, and the powerful photon hair removal instrument on the market has a wavelength range of 400-1200nm.
2.More scientific: "Using photons" selective photothermal effect "makes a specific wavelength of light only affect black hair follicles and generate thermal energy to achieve the purpose of permanent hair removal.
3.Faster: It only takes 5 minutes to remove indecent hair, which does not affect normal activities. It is called "Lunch Beauty".
4.Easier: Adopting new patented technology and equipped with sapphire contact cooling device, the upper limit of output wavelength is short, there is no pain, and it will not find skin damage.
5.Safer: Photons act on hair follicles and hair shafts, and "shadow" to surrounding skin tissues and sweat glands "do not affect perspiration, do not crust after treatment, and have no side effects.
Benefits of Portable SHR Laser Hair Removal Machine for Beauty Salon
1.Large spot area and strong energy

2.Sliding operation, fast treatment speed

3.Achieve painless hair removal
Technical Parameters of Portable SHR Laser Hair Removal Machine for Beauty Salon
| | |
| --- | --- |
| Display | 10 inch colorful touch screen |
| Power | 2500W |
| RF frequency | 10MHz |
| RF energy | 1-50J |
| IPL energy | SHR:1-15J / E-LIGHT:1-50J |
| Number of pulses | SHR:1pc 1T / E-LIGHT:1-6pc 1-6T |
| Pulse frequency | SHR:1-10Hz |
| Discharge interval | E-LIGHT:1-4s |
| Number of handles | 2 pcs |
| Spot size | 10*50mm |
| Lifespan of lamp | 1 million shots |
| Cooling System | Air+water+semiconductor |
| Cooling temperature | 0~10℃ |
| Voltage | 110V~240V AC |
| Machine dimension | 610*370*520mm |
| Package dimension | 760*560*630mm |
| Net/Gross Weight | 37.5KG/60KG |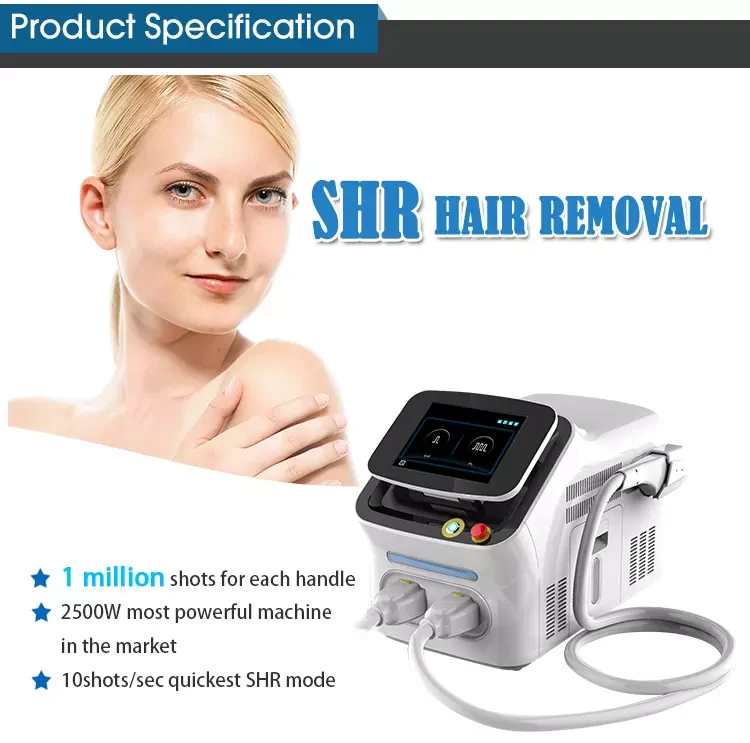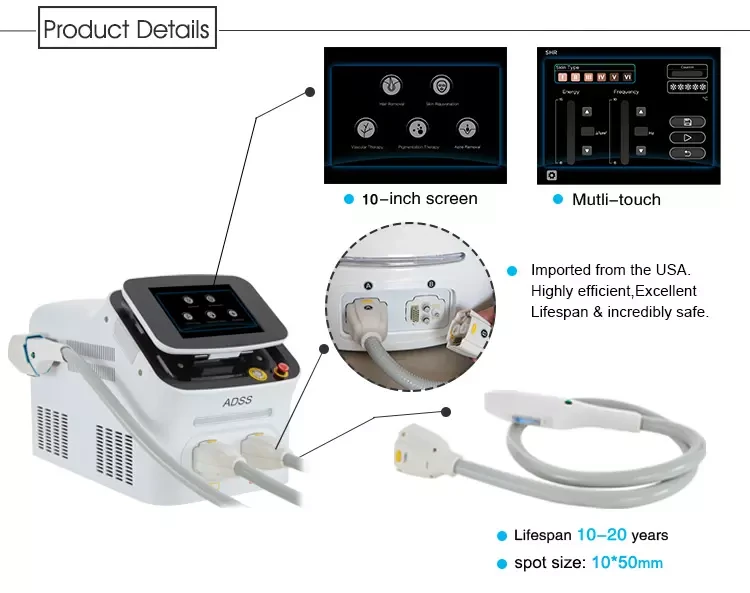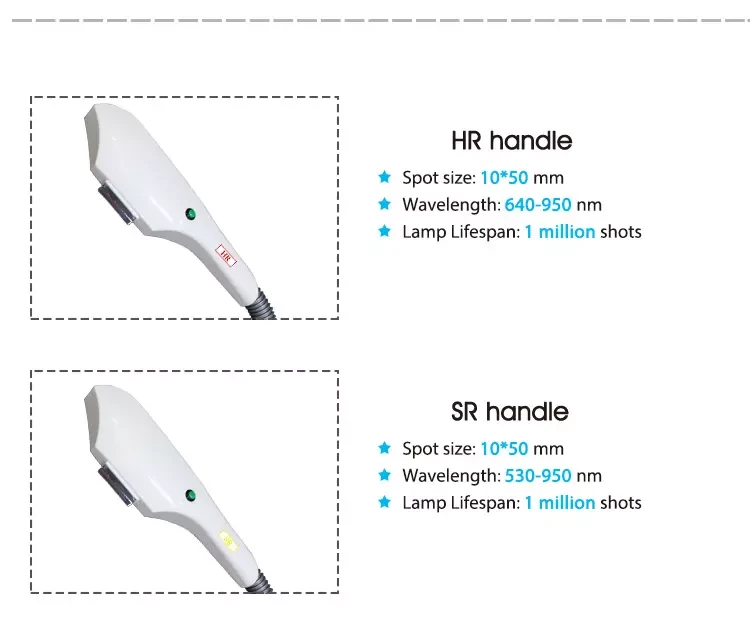 Product Videos
Before & After the Treatments
Treatment Operation Video
Portable SHR Laser Hair Removal Machine for Beauty Salon Price
Standard Price
Free Shipping For A Limited Time
Add any language into the machine system
Print your company logo on the machine
Customize the machine's color and appearance
Customize marketing services including posters, brochures, videos, and pictures
Design a machine shell that is customized to your branding needs
Create new user interfaces for the ease of your clients
Support sufficient customer resources in your sales market
Support accessories customization including handpiece, screen, handle, etc
Buy Now
Pro Price
Free Shipping
Add any language into the machine system
Print your company logo on the machine
Customize the machine's color and appearance
Customize marketing services including posters, brochures, videos, and pictures
Design a machine shell that is customized to your branding needs
Create new user interfaces for the ease of your clients
Support sufficient customer resources in your sales market
Support accessories customization including handpiece, screen, handle, etc
Buy Now
OEM/ODM Price
Free Shipping
Add any language into the machine system
Print your company logo on the machine
Customize the machine's color and appearance
Customize marketing services including posters, brochures, videos, and pictures
Design a machine shell that is customized to your branding needs
Create new user interfaces for the ease of your clients
Support sufficient customer resources in your sales market
Support accessories customization including handpiece, screen, handle, etc
Get Custom Made Price