Introduction
Introduction of Medical Portable Laser Hair Removal Machine
Laser hair removal devices work by killing the hair follicle. But hair grows in cycles, and the lasers only damage follicles during an active cycle of hair growth. So it takes multiple treatments, about a month apart, to completely stop hair from regrowing.
Working Theory of Portable Laser Hair Removal Machine
hair removal technology is based on the selective dynamics of light and heat.The laser goes through the skin surface to reach the root of hair follicles; light can be absorbed and converted into heat damaged hair follicle tissue, so that hair loss regeneration without injury surrounding tissue. Slight pain, easy operation, the most safe, technology for permanent hair removal now.
Functions of Medical Portable Laser Hair Removal Machine
1.Clinically proven results show that up to 96% hair reduction realized after 3 treatments

2.Derived from professional light technology, BoSidin IPL is clinically tested for safe and effective use at home

3.Use with confidence to remove hair on face (upper lip, chin and sideburns) and body parts including legs, underarm, bikini area, belly and arms

4.350,000 Flashes, the long-lasting cartridge provides up to 15 years of full body treatments
Advantages of Medical Portable Laser Hair Removal Machine
1.More Flash Times: 600000 Flashes for longer use time

2.LCD Display: Providing the clear information about the working modes, remaining flashes and power levels

3.Two Operation Modes: Automatic and manual modes for the different skin area

4.Painless: Five Adjustable optimal energy level according to the skin tolerance. Providing the gentle treatment painlessly and easily , without hurting the skin.

5.Fast and suitable treatment area : 4 square cm spot size not too big or neither too small for any body curve, high efficiency and fast speed that just takes several minutes to remove the overlapping regin hair which is difficult for traditional hair removal method

6.Zero Consumables, No Medium, No consumables

7.Safe: No influence on normal sweat and sebum secretion

8.Convenient: Smaller size for Portable design and easy taken
Benefits of Medical Portable Laser Hair Removal Machine
1.Up to 96% hair reduction in 3 treatments.

2.Integrated ice cool function to cool down the area and protect your skin.

3.Imported quartz bulb allow for quick reloading and faster pulses.

4.The 350,000 flashes deliver an equivalent of 15 years of full body treatments.

5.Integrated UV filter that prevents your skin from damage during the treatments.

6.This item gives you the flexibility of five energy settings for personalised treatments.

7.Skin rejuvenation: improves the quality of your skin at every layer, result in silky-smooth and younger-looking skin.
Technical Parameters of Medical Portable Laser Hair Removal Machine
| | |
| --- | --- |
| Laser type | Diode Laser |
| Laser wavelength | 1064nm/808nm/755nm |
| Display | 10 color touch LCD screen |
| Output power | 600W |
| Spot size | 12*16mm |
| Pulse width | 8-685ms adjustable |
| Energy | 2-120J/cm2 adjustable |
| Frequency | 1-10Hz |
| Cooling | Water + air + semiconductor |
| Temperature of probe | 0~ -5degree |
| Dimensions | 65x75x62cm |
| Weight | 34kg |
| Gross weight | 50kg |
| Voltage | AC 110V / 60HZ; AC 220V / 50Hz |
| Packing | Aluminum alloy case |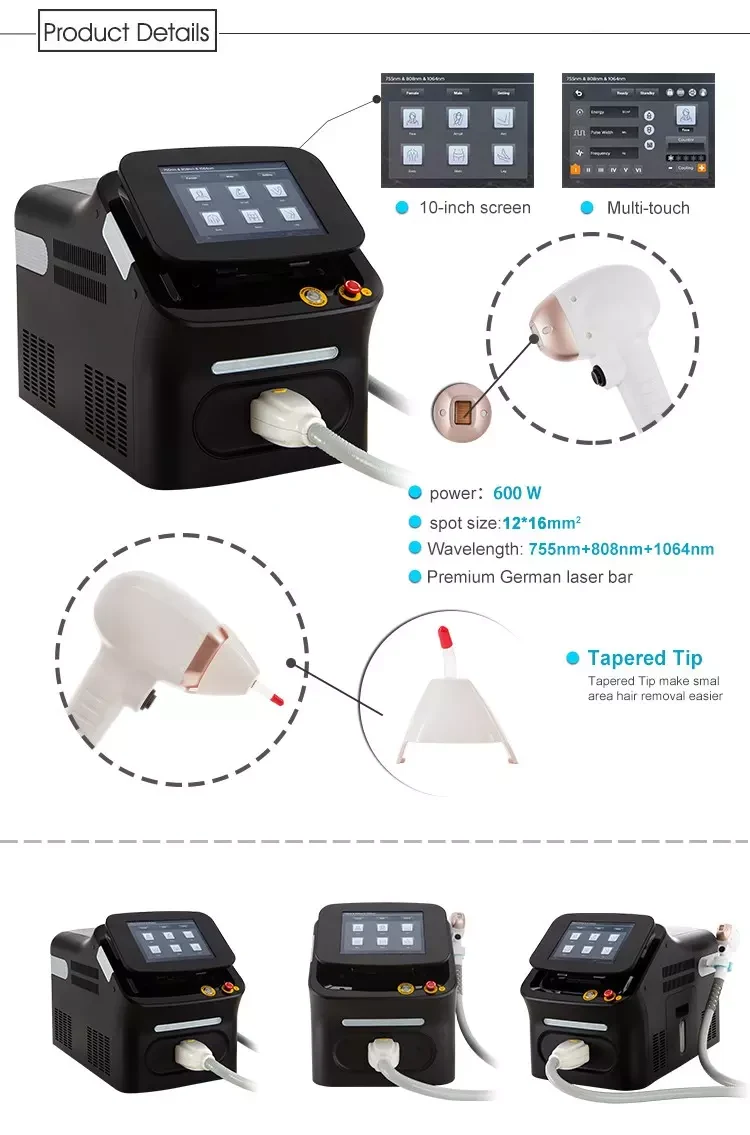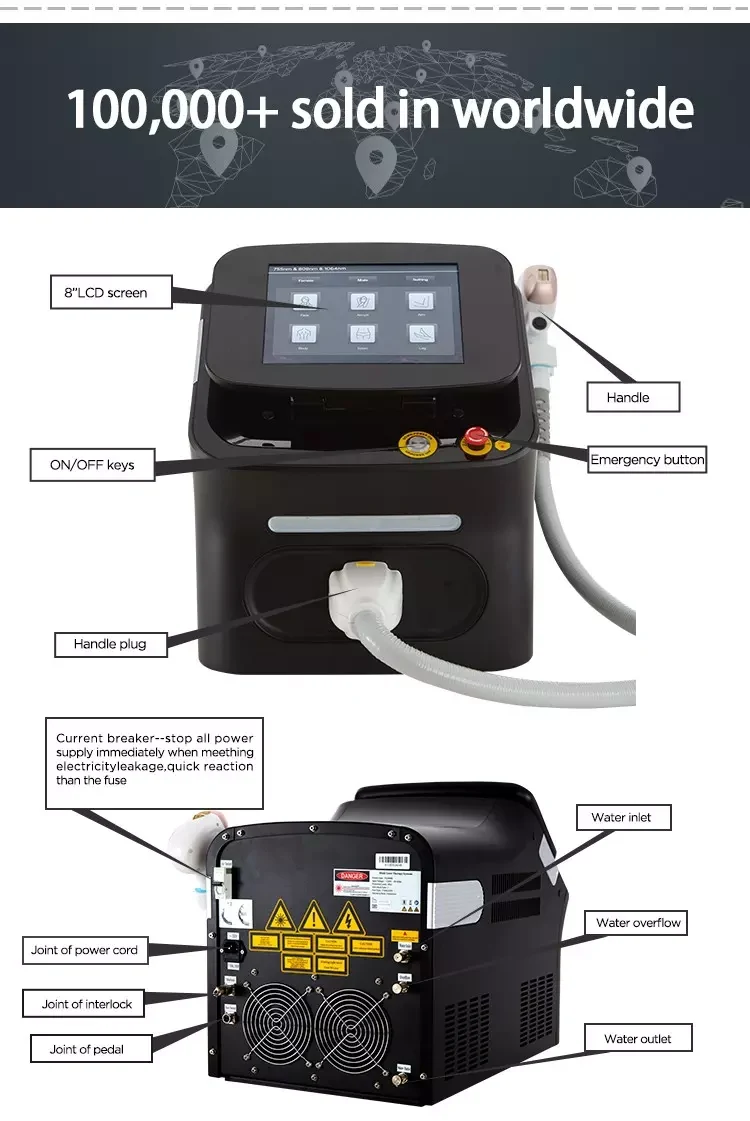 Before & After the Treatments
Treatment Operation Video
Medical Portable Laser Hair Removal Machine Price
Standard Price

Manufacturer Price: Negotiable/ (Free Shipping)

Custom Price

Custom Price: Negotiable / (Free Shipping)