Introduction
Introduction of Medical 808nm Laser Hair Removal Machine
Safe permanent hair removal on all skin types; no pain, very comfortable during the treatment;Suitable for any unwanted hairs on areas like face, arms, armpits, chest, back, bikini, legs...it also has the skin renewing and skin tightening at the same time.
Working Theory of 808nm Laser Machine
The system uses the optimal 808nm diode laser hair removal wavelength for deep penetration into the dermis where the hair follicle is located. In treatment procedure, a series of low fluence, high repetition pulses increases the temperature of both the hair follicle and the surrounding, nourishing tissue to 45 degree Celsius. This more gradual heat delivery uses the chromospheres into the surround tissue as reservoirs to effectively heat up the hair follicle. This, along with the heat energy absorbed directly by the hair follicle, damages the follicle and prevents re-growth.
808nm laser hair removal machine is particularly effective to hair follicle melanocytes without injury surrounding tissue. The laser light can be absorbed by hair shaft and hair follicles in the melanin, and converted into heat, thus increasing the hair follicle temperature. When the temperature raises high enough to irreversibly damage the hair follicle structure, which disappears after a period of natural physiological processes of hair follicles and thus achieve the purpose of permanent hair removal.
Advantages of Medical 808nm Laser Hair Removal Machine
1.Multiple wavelengths platform

2.FDA cleared (for skin types I to VI and tanned skin)

3.Twelve inch color touch screen (user-friendly and intuitive)

4.Pre-set parameters

5.No consumables

6.Provides fast and cool treatment

7.Has a light and ergonomic applicator

8.7 years of effective laser hair removal (clinically proven)
Technical Parameters of Medical 808nm Laser Hair Removal Machine
| | |
| --- | --- |
| Laser type | Diode Laser |
| Laser wavelength | 1064nm/808nm/755nm |
| Display | 10 color touch LCD screen |
| Output power | 600W |
| Spot size | 12*16mm |
| Pulse width | 8-685ms adjustable |
| Energy | 2-120J/cm2 adjustable |
| Frequency | 1-10Hz |
| Cooling | Water + air + semiconductor |
| Temperature of probe | 0~ -5degree |
| Dimensions | 65x75x62cm |
| Weight | 34kg |
| Gross weight | 50kg |
| Voltage | AC 110V / 60HZ; AC 220V / 50Hz |
| Packing | Aluminum alloy case |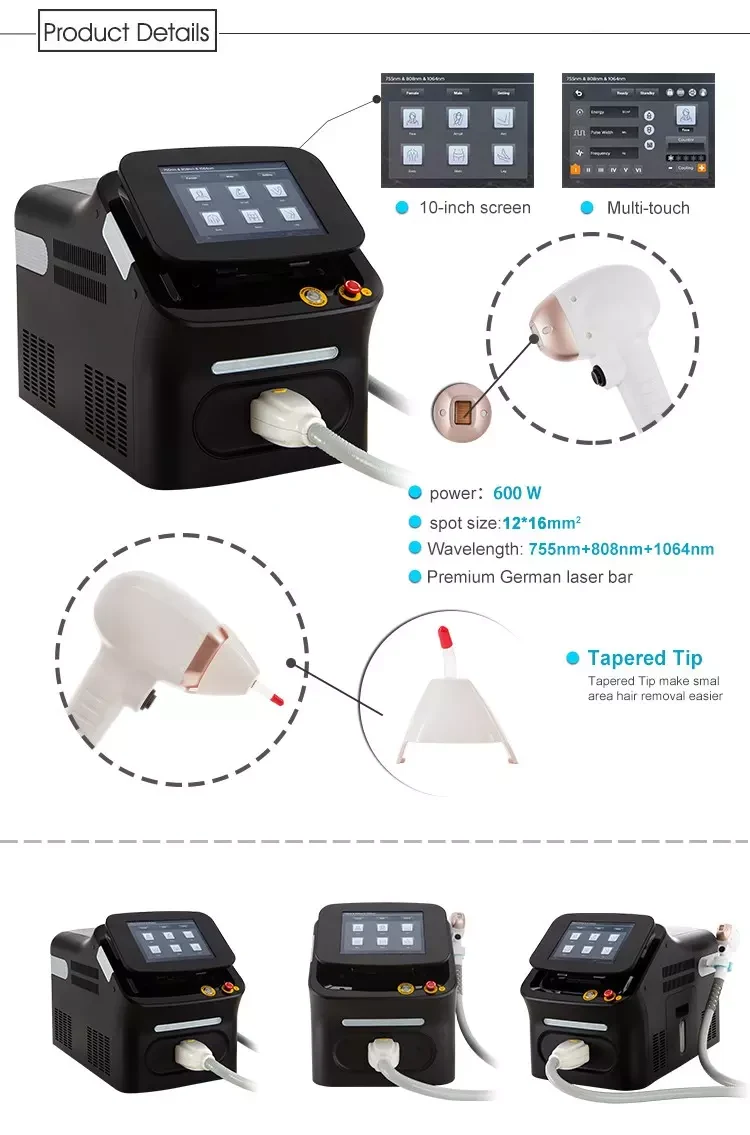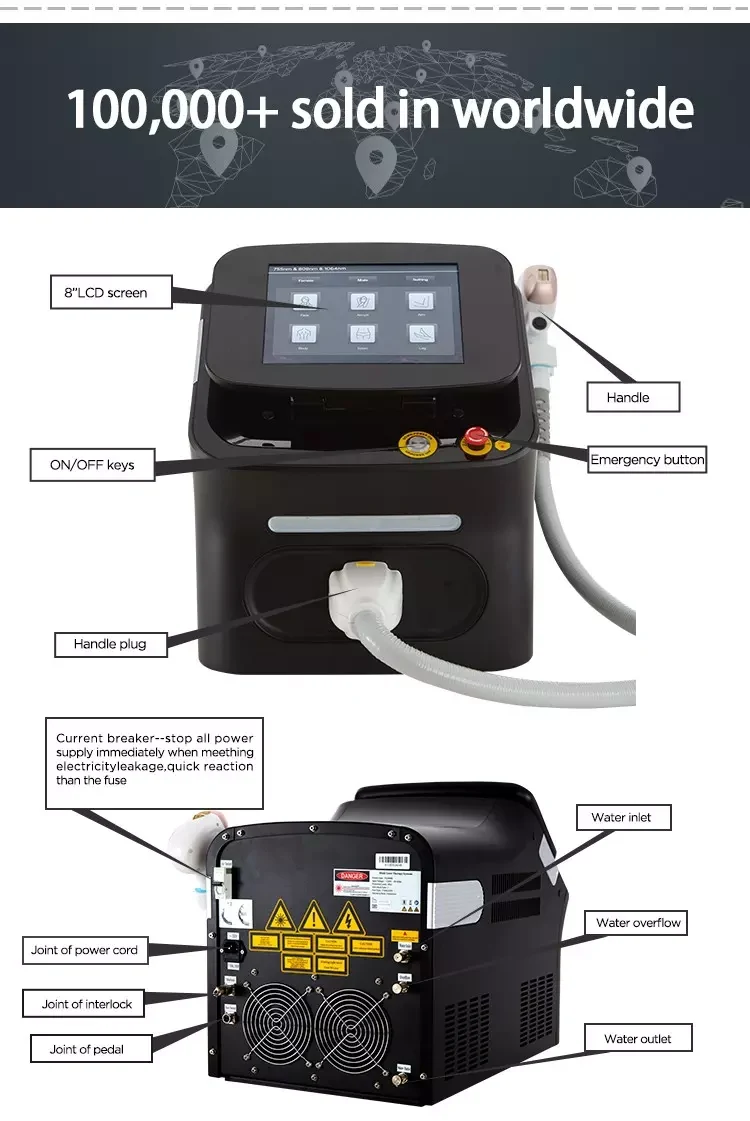 Product Videos
Before & After the Treatments
Treatment Operation Video
Medical 808nm Laser Hair Removal Machine Price
Standard Price

Manufacturer Price: Negotiable/ (Free Shipping)

Custom Price

Custom Price: Negotiable / (Free Shipping)