Introduction
What is IPL Laser Device
Intense Pulsed Light systems work by firing repeated bursts of intense, wide spectrum light into the skin, reaching the hair root (bulb). These bursts of light are changed into heat energy, eventually damaging the root of the hair shaft and follicle so it stops growing. Filters on the IPL machines are used to ensure that the light can be precisely targeted on the intended hairs as accurately as lasers, though, as the IPL equipment head is often bigger you can get quicker results.
It is seen it as a safe, painless and effectively permanent solution to unwanted hair compared to continual waxing, shaving or plucking.
Working theory of IPL Laser Device
IPL stands for Intense Pulsed Light. It's not a laser, but it too uses light energy to slow and reduce hair growth on your body and face.
IPL uses a xenon flashlamp giving bursts of diffuse, non-coherent light. This means it's made of many different wavelengths or colors and can't focus as a laser can. The wavelengths for IPL are 500nm to 1200nm.
IPL proved as popular as laser hair removal and many clinical studies led to improvements in technology, safety, comfort and results. It's available on the high street for cost effective long-term professional hair removal.
Functions of IPL Laser Device
1.Hair removal

2.Skin rejuvenation

3.Pigmentation therapy

4.Vascular therapy

5.Acne therapy
Advantages of IPL Laser Device
1.Safe and painless, no harm to your skin.

2.Directly aims at hair root, high efficiency and fast speed

3.Application for any skin types (I, II, III, IV and V)

4.Wide range of applications for six skin problems that everyone pays close attention to

5.No appearance of the side effect brought by traditional laser treatment.

6.Humanized operating system, easy to operate and control at any time
Technical Parameters of IPL Laser Device
| | |
| --- | --- |
| Display | 8.4 inch colorful touch screen |
| Power | 2500W |
| RF frequency | 10MHz |
| RF energy | 1-50J |
| IPL energy | SHR:1-15J / E-LIGHT:1-50J |
| Number of pulses | SHR:1pc 1T / E-LIGHT:1-6pc 1-6T |
| Pulse frequency | SHR:1-10Hz |
| Discharge interval | E-LIGHT:1-4s |
| Number of handles | 2 pcs |
| Spot size | 10*50mm |
| Lifespan of lamp | 1 million shots |
| Cooling System | Air+water+semiconductor |
| Cooling temperature | 0~10℃ |
| Voltage | 110V~240V AC |
| Machine dimension | 610*370*520mm |
| Package dimension | 760*560*630mm |
| Net/Gross Weight | 37.5KG/60KG |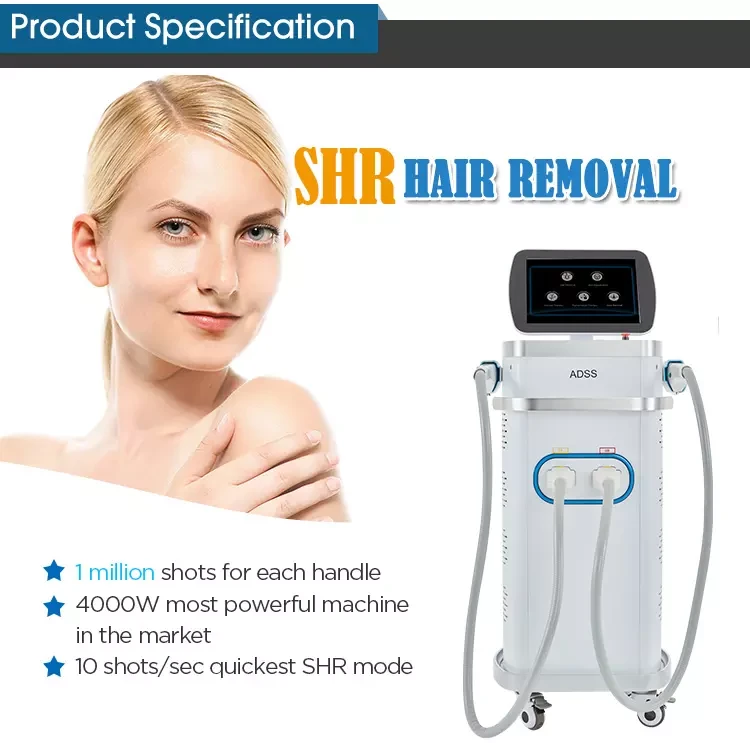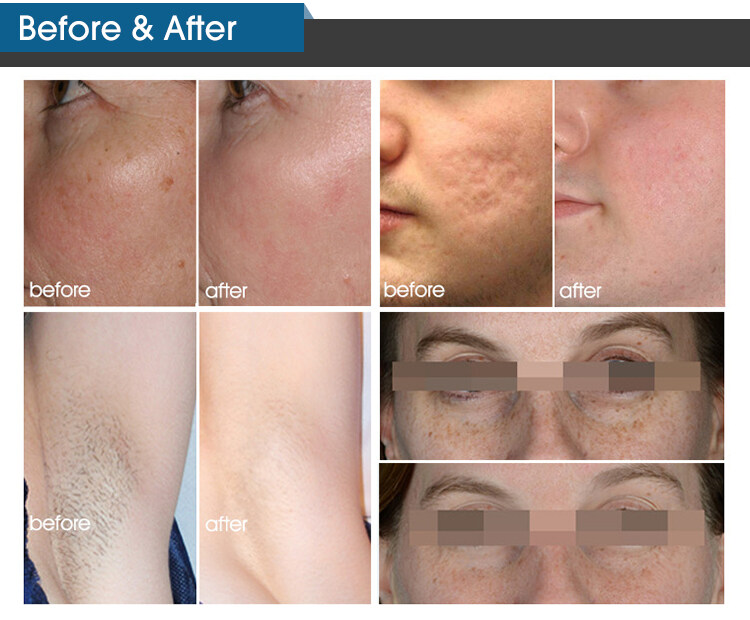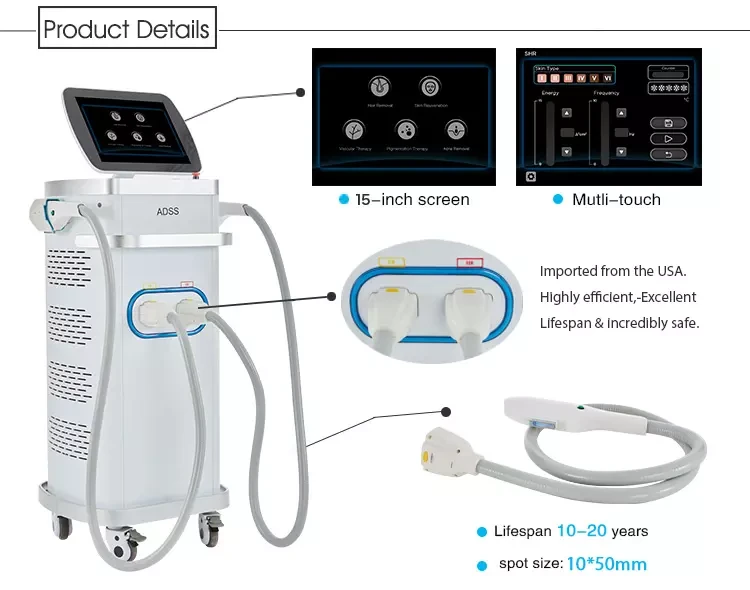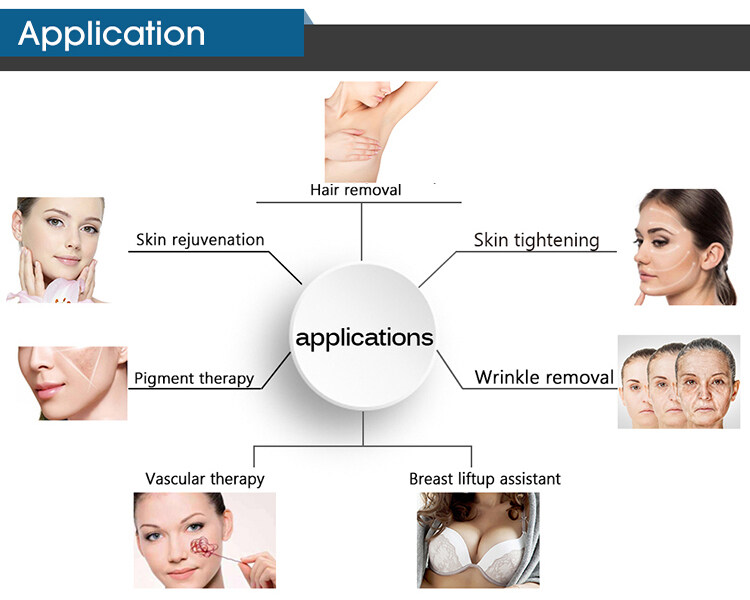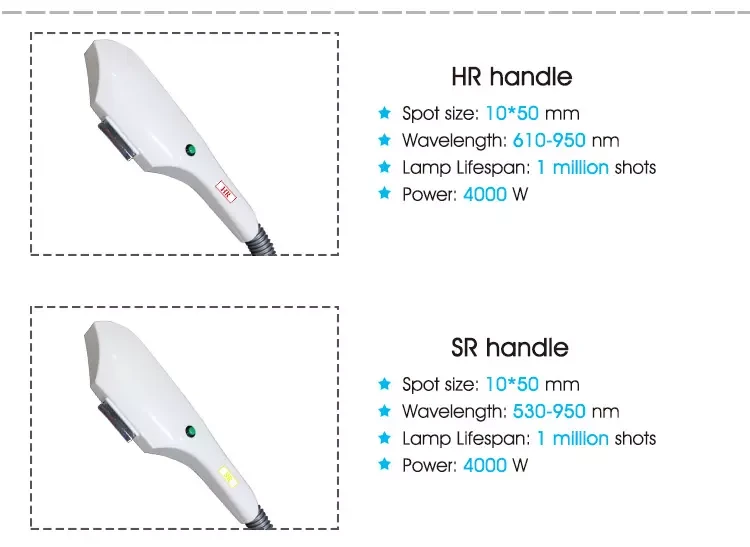 Product Videos
Before & After the Treatments
Treatment Operation Video
IPL Laser Device Price
Standard Price
Free Shipping For A Limited Time
Add any language into the machine system
Print your company logo on the machine
Customize the machine's color and appearance
Customize marketing services including posters, brochures, videos, and pictures
Design a machine shell that is customized to your branding needs
Create new user interfaces for the ease of your clients
Support sufficient customer resources in your sales market
Support accessories customization including handpiece, screen, handle, etc
Buy Now
Pro Price
Free Shipping
Add any language into the machine system
Print your company logo on the machine
Customize the machine's color and appearance
Customize marketing services including posters, brochures, videos, and pictures
Design a machine shell that is customized to your branding needs
Create new user interfaces for the ease of your clients
Support sufficient customer resources in your sales market
Support accessories customization including handpiece, screen, handle, etc
Buy Now
OEM/ODM Price
Free Shipping
Add any language into the machine system
Print your company logo on the machine
Customize the machine's color and appearance
Customize marketing services including posters, brochures, videos, and pictures
Design a machine shell that is customized to your branding needs
Create new user interfaces for the ease of your clients
Support sufficient customer resources in your sales market
Support accessories customization including handpiece, screen, handle, etc
Get Custom Made Price