Introduction
Introduction Portable Diode Laser Hair Removal Machine FG 2000-B
Diode laser hair removal offers effective, high-quality hair removal treatments. It has a unique wavelength of 808nm that ensures the hair follicles are removed in the most harmless way. It will then be impossible for the hair to grow back. With this Portable Diode Laser Hair Removal Machine 600W, laser treatments are offered in motion ensuring the skin is protected in every possible way.
Working Theory for Portable Diode Laser Hair Removal Machine
Using selective light absorption, the diode 808nm laser is preferentially absorbed by the melanin of the hair. The light energy is taken up by the hair follicle and converted to heat energy, and minimal energy is transferred to the skin. This preferentially heats the hair while reducing oxygen organization around hair follicle – reducing the possibility of hair regrowth. Professional cooling technology is applied simultaneously during treatment to cool and protect skin.
The diode 808nm laser permanently reduces hair on all skin types, including very fair skin and olive or African-American skin. Treatments are most effective on medium to dark hair on any skin type.
Advantages for Portable Diode Laser Hair Removal Machine FG 2000-B
1. High energy output: Make sure good effects for any coloring matter.

2. Long pulse width: Make sure heating hair follicle, long lasting hair removal results.

3. Big spot size: Fast and effective results.

4. Strong cooling: Instant cooling skin, safe and comfortable.

5. Fast speed: Slide treatment to make it safety and convenience.
Benefits for Portable Diode Laser Hair Removal Machine FG 2000-B
1. 808nm wavelength laser is in the 0.75 ~ 1.50μm spectrum near the infrared range (the best area for melanin absorption) and can work on the dermis and subcutaneous adipose tissue, accordingly, the hair of different parts and different depths can be treated.

2. Square large spot laser outlet can achieve large area hair removal and improve efficiency.

3. Alarm system of water flow, water temperature and man-made operation error can stop the machine in the first time to protect the operator and the operated.

4. The plug-pull module for the integration of water and electricity imported from USA ensures the stability of energy.

5. The light outlet is made of sapphire, which has long service life and can maintain the skin surface temperature between 0 ~ 4℃, making the treatment comfortable and painless.
Technical Parameters of Portable Diode Laser Hair Removal Machine FG 2000-B
| | |
| --- | --- |
| Laser type | Diode Laser |
| Laser wavelength | 1064nm/808nm/755nm |
| Display | 10 color touch LCD screen |
| Output power | 600W |
| Spot size | 12*16mm |
| Pulse width | 8-685ms adjustable |
| Energy | 2-120J/cm2 adjustable |
| Frequency | 1-10Hz |
| Cooling | Water + air + semiconductor |
| Temperature of probe | 0~ -5degree |
| Dimensions | 65x75x62cm |
| Weight | 34kg |
| Gross weight | 50kg |
| Voltage | AC 110V / 60HZ; AC 220V / 50Hz |
| Packing | Aluminum alloy case |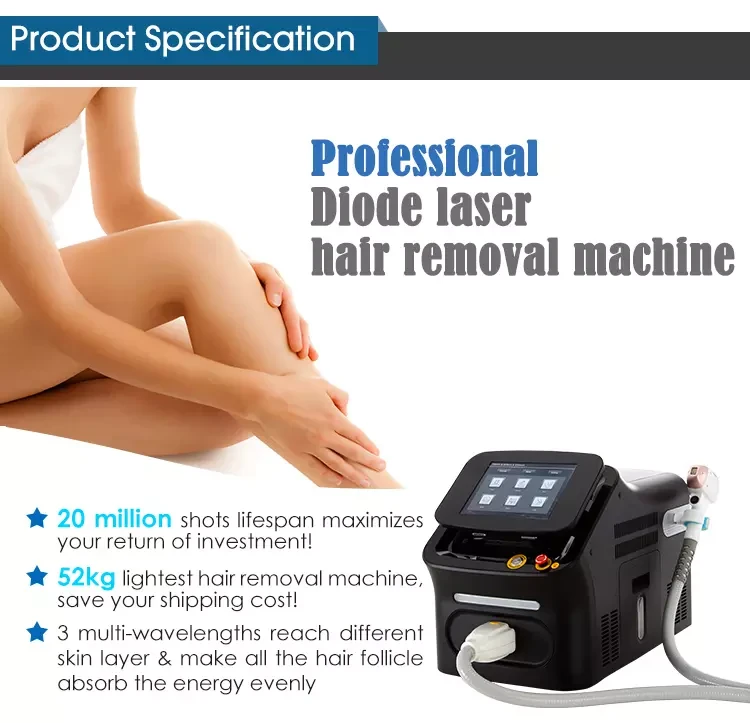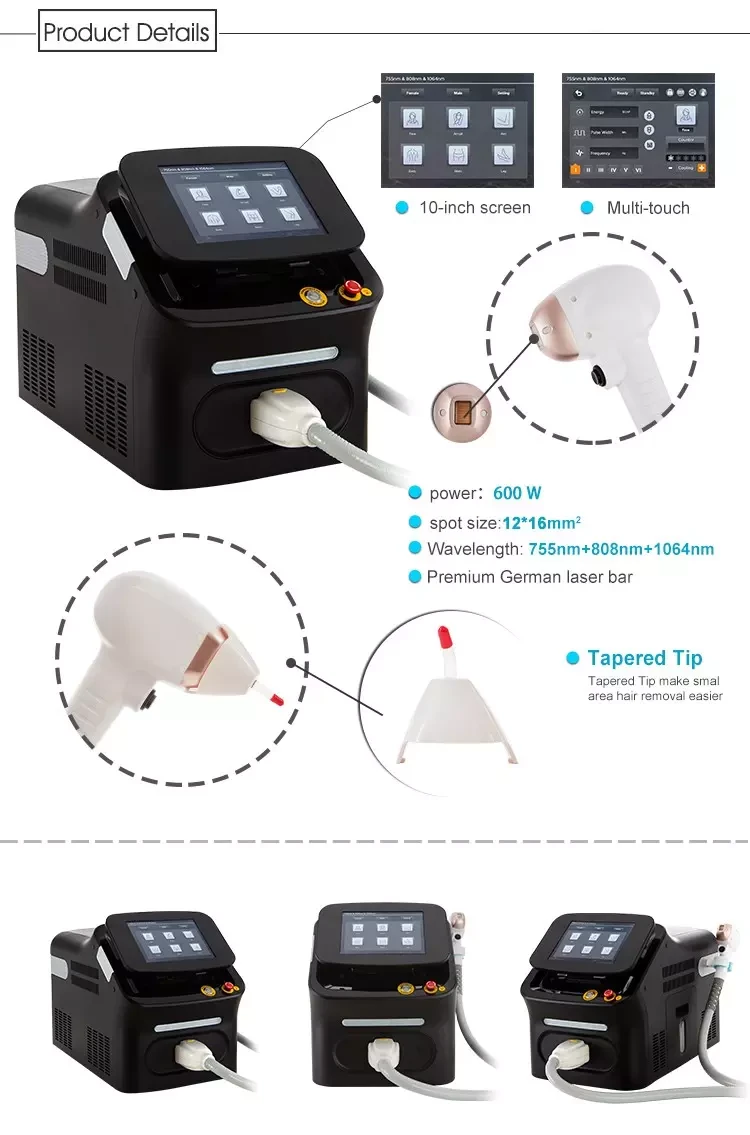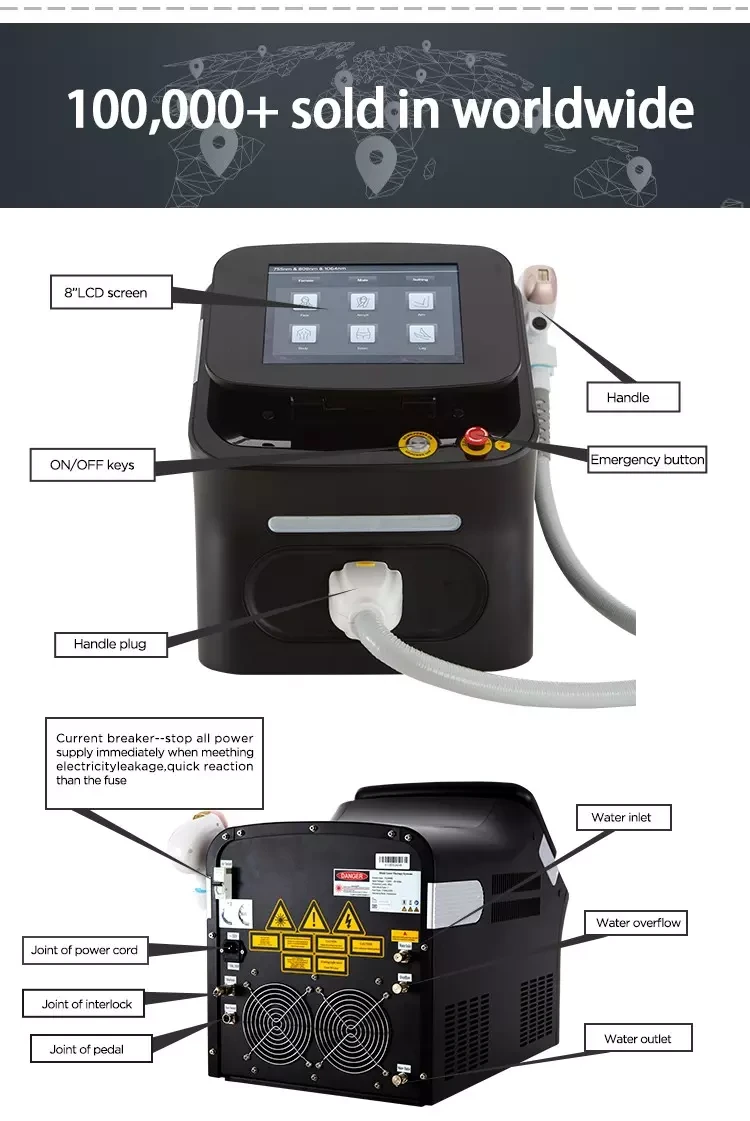 Product Videos
Before & After the Treatments
Treatment Operation Video
Portable Diode Laser Hair Removal Machine FG 2000-B Price
Standard Price
Free Shipping For A Limited Time
Add any language into the machine system
Print your company logo on the machine
Customize the machine's color and appearance
Customize marketing services including posters, brochures, videos, and pictures
Design a machine shell that is customized to your branding needs
Create new user interfaces for the ease of your clients
Support sufficient customer resources in your sales market
Support accessories customization including handpiece, screen, handle, etc
Buy Now
Pro Price
Free Shipping
Add any language into the machine system
Print your company logo on the machine
Customize the machine's color and appearance
Customize marketing services including posters, brochures, videos, and pictures
Design a machine shell that is customized to your branding needs
Create new user interfaces for the ease of your clients
Support sufficient customer resources in your sales market
Support accessories customization including handpiece, screen, handle, etc
Buy Now
OEM/ODM Price
Free Shipping
Add any language into the machine system
Print your company logo on the machine
Customize the machine's color and appearance
Customize marketing services including posters, brochures, videos, and pictures
Design a machine shell that is customized to your branding needs
Create new user interfaces for the ease of your clients
Support sufficient customer resources in your sales market
Support accessories customization including handpiece, screen, handle, etc
Get Custom Made Price