Introduction
Product Video
Theory

DPL (Delicate Pulsed Light) is the latest technology of combining IPL and laser power for permanent hair removal that converts light energy into heat energy, triggering the root of the hair, offering a stronger yet gentler solution.
DPL is a new technology of permanent hair removal, with target pure wavelength , which works in a high repetition rate of short pulses ,by gradually heating the dermis to a temperature that effectively damages the hair follicles and prevents re-growth painlessly, while avoiding injury to the surrounding tissue.

Function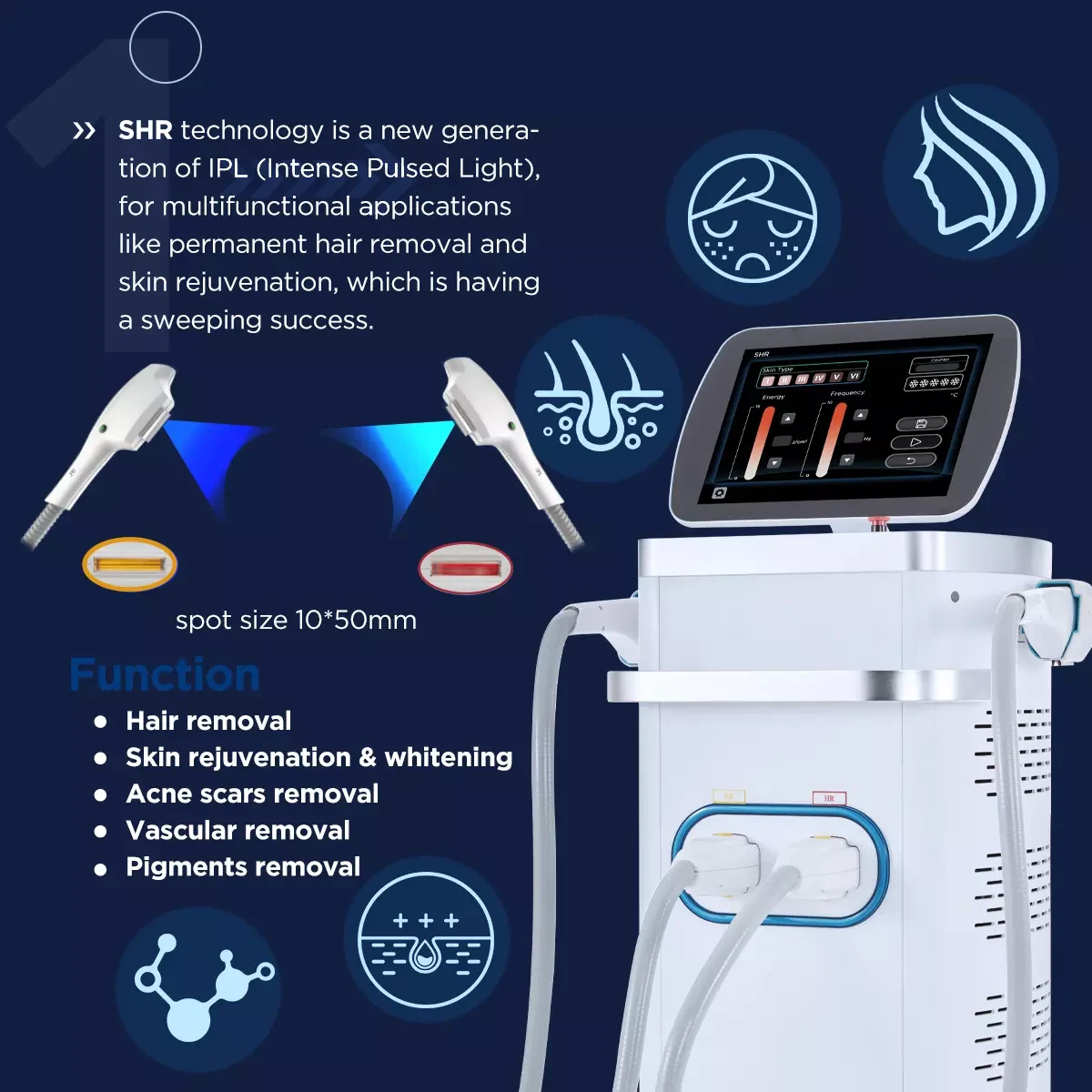 It uses a delicate spectrum of 640 - 750nm for the treatment of hair removal, acting on the hair follicles based on the selective photothermal effect of pulsed light. It increases the temperature of the hair follicle and destroys the growth cells of the hair follicle, and the ratio of melanin absorption rate and penetration depth is guaranteed at the same time. The epidermis is lowered in advance to achieve the effect of hair removal.
Its another 530nm - 750nm narrow-spectrum light can simultaneously generate photothermal photochemical effects, rearrange collagen fibers and elastic fibers in the deep part, and restore skin elasticity, at the same time enhance the function of the vascular, improve circulation, and make skin smooth, delicate and flexible. The energy density of DPL is much higher than other conventional IPL. Its higher density is very useful to treat epidermal acne and pigmentation.
Advantages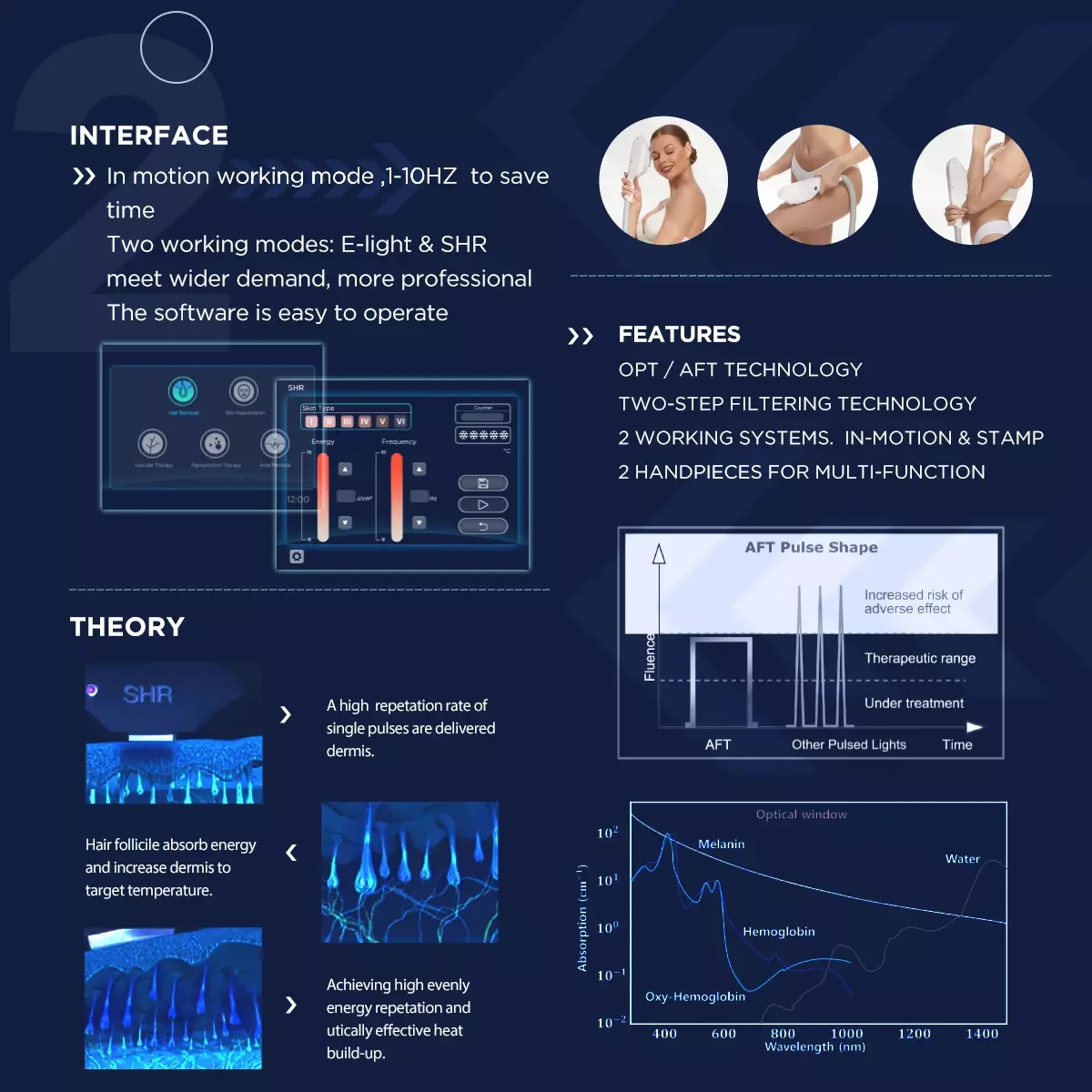 1.Two handles with fixed dual wavelength. The light which comes out will be much purer, more effective and less pain;

Handle 1 :

530nm-750nm for skin rejuvenation , pigment removal , breast lift up and vascular treatme.

Handle 2 :

640nm-750nm or hair removal.

2.These special wavelengths film on the handle, made by most professional Germany device, the cost is 2.2 times than others which made by Chinese ones ;much better ;

3.Spot size : 10*50mm;

4.Frequency : 1-10HZ , much faster;

5.Suitable for all skins , including tanned skin;

6.Longer life : each handle can reach 1,000,000 shots;

Two handles can reach 2,000,000 shots ;

Compared with the tradtional IPL:

Tradional DPL : Multi-pulse , painful.

only can reach 60,000 shots .

1HZ frequency ,slow treatment .

DPL : Single pulse output , narrow pulse width, totally painless .

It can reach 1 million shots.

1-10HZ frequency , fast treatment .
Treatments Videos
Before & After the Treatments
| | |
| --- | --- |
| Display | 15 inch colorful touch screen |
| Power | 4000W |
| RF frequency | 10MHz |
| RF energy | 1-50J |
| IPL energy | SHR:1-15J / E-LIGHT:1-50J |
| Number of pulses | SHR:1 T/E-LIGHT:1-6T |
| Pulse frequency | SHR:1-10Hz |
| Discharge interval | E-LIGHT:1-4s |
| Number of handles | 2 pcs |
| Spot size | 10*50mm |
| Lifespan of lamp | 1 million shots |
| Cooling System | Air+water+semiconductor |
| Cooling temperature | 0~10℃ |
| Voltage | 110V~240V AC |
| Machine dimension | 470*470*1090mm |
| Package dimension | 670*630*1230mm |
| Net/Gross Weight | 57KG/90KG |
Multi-Function Hair Removal Skin Rejuvenation Machine DPL Manufacturer Price
Standard Price

Manufacturer Price: Negotiable/ (Free Shipping)

Custom Made Price

Custom Price: Negotiable/ (Free Shipping)
Multi-Function Hair Removal Skin Rejuvenation Machine DPL Certificates
ADSS Multi-Function Hair Removal Skin Rejuvenation Machine DPL has FDA, (TUV) CE, (TUV) ISO 13485, Utility Model Patent Certificate; as well as the right of import and export certificate.
Similar Products