Introduction
Product Video
Theory

What is BBL Machine?
BBL(BroadBand Light) is a frequency of highintensity light that delivers heat into the skin.These controlled amounts of heat is absorbedby targeted cells and tissue.The light is de-signed to damage these cells in order to trig-ger the skin's immune system to repair itself.The skin will get rid of these damaged cells tothe superfacial skin where they naturally sloughoff with other dead skin cells.
Any vascular lesion treated will slowly dissipateover the course of10-l4 dayswith no peeling.
BBL, BroadBand Light is the most power-ful IPL (Intense Pulsed Light) device in theGlobal market. It sets a new high standardin treating skin problems. To fight againstthe aging process at a deeper level to getbaby face, it uses IN Motion technology todeliver a low fluence in multiple pulsesfor any treatment.
Function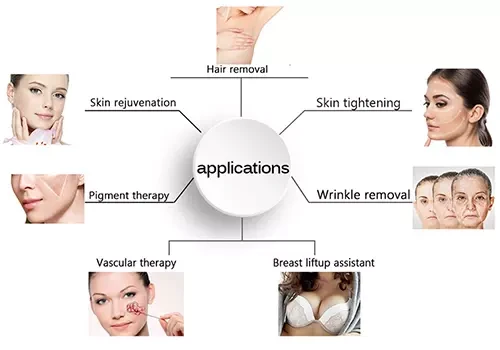 Pigmented Lesions
Vascular LesionsAcne
Blood vessels
Skin FirmnessUneven Skin TextureUnwanted Hair
Hair RemovalL:640-950nm
Skin Rejuvenation:530-950nm
Vascular TherapyL:530-750nm
Pigmentation Therapy:560-750nm
Acne Removal:420-520nm
Advantages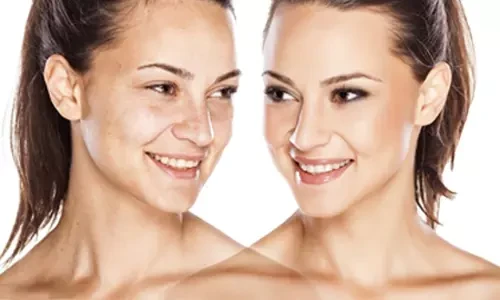 1.4x Faster treatments.

2.Large spot size and quick in-motion treatment.

3.4000w Power Supply.

4.Smart filters for precision treatment.

5.No downtime.

6.A broad spectrum of light to treat different conditions treatsalarger area of skin than a laser.

7.Comfortable treatment, well tolerated without anesthetic cream.

8.Skin types I-VI.

9.High patient satisfaction and in-demand treatments will keep pa-tients coming back for more.
Treatments Videos
Before & After the Treatments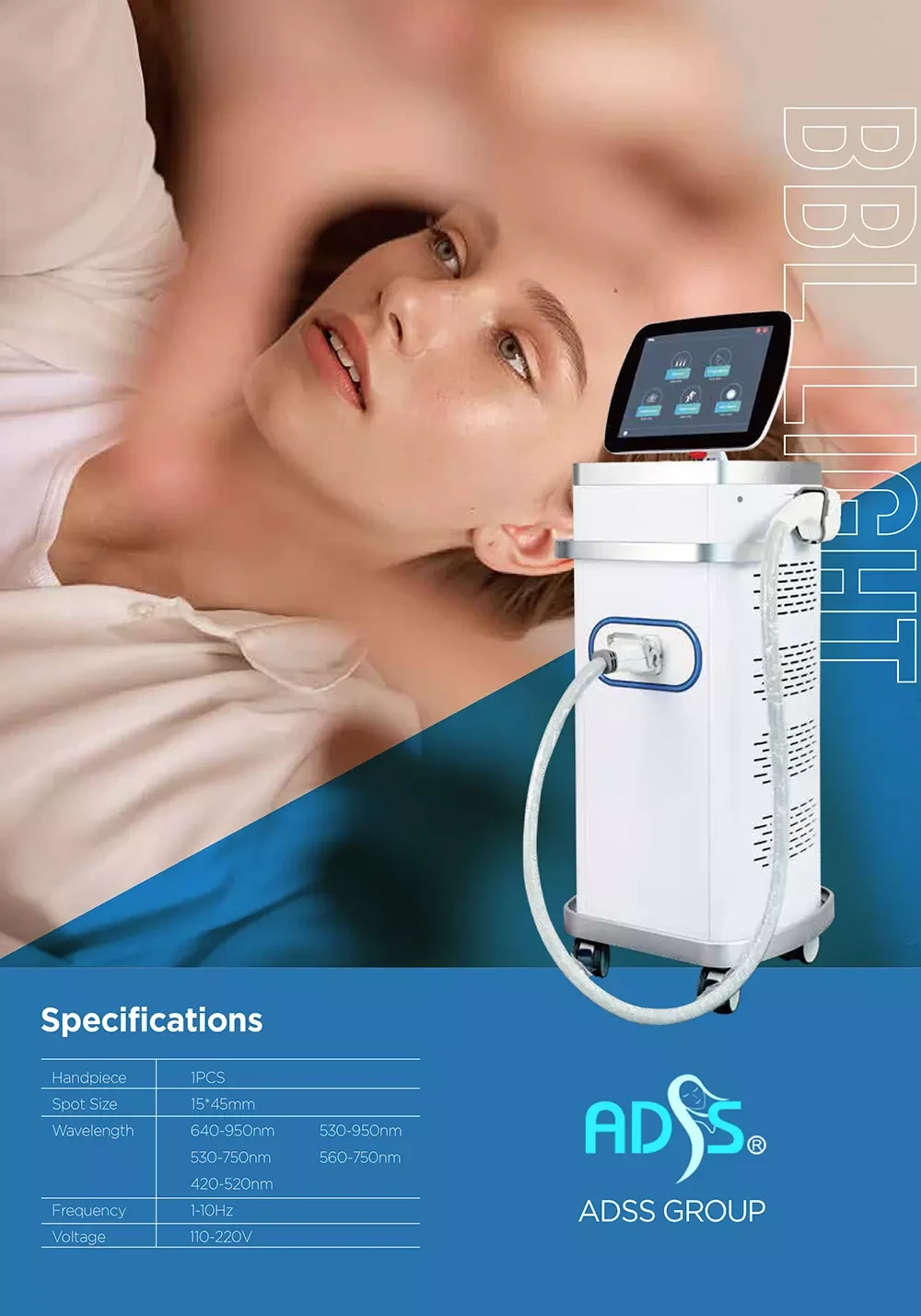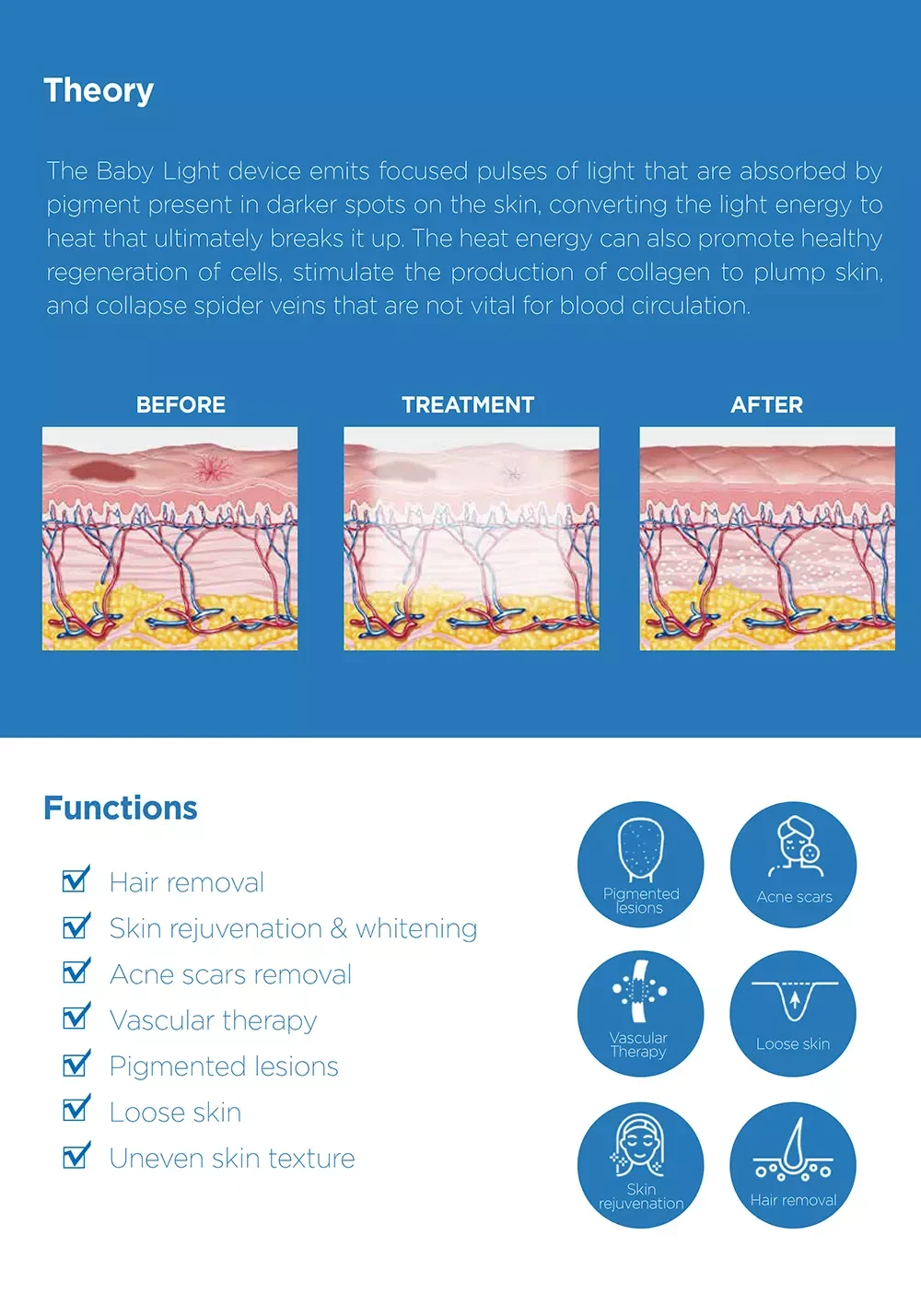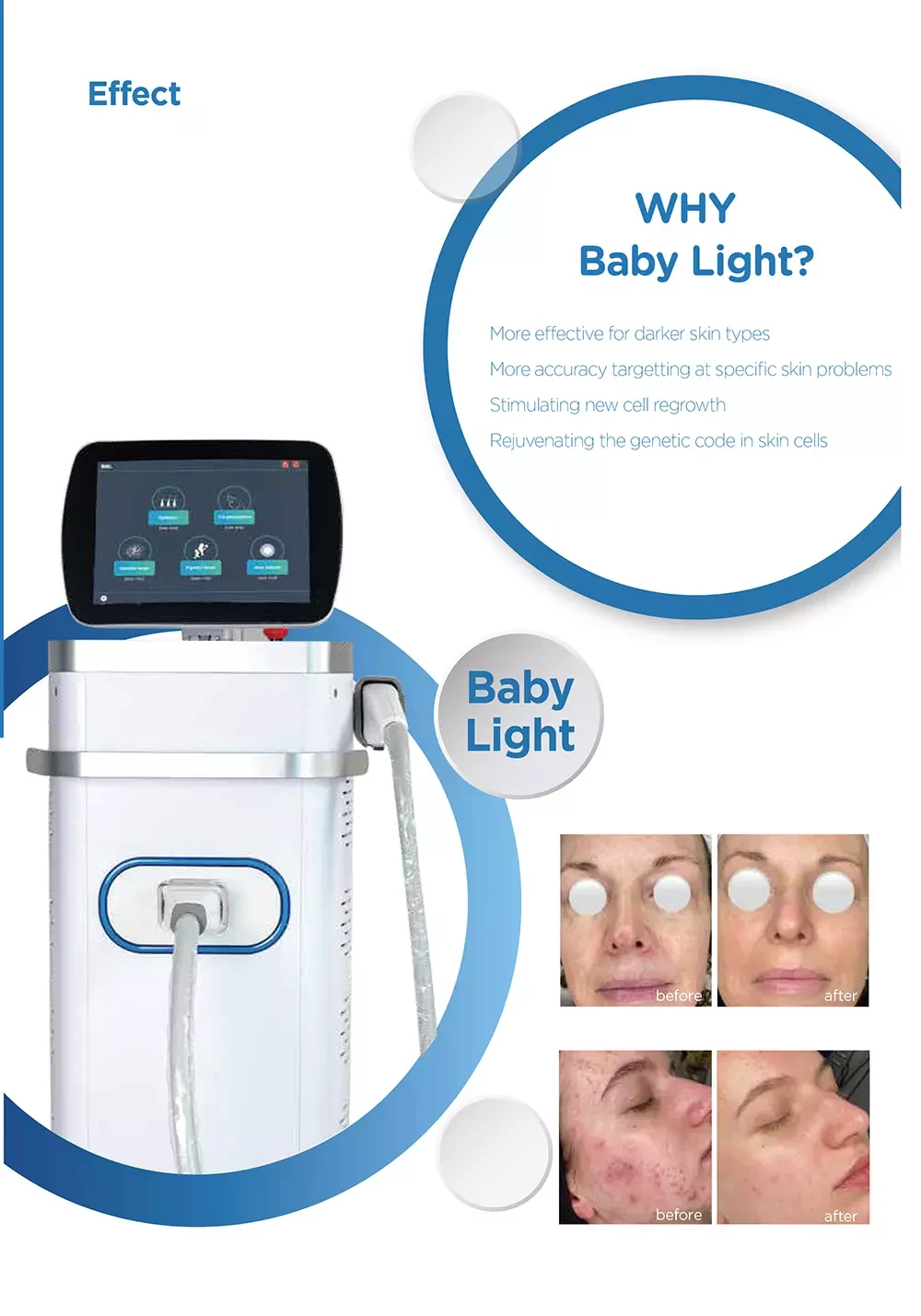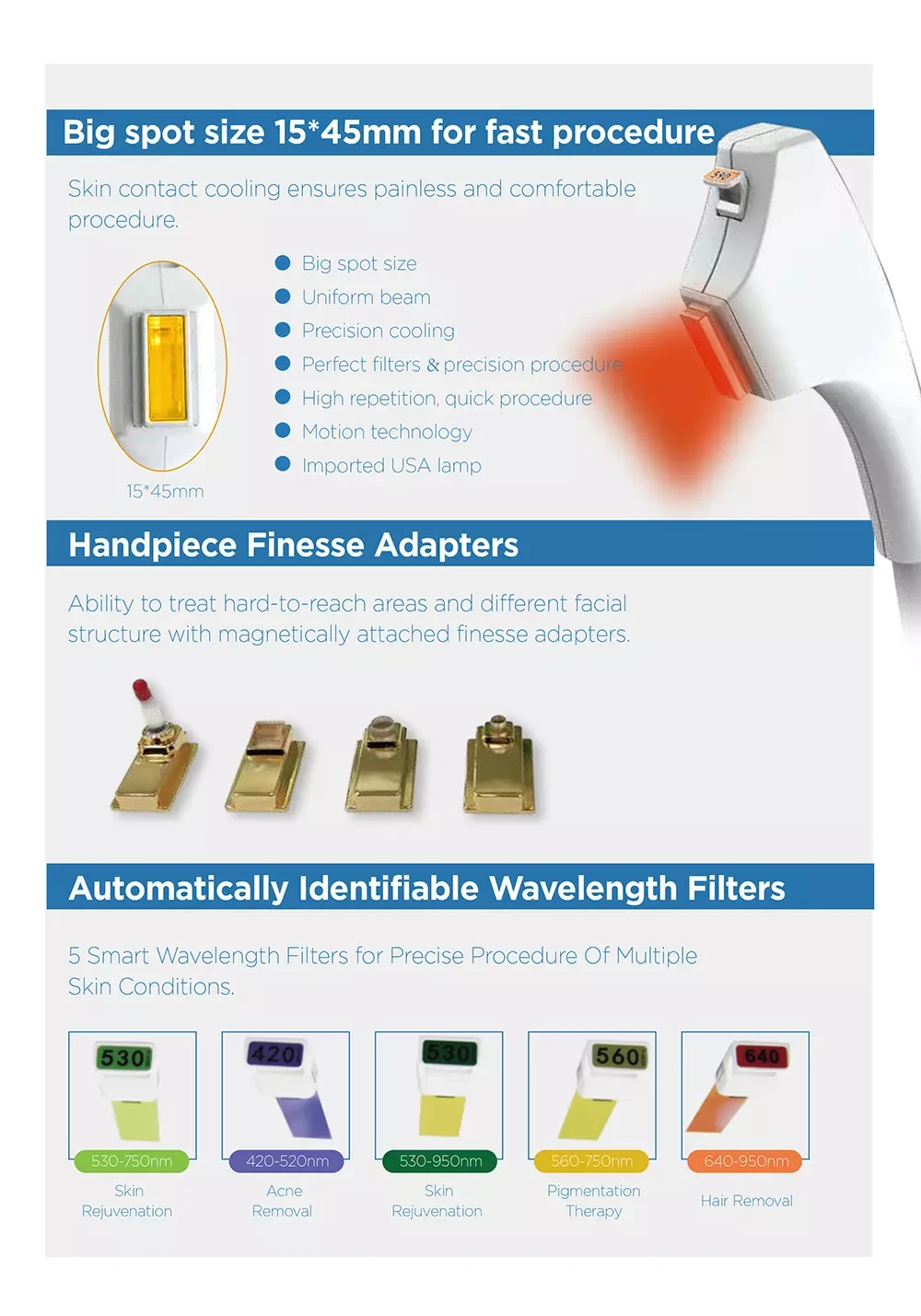 Technical Parameters of BBL Hair Removal Skin Rejuvenation Machine
| | |
| --- | --- |
| Display | 15" TFT true color LCD display (24bits for color) |
| Output Power | 4000W |
| Frequency | 1-10Hz |
| BBL energy | IN MOTION: 1-15J/c㎡ STAMP: 1-50J/c㎡ |
| Number of pulse | IN MOTION: 1T (single pulse) STAMP: 1-4T (multi pulses) |
| Wavelength | 640-950nm; 530-950nm; 530-750nm; 560-750nm; 420-520nm |
| Number of handpiece | 1pcs |
| Spot size | 15*45mm |
| Program languages | Spanish,Turkish,English,Russian etc |
| Sapphire cooling | Semiconductor+ air + water + cooling gel |
| Skin cooling | ≤0-10℃ |
| Dimension of machine | 47*47*109 cm |
| Dimension of package | 67*63*123 cm |
| N.W. | 57kg |
| G.W. | 83kg |
| Voltage | 220V / 110V |
BBL Hair Removal Skin Rejuvenation Machine Manufacturer Price
Standard Price
Free Shipping For A Limited Time
Add any language into the machine system
Print your company logo on the machine
Customize the machine's color and appearance
Customize marketing services including posters, brochures, videos, and pictures
Design a machine shell that is customized to your branding needs
Create new user interfaces for the ease of your clients
Support sufficient customer resources in your sales market
Support accessories customization including handpiece, screen, handle, etc
Buy Now
Pro Price
Free Shipping
Add any language into the machine system
Print your company logo on the machine
Customize the machine's color and appearance
Customize marketing services including posters, brochures, videos, and pictures
Design a machine shell that is customized to your branding needs
Create new user interfaces for the ease of your clients
Support sufficient customer resources in your sales market
Support accessories customization including handpiece, screen, handle, etc
Buy Now
OEM/ODM Price
Free Shipping
Add any language into the machine system
Print your company logo on the machine
Customize the machine's color and appearance
Customize marketing services including posters, brochures, videos, and pictures
Design a machine shell that is customized to your branding needs
Create new user interfaces for the ease of your clients
Support sufficient customer resources in your sales market
Support accessories customization including handpiece, screen, handle, etc
Get Custom Made Price
Questions That Might Worry You
Similar Products