Introduction
Product Video
Theory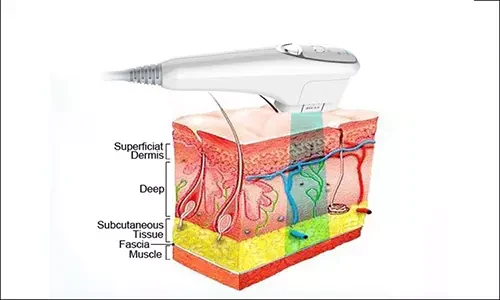 HIFU is a non-surgical radio frequency procedure that can rejuvenate your skin, help smooth , tighten and contour skin and decrease the sagging skin of aging on the face and body.
ADSS HIFU procedure stimulates collagen production by delivering energy to the skin's foundational layer typically addressed in cosmetic surgery—without cutting or disrupting the surface of the skin. Coagulation zone into 4.5mm Depth(SMS layer) and 3mm.
Make the higher temperature than 400℉,triggers a natural response under the skin, immediately tightening effect, jump starting the regenerative process that build collagen&elastin.
Function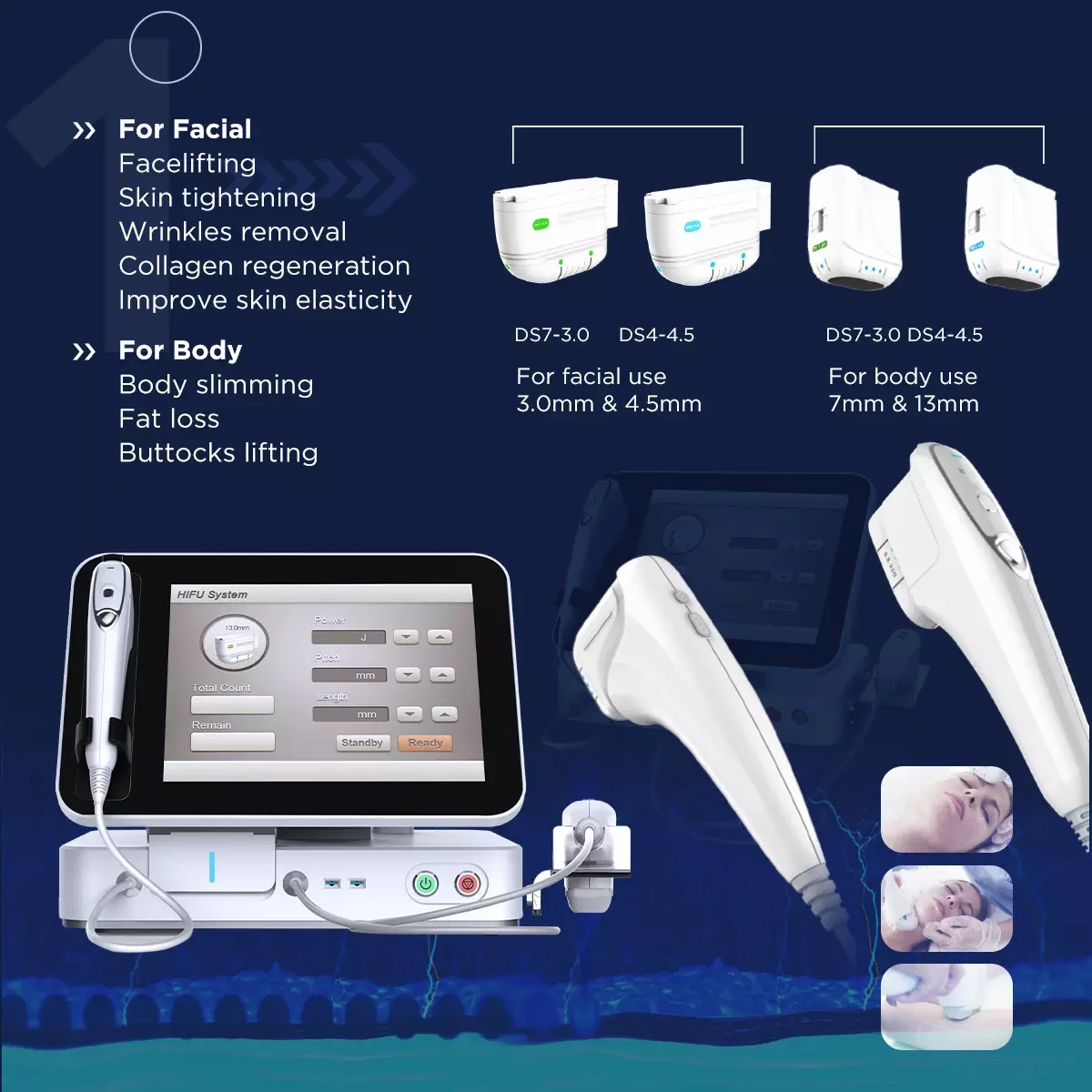 1.Remove wrinkles on around forehead, eyes, mouth, etc.

2.Lifting and tightening both cheeks skin.

3.Improving skin elasticity and shaping contour.

4.Improving jaw line, reducing marionette lines

5.Tightening the skin tissue on forehead, lifting the eyebrows lines.

6.Improving skin complexion, making the skin delicate and bright

7.Body slimming and skin tightening.
Why Should You Choose ADSS HIFU?
1.High efficiency - Impressive results are shown even in mature people.

2.Long-lasting result: the effect lasts 2-5 years.

3.Ability to eliminate or soften deep wrinkles.

4.Quick - The procedure on the face takes only 20-30 minutes.

5.Preservation of the natural lines of the face, there is no strong skin tension.

6.Effective on all areas of the face.

7.No long-term recovery nor non-invasive procedure.
What Problems Can it Solve
1.Loss of elasticity of the skin on the inside of the arms, legs, knees, elbows, abdomen.

2.Wrinkles around the eyes (age-related, mimic).

3.Drooping of the eyelid.

4.Sagging skin on the chin, face, neck.

5.Loss of firmness of the skin of the face, chin, neck, décolleté line, as well as wrinkles in these areas.
Advantages
1.Superficial dell dermis and SMAS ( Superficail Muscular Aponeurotic System).

2.Fast operation. Full face and neck treatment only takes 20-30 minutes

3.Completely non-invasive you can put on make-up 15 minutes after treatment.

4.Instant result will be checked from one time good result will last 2-5 years

5.Non-invasive painless soft and no side effects

6.High quality low consumables

7.More accurate procedure due to Exact Focusing Technology

8.Power Chip Imported from America--Steable power and Constant depth.

9.Highest quality Propeller from Korean-- Uniform Point spacing

10.Equipped 5 heads precisely acting on different depths of the skin

11.Friendly operating software, adjust energy is OK.
HIFU Treatments Videos
Benefits for the beautician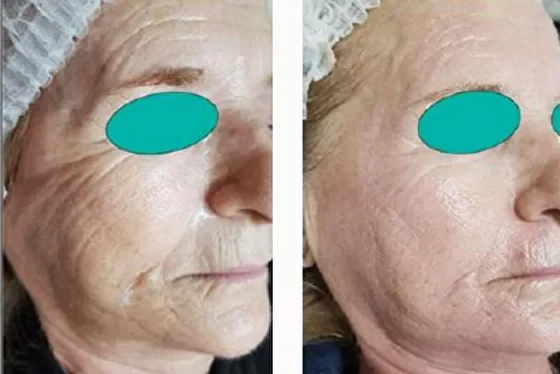 1.Simple interface.

2.Compact and ergonomic system suitable for any beauty salon.

3.Long-term result for your clients - 2-5 years.

4.Fast procedure (30-40 minutes for a procedure on the face and neck).

5.Free education.

6.Marketing support in promoting.
Benefits for the patient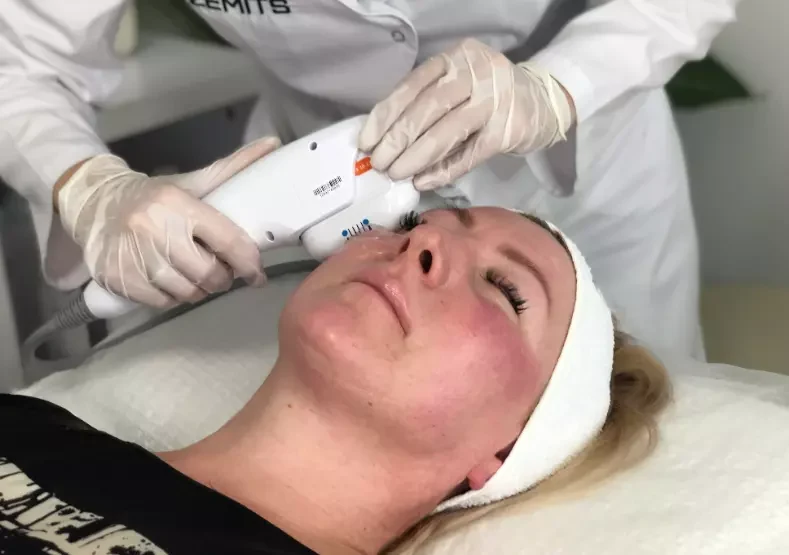 1.Wrinkle reduction.

2.Tightening sagging skin on the neck.

3.Lifting the cheeks, eyebrows, and eyelids.

4.Enhancing jawline definition.

5.Tightening of the décolletage.

6.Smoothing the skin.
Before & After the Treatments
ADSS HIFU Offers 5 Cartridges with Different Penetration Depths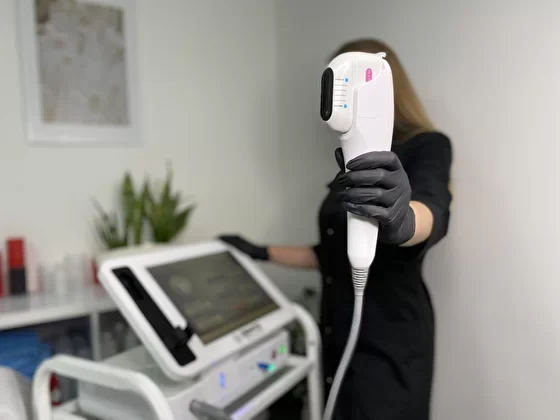 A beautician can buy a hifu machine with five cartridges to choose from. ADSS offers five cartridges with different depths:
1.Body 13.00 mm.

2.Eye area 1.5 mm.

3.Face 3.0 mm.

4.Face and neckline 4.5 mm.

5.Body 7.0 mm.
The device comes with a set of 2 cartridges to choose from. You can buy the rest of the cartridges separately.
The rest of the cartridges can be purchased at will.
Irradiation Type

High Intensity Focused Ultrasound

Frequency

4MHz,7MHz

Max Energy

2.0J/m2

LCD Screen

15 Inch True Color Touch LCD ADSS System

Standard Cartridges

4MHz:4.5mm,7MHz: 3.0m---10,000 shots

Operational Cartridges

2MHz: 13mm(Body/Reduce Fat)

3MHz: 7mm(Body/Reduce Fat)

10MHz: 1.5mm(Eye area)

Length

Face: 5~25mm(1mm step)

Body: 5~25mm(7.0mm, 13mm)

Demensions of Machine

45*30*15cm

N.W./G.W.

20/22KG

Voltage

AC110-220V 50/60Hz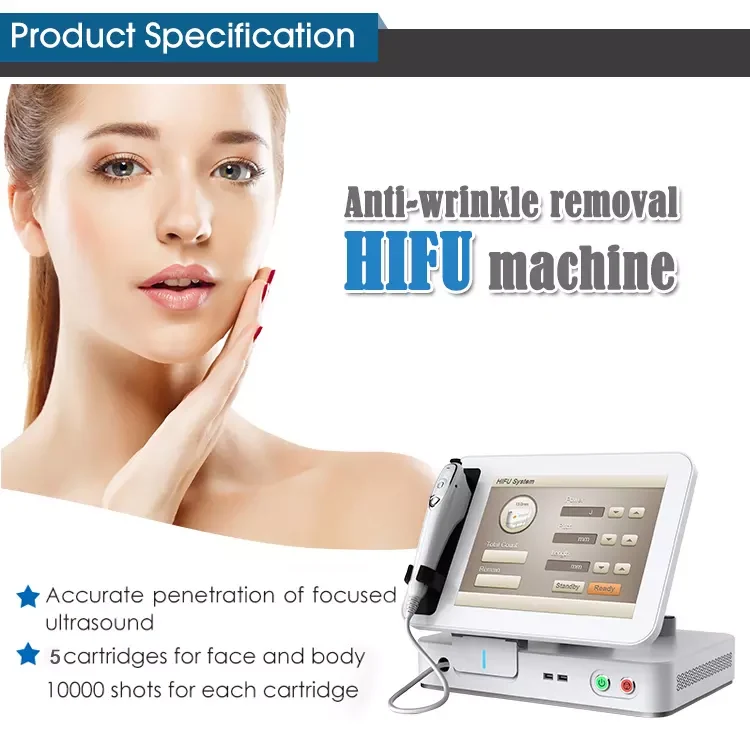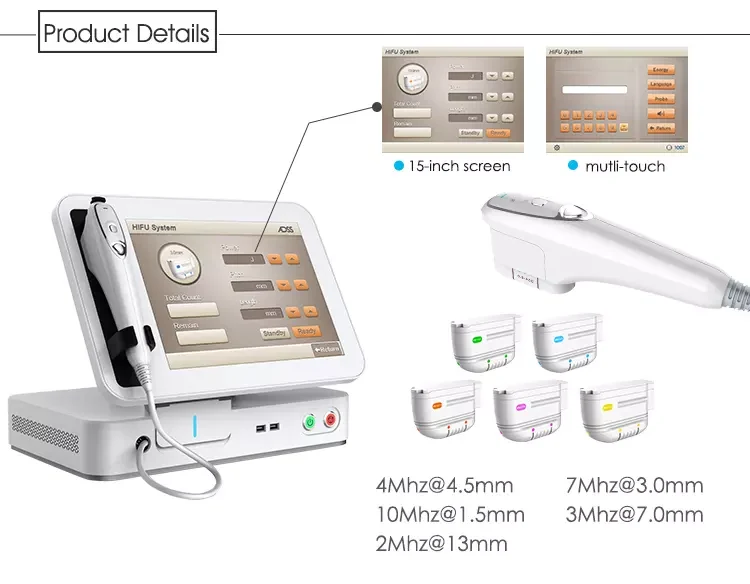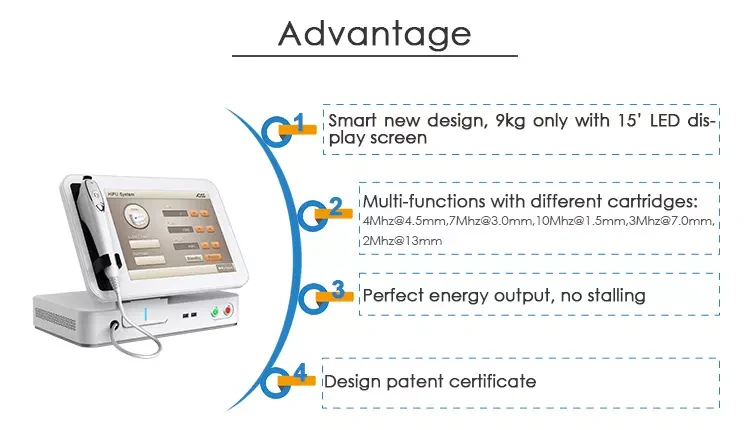 HIFU Facial Wrinkle Removal System Manufacturer Price
Standard Price

Manufacturer Price: Negotiable/ (Free Shipping)

Custom Made Price

Custom Price: Negotiable/ (Free Shipping)
HIFU Facial Wrinkle Removal System Certificates
ADSS HIFU Facial Wrinkle Removal System has FDA, (TUV) CE, (TUV) ISO 13485, Utility Model Patent Certificate; as well as the right of import and export certificate.
Similar Products