Introduction
Product Video
Theory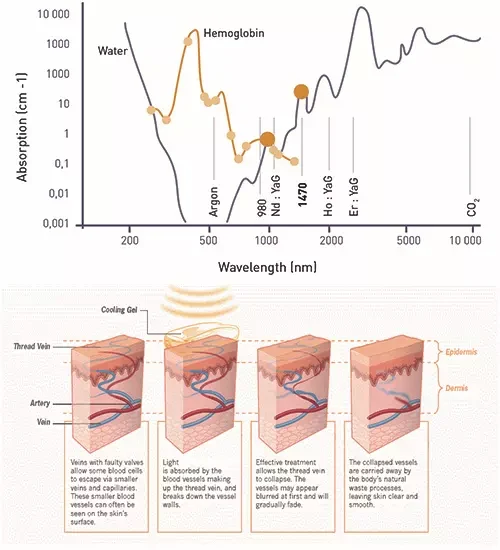 1. 980nm laser is the optimum absorption spectrum of Porphyrin vascular cells. Vascular cells absorb the high-energy laser of 980nm wavelength, solidification occurs, and finally dissipated.

2. To overcome the traditional laser treatment redness large area of burning the skin, professional design hand-piece, enabling the 980nm laser beam is focused onto a 0.2-0.5mm diameter range, in order to enable more focused energy to reach the target tissue, while avoiding burn the surrounding skin tissue.

3. Laser can stimulate the dermal collagen growth while vascular treatment, increase epidermal thickness and density, so that the small blood vessels are no longer exposed, at the same time, the skin's elasticity and resistance is also significantly enhanced.

4.The Laser system based on the thermal action of the laser. The transcutaneous irradiation (with a penetration of 1 to 2 mm in the tissue) causes tissue selective absorption by hemeglobin (hemoglobin is the main target of the laser).
Function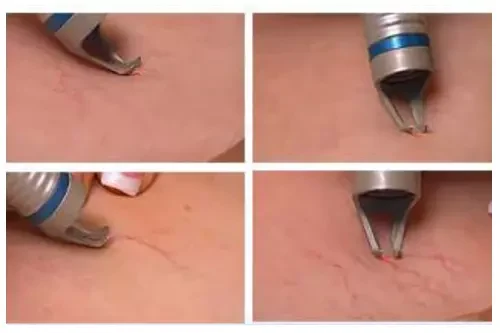 Different color of Tattoo removal, including lipline, eyebrow, eyelid and body tattoos

Pigment removal

Age spot, birthmark and nevus removal

Skin rejuvenation

980 vascular laser appears to be an extremely safe technique, particularly when the energy applied is calculated, It is associated with only minor effects. Currently, 980 vascular removal machine has become the method of choice for treating superficial veins and has almost replaced the treatment of traditional ligation and stripping.
Advantages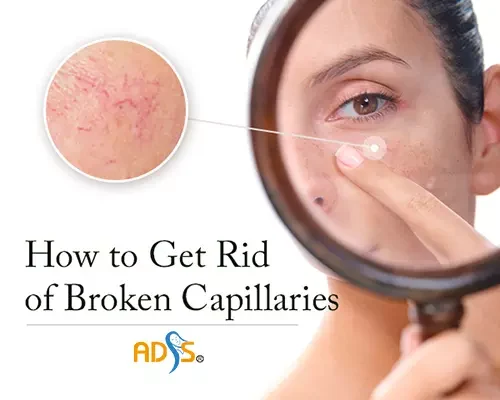 1.Spot size: 1.4mm, 1.9mm, 2.4mm, meet different treatment requirements

2.2 tips, 1 for superficial spider veins, another for subcutaneous spider veins

3.Easy to use, precisely control the output time and frequency by software to meet different treatment demands, Compact design, easy carry

4.US imported laser and laser fiber.

5.Intuitive graphical display, 7.4" TFT touch screen, convenient and easy operation.

6.Real-time power monitor, Big power supply 600W, Perfect heat radiation system, long continual working time

7.Automatic power calibration, . Imported "plug and play" handle connector, advantages as below.
a. stable performing
b. convenient to replace lamp or repair

8.Automatic fiber identification, Φ7 laser bar, it has bigger energy 1600mj, high efficiency.

9. Imported lamp, long using time: 1,000,000 shots
Treatment Operation Video
Before & After the Treatments
Technical Parameters of Diode Laser spider veoms removal system

| | |
| --- | --- |
| Power | 600W |
| Laser power | 16W |
| Brightness of indicator | 1-5 level adjustable |
| Work mode | Continuous/Pulse |
| Spot size | 1.4mm/1.9mm/2.4mm |
| Voltage | 110-240V 50-60Hz |
980nm Diode Laser Spider Veoms Removal System Manufacturer Price
Standard Price

Manufacturer Price: Negotiable/ (Free Shipping)

Custom Made Price

Custom Price: Negotiable/ (Free Shipping)
980nm Diode Laser Spider Veoms Removal System Certificates
ADSS 980nm Diode Laser Spider Veoms Removal System has FDA, (TUV) CE, (TUV) ISO 13485, Utility Model Patent Certificate; as well as the right of import and export certificate.
Similar Products