Introduction
Product Video
Theory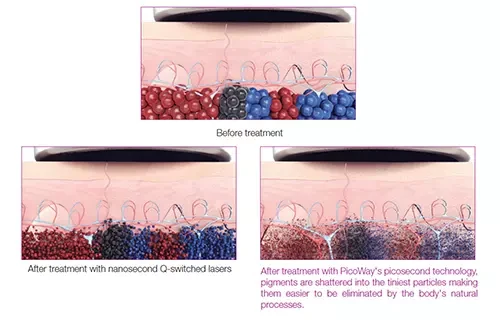 Picosecond presents a new era in deep pigments shattering, offering optimal results for the removal of colorful tattoos and benign pigmented lesions with just few treatments.
Picosecond mode of operation is based on delivering ultra-short picosecond pulses of energy into the skin tissue.
The light absorbed in the pigment is transformed into a photoacoustic wave that shatter the pigment into micro-size particles, which the body immune system can then dispose of easily.
Function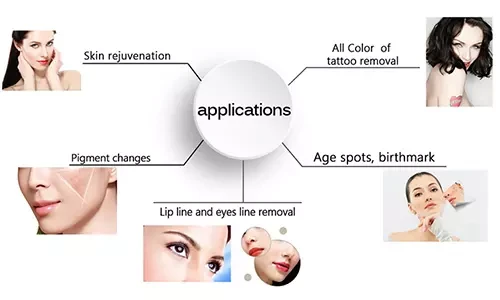 1.Picosecond offers unrivalled performance without causing any pain or interrupting your work or social lives, and the treatment needs no anaesthetic creme.

2.It presents no contraindications for exposure to sunlight, so it can be used all year round. Like Certain dark marks/ Pigmentary scars/ Sun-damaged skin

3.In the first session, you'll notice an even complexion. In the second and third treatments, pigments turn lighter color . By the end, skin turns to be bright and delicate.

4.All types of skin can be treated for pigment removal, even the most delicate, such as Asian or mixed complexions.

5.All colors of tattoo can be treated
Advantages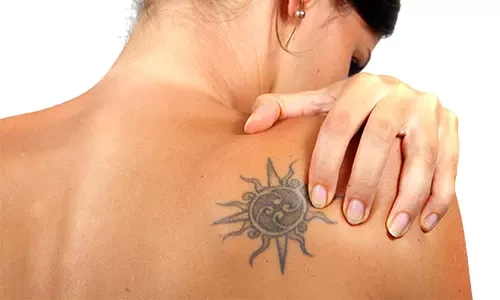 1.Strong peak laser thermal energy and impact force explore pigment into dust particle within quite short period, which is less than 750 picosecond (10-12 second). As a result, all final-requests to pigment removal can be expected, such as : no pain, no downtime, less treatments.

2.Focus treatments active your body's natural skin cell processes for healthy, more youthful-looking skin.

3.Stimulate the production of new collagen and elastin

4.No melanin precipitate by super-short pulse duration.

5.Most efficient for dermis pigment, such as melasma.

6.Less than 8% energy lost controlled by high precision handle arm and intelligent probe with 2--10mm spot size adjustment .

7Easy maintenance, all components touchable within 20 second.
Treatment Operation Video
Before & After the Treatments
Wavelength

1064nm、532nm

Frequency

1-10Hz

Duration

750PS

Laser Mode

Multimode

Energy

1064@200MJ-1000MJ,step 200MJ

532@100MJ-500MJ, step 100MJ

Energy Stability

3%@1064nm/532nm (Standard deviation/Average)

Arm

Torsion Reed Guide Light arm, Output Efficiency 80%

Spot size 2-10mm Adjustable

Cooling Way

Air Cooling+Water Cooling

Coolant

Distilled water

Voltage

220V 50Hz/110V 60Hz
Picosecond Laser,PS2014 Manufacturer Price
Standard Price
Free Shipping For A Limited Time
Add any language into the machine system
Print your company logo on the machine
Customize the machine's color and appearance
Customize marketing services including posters, brochures, videos, and pictures
Design a machine shell that is customized to your branding needs
Create new user interfaces for the ease of your clients
Support sufficient customer resources in your sales market
Support accessories customization including handpiece, screen, handle, etc
Buy Now
Pro Price
Free Shipping
Add any language into the machine system
Print your company logo on the machine
Customize the machine's color and appearance
Customize marketing services including posters, brochures, videos, and pictures
Design a machine shell that is customized to your branding needs
Create new user interfaces for the ease of your clients
Support sufficient customer resources in your sales market
Support accessories customization including handpiece, screen, handle, etc
Buy Now
OEM/ODM Price
Free Shipping
Add any language into the machine system
Print your company logo on the machine
Customize the machine's color and appearance
Customize marketing services including posters, brochures, videos, and pictures
Design a machine shell that is customized to your branding needs
Create new user interfaces for the ease of your clients
Support sufficient customer resources in your sales market
Support accessories customization including handpiece, screen, handle, etc
Get Custom Made Price
Questions That Might Worry You
Similar Products