Introduction
Introduction of Medical Picosecond Laser Tattoo Removal Machine
Are you looking for a special laser equipment for tattoo removal professionally? Now,. YOU FOUND IT ! The biggest China manufacturer -ADSS in this field provide you one, medical Picosecond laser machine for safe and effective removal of tattoo. Clinical data shows better clearance in fewer treatments, can shatters the tattoo inks into particles that can easily be removed by the body. Rapid speed , less pain with minor side effects.
Working Theory of Picosecond Laser Tattoo Removal Machine
ADSS medical Picosecond laser uses very short pulse output mode, instead of thermal effect, by the principle of light mechanical shock wave,pigment is"shattered" into finely granular via focused energy, are more likely to be absorbed by the body metabolism. Picosecond laser will be to minimize the side effects of thermal effect, can achieve the goal of almost solve all colour of tattoo inks ,is better than traditional way to removing tattoo.
Functions of Medical Picosecond Laser Tattoo Removal Machine
1.All colors of tattoo inks removal, including the stubborn green, red, and yellow ink.

2.The Picosecond pulses are so fast they cause a change in pressure that breaks ink part into tiny dust-like particles. These tiny particles are then absorbed by the lymphatic system, a critical part of your body's immune system, and eliminated naturally.
Advantages of Medical Picosecond Laser Tattoo Removal Machine
1.The pulse width is much shorter than nonsecond Nd yag laser, this result in only several hours swelling and redness of the treatment area, left the surrounding skin no change.

2.Focus lens technology, effectively converts the laser energy into gentle pressure waves, which is perfect for shattering the inks into miniscule particles.

3.No possibility of hyper pigmentation

4.More effective result, less sessions for treatment, 9 times more effective than nonsecond laser

5.100% removal of stubborn tattoo ink, like green, red and yellow ink.
Benefits of Medical Picosecond Laser Tattoo Removal Machine
1.Higher clearance

2.Faster speed

3.Less pain

4.Shortest thermal damage for the issue

5.Removal tattoo inks and start skin repair mechanism
Technical Parameters of Medical Picosecond Laser Tattoo Removal Machine
Power

2000W

Wavelength

1064nm、532nm

Frequency

1-10Hz

Duration

Dynamic light 700ps

Laser mode

Multimode

Energy

1064@200MJ-1300MJ,step 200MJ

532@100MJ-650MJ, step 100MJ

Energy stability

3%@1064nm/532nm (Standard deviation/Average)

Arm

Original imported arm, output efficiency 90%

spot size 2-10 adjustable

Cooling way

Air cooling+water cooling

Coolant

Distilled water

Voltage

220V 50Hz/110V 60Hz

Dimensions

Machine size: 980*350*880mm

Package size: 1120*475*1020mm

Weight

NW: 109.6kg GW: 164.6kg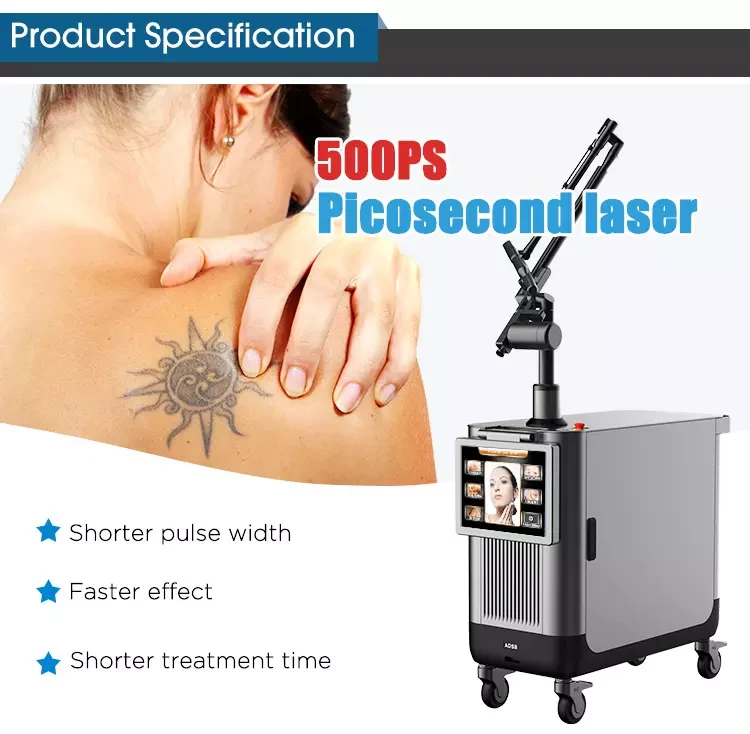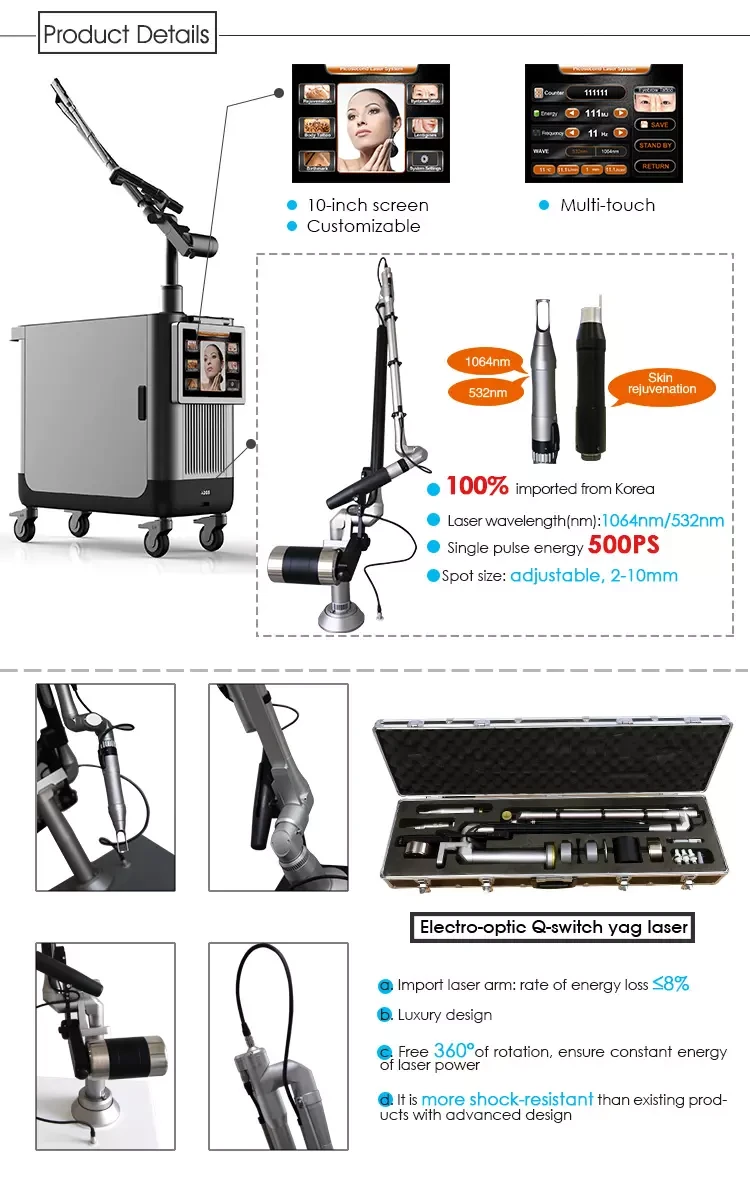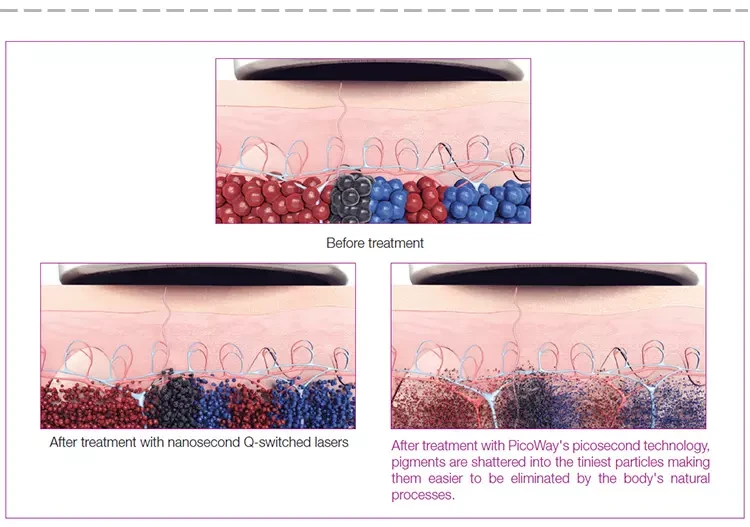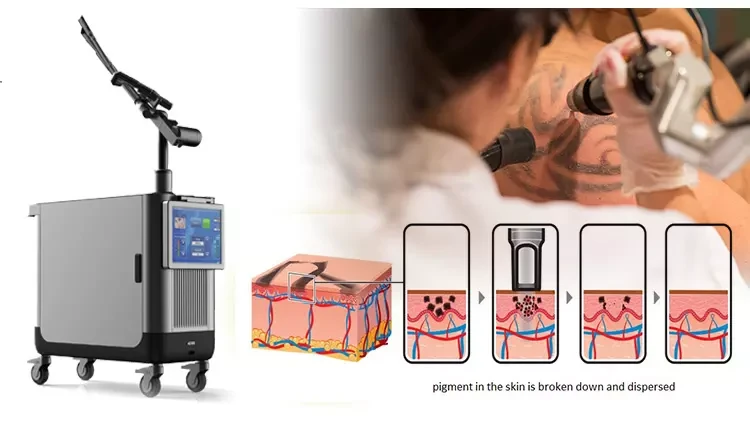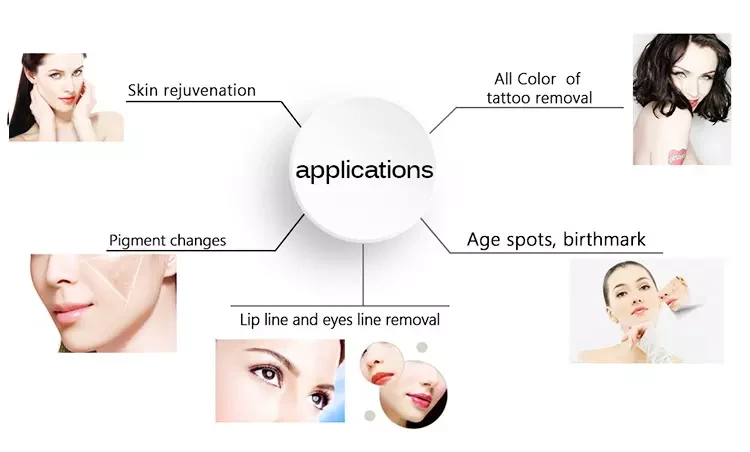 Product Videos
Before & After the Treatments
Treatment Operation Video
Medical Picosecond Laser Tattoo Removal Machine Price
Standard Price

Manufacturer Price: Negotiable/ (Free Shipping)

Custom Price

Custom Price: Negotiable / (Free Shipping)