Introduction
Introduction of At Home Picosecond Laser Tattoo Removal Equipment
At home Picosecond Laser tattoo removal equipment is the latest, most advanced laser technology that helps in removing pigmentation, tattoo removal, hair lightening rejuvenates aging skin safely. It works in ultrashort picosecond laser pulses instead of nanosecond pulses in a Q-Switched laser. This means theat the pulse duration ( how much time 1 laser shot stays on the skin) of a Pico Laser is 100x shorter than a Q-Switched Laser, and more laser shots can be fried by a Pico Laser in the same amount of time compared to a Q-Switched Laser.
Working Theory of Picosecond Laser Tattoo Removal Equipment
When the laser light is being absorbed by the pigments, the light will vibrate, fragments the particles into really thin "dust" and breaks up melanin and pigment particles in "picosecond" pulses. This in turn means that the skin takes a lesser time to heat up and reduces the risk of hyper-pigmentation. The Laser pulses generate a pure photoacoustic effect which targets the pigments without affecting the surrounding tissues.
Functions of At Home Picosecond Laser Tattoo Removal Equipment
Faster and more effective removal of different color tattoos

Chloasma removal/Melasma removal

Sun spots, Age spots, freckles, birthmarks removal

Pigmentation reduction

Acne marks clearance

Brighter and tigher skin due to collagen stimulation

Reduciton in fine lines

Skin rejuvenation
Advantages of At Home Picosecond Laser Tattoo Removal Equipment
1.R&D Advantage: the only Medical Aesthetic Device Manufacturer, who possesses the capability of R&D and bulk production of laser source in this field in China

2.Real picosecond technology, high peak energy in ultrashort picosecond pulse

3.Optimized structure, working stable and easy maintenance

4.Korea Arm: energy loss less than 8%, transmitted by high precision handle arm and intelligent probe with 2--10mm spot size adjustable.
Benefits of At Home Picosecond Laser Tattoo Removal Equipment
1.Picosecond laser scatters the pigment into dust rather than pebbles treated by nano-second laser.

2.A novel technique for pigmented skin disorders such as melasma

3.Minimized damage to surrounding tissues

4.No adverse effects such as post-infammatory hypo and hyper pigmentation(PIH) or dermatitis

5.Faster and better effects for removing red and yellow colorful tattoo

6.Less treatment time and less sessions required
Technical Parameters of At Home Picosecond Laser Tattoo Removal Equipment
| | |
| --- | --- |
| Laser type | Picosecond Nd yag laser |
| Wavelength | 1064nm,532nm |
| Frequency | 1-10HZ |
| Laser output mode | Flat top |
| Energy | 1064nm/50-500mj; 532nm/50-250mj |
| Pulse width | 450ps |
| Spot size | 2-10mm |
| Beam of light transmission | 7 articular-arm of light fuide transmitting, transmission power is more than 95%. |
| Indicator of aiming light | Red semiconductor aiming light, wavelength 650nm-670nm |
| Cooling Manner | Copper fans,no pollution to water |
| Program Language | English,and any customized language available |
| Dimension of machine | 100*41*98cm |
| Dimension of package | 106*59*125cm |
| N.W. | 67KGS |
| G.W. | 130KGS |
| Packing material | Packing material |
| Voltage | 220V/110 |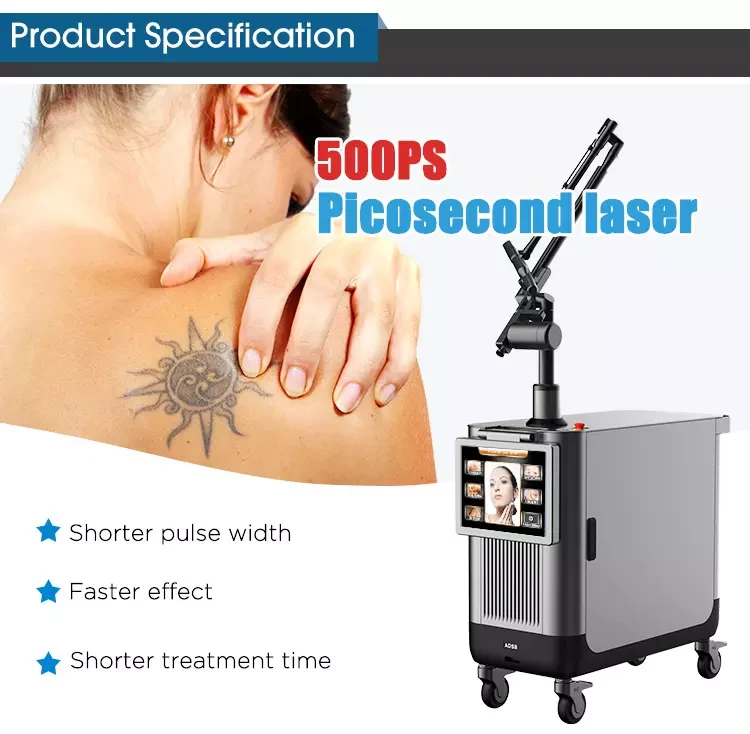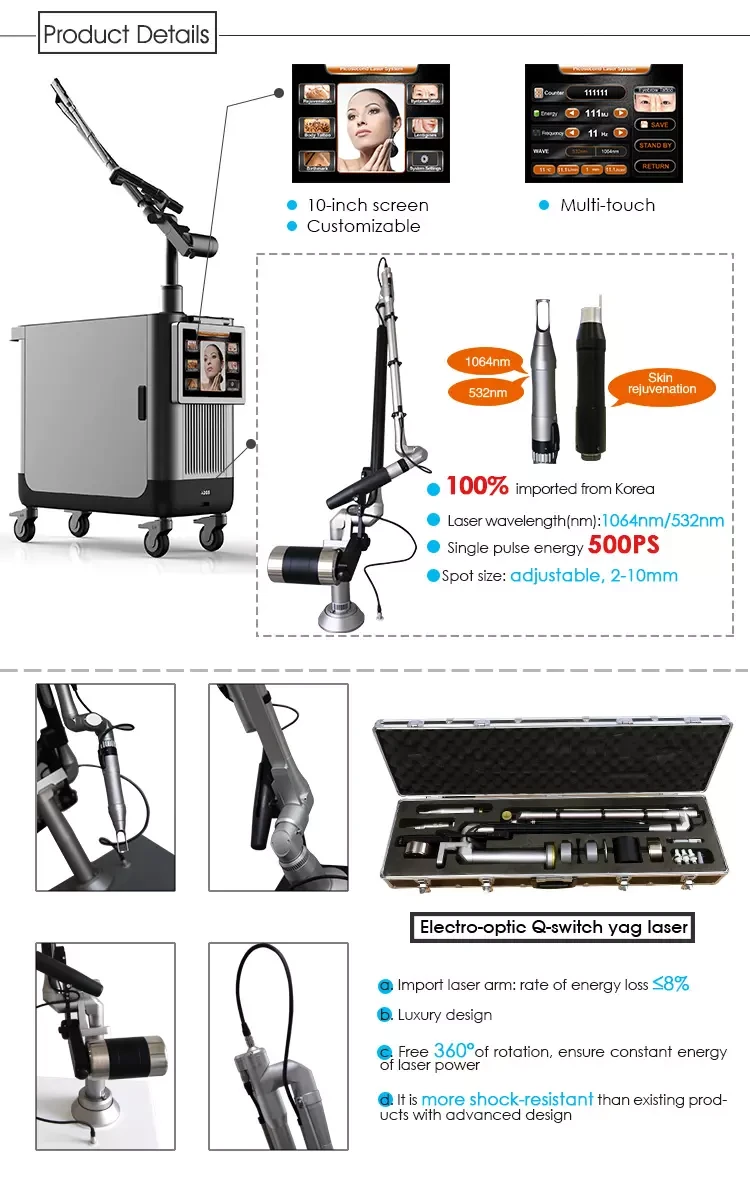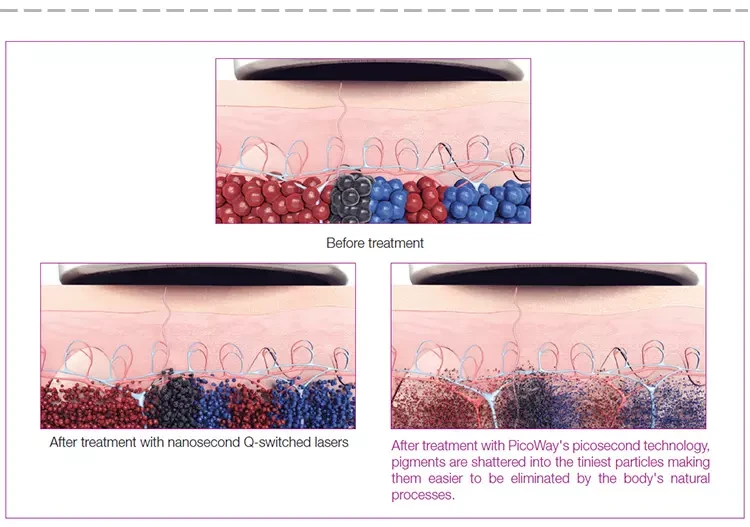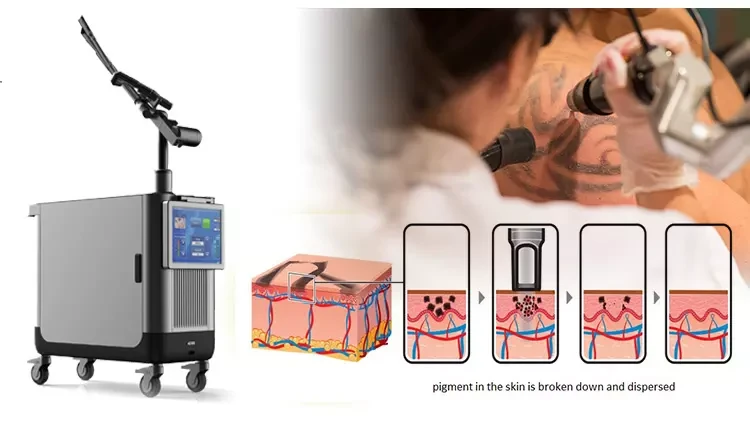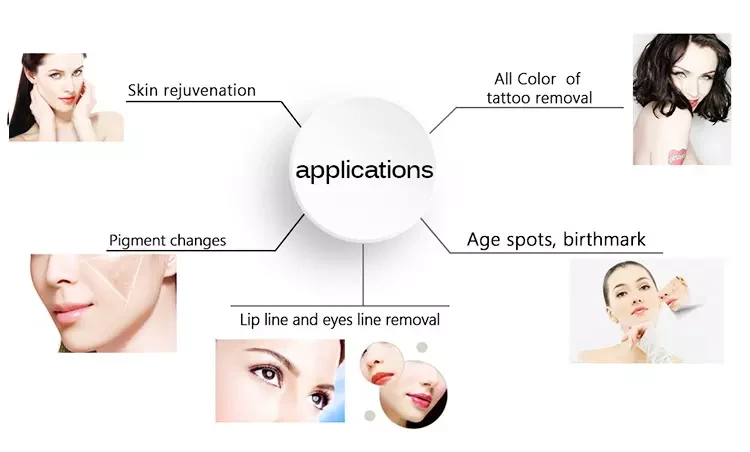 Product Videos
Before & After the Treatments
Treatment Operation Video
At Home Picosecond Laser Tattoo Removal Equipment Price
Standard Price

Manufacturer Price: Negotiable/ (Free Shipping)

Custom Price

Custom Price: Negotiable / (Free Shipping)