Introduction
Theory
CO2 lasers produce light at a 10,600nm wavelength, which is absorbed by water in the tissue. The laser energy heats up the water until it reaches a boiling point causing the evaporation of the affected tissue. Some heat is absorbed by tissue, causing tissue coagulation as well as thermal stimulation of deep skin layers, which induces fibroblast stimulation and neocollagenesis (the formation of new collagen).
In general, laser resurfacing is a method of reducing wrinkles, scars and blemishes. By using a laser to remove the outermost surface of the skin, laser resurfacing offers the skin a chance to regrow into a glowing, unblemished surface. Laser resurfacing also stimulates collagen growth underneath the skin. With increased collagen, wrinkles are filled in, reducing or eliminating their appearance.a
Function
1.Fractional model: reduces various scars( hypertrophic scars, depressed scars, bums, operation scars etc.) reduces seborrhetic keratosis, age pigment freckle, wrinkle, and uneven holes, skin rejuvenation.
2.Vaginal Mode: 3600 cone-shaped probe, solution for vaginal relaxation syndrome
Vaginal tightening improved 60%
Vaginal moisture increased 80%
Vulva pigmentation reduced 70%
Anti- Vaginitis
3.CO2 Cutting Mode: treatment for epidermal moles,vascular granuloma, fat granule, warts.
Tighten vagina-Fast tightening, lasting constriction, tightness to improve 60%;
Clean the vagina-Deep anti-aging, young level to improve 80%;
Moist vagina-Improving secretion, moisture level to improve 80%
Pink vagina-Vulva rejuvenation, lighten pigment and pinks labia parts, delicate degree to improve 70%.
Advantages
1.Multi-functional: 3 in 1 system ( Fractional + VRL + CO2) for multi applications, high return investment
2.Safe treatment: Totally safe and VRL system tested by hundreds women in the world, the ideal wavelength is absorbed by the mucous membrane micron, to avoid any thermal damage by deep tissue or organ.
3.Fast treatment: Each treatment less than 30 minutes and 1-3 times treatment can completely solve the skin and vaginal problems
4.Effective treatment: Effective for all women who have the losen vaginal and effective for prevention of gynecological inflammation, and effective for all people who have problems skins such as acne scars, strech marks, large pores
5.Painless treatment:Walk-in/Walk-out VRL procedure, no anesthesia needed
6.Fractional system has 7 scanning shape and 3 scannning method, the docor can adjust the scanning shape size bigger or smaller during treatment according to the treated areas, and minimize the risk of hypopigmentation.
7.No need to change water monthly, easy to maintance.
8.Germany TUV medical CE and FDA approved 10600nm wavelength laser 40w system
9.USA Coherent laser generator ensures the high level and good quality.
10.Korea laser generator ensures the light loss rate less than 12%.
11.Taiwan Meanwell power supply, ensures the stable and enough power supply during treatment, long lifespan.
12.Together with machine order, we'll supply professional operation training and protocols are available.
Before & After the Treatments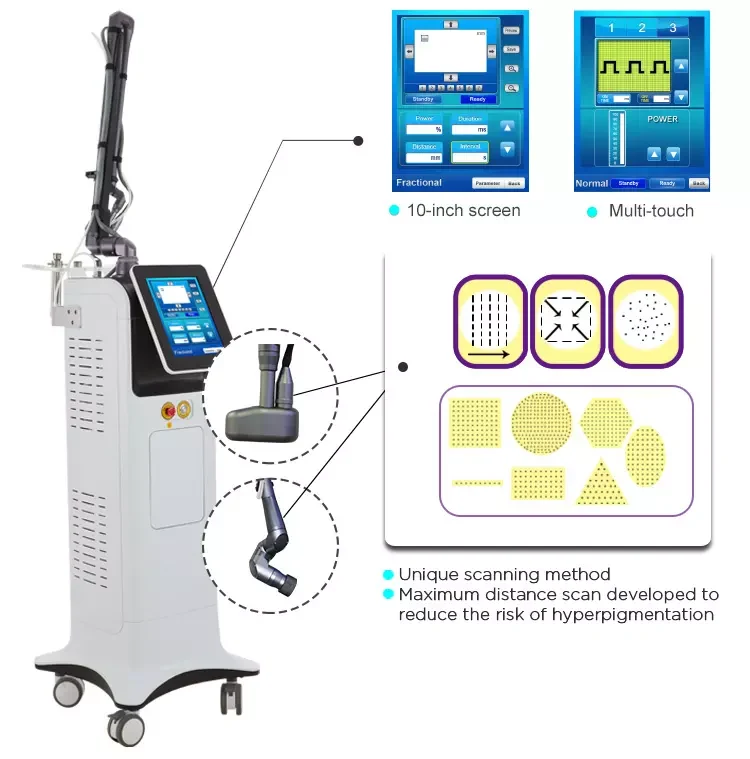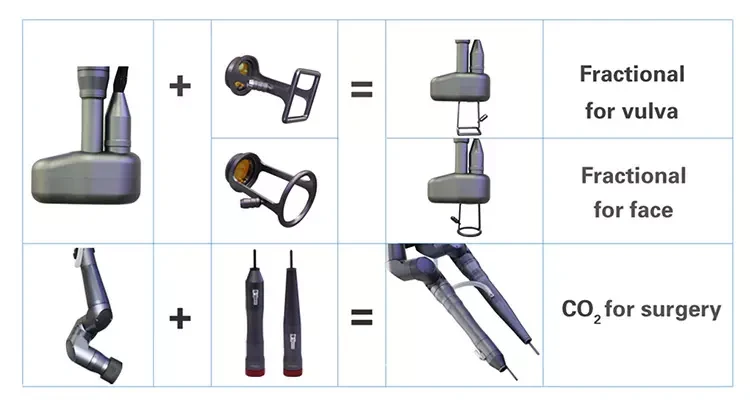 | | |
| --- | --- |
| Wavelength | 10.6um |
| Working mode | Continuous/Ultrapulse/Non-Sequential Pulse |
| Treatment heads Specification | Fractional head/Vaginal head/ vulva treatment head/Pulse treatment heads*2(50mm/100mm)Optional(Vaginal cervical erosion head, Vaginal leakage of urine head) |
| Power | 40W |
| Pulse width | 0.1-10ms adjustable Step 0.1ms |
| Laser | DC Closed RF laser generator |
| Indicator light | 635nm infrared |
| Laser origin | USA |
| Cooling system | Air |
| Language | English |
| LCD Display | 15 inch 16-bit colour LCD Display |
| Scanning Graphics | Square, rectangle, circle, diamond, triangle, ellipse, linear |
| Voltage | 110V-240V AC |
| Size | 530*570*1380mm |
| Weight | 55kg |
Radio Frequency (RF) Fractional Co2 Laser Manufacturer Price
Standard Price

Manufacturer Price: Negotiable/ (Free Shipping)

Custom Made Price

Custom Price: Negotiable / (Free Shipping)
Radio Frequency (RF) Fractional Co2 Laser Certificates
ADSS Radio Frequency (RF) Fractional Co2 Laser has FDA, (TUV) CE, (TUV) ISO 13485, Utility Model Patent Certificate; as well as the right of import and export certificate.
More Products