Introduction
Product Video
Theory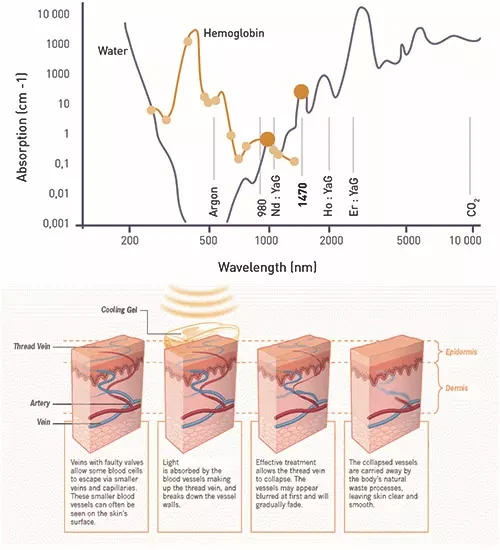 Introduction of Portable Laser Spider Vein Vascular Removal Machine
laser red blood removal machine can stimulate the dermal collagen growth while vascular treatment, increase epidermal thickness and density, so that the small red blood vessels are no longer exposed, at the same time, the skin's elasticity and resistance is also significantly enhanced.
Function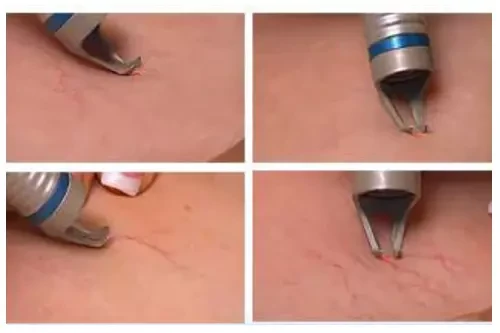 Function of Portable Laser Spider Vein Vascular Removal Machine
1.Vascular lesion therapy

2.Spider veins/face veins/red blood

3.Remove red blood vessels: all kinds of telangiectasia
Advantages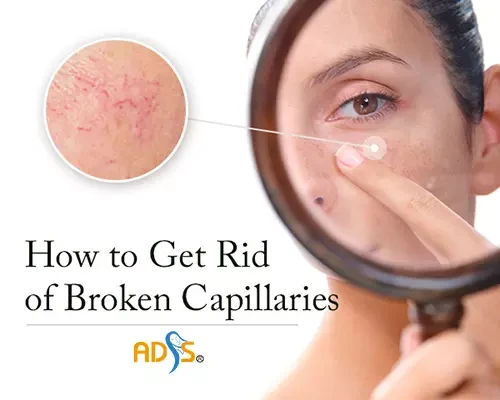 Advantage of Portable Laser Spider Vein Vascular Removal Machine
1.Power: the laser power is 30W.

2.Energy: Precisely control the output time and frequency by software to meet different treatment demands.

3.Spot size: 1.4mm, 1.9mm, 2.4mm, meet more treatment inquirements.

4.Fast and comfortable treatment, excellent result instantly.

5.Double tips, suitable for superfical spider veins, and subcutaneous spider veins.
Treatment Operation Video
Before & After the Treatments
Working theory of 980nm Diode Laser Spider Veins Vascular Removal System
The absorption characteristics of the 980nm laser red blood removal is ideal for the treatment of blood vessels and perfused tissue making it perfect for application in vessel closure and surgical procedures.
Additionally, the low melanin absorption allows transcutaneous treatments on a wide variety of skin types.
Compared with traditional method, 980nm diode laser can reduce redness, burning of the skin. It also has a less chance for scaring. To reach the target tissue more accurately, the laser energy is delivered by a professional design hand-piece.
Benefit of Portable Laser Spider Vein Removal Machine
No pain &No rebounding &Double tips, suitable for superfical spider veins, and subcutaneous spider veins
Technical Parameters of Portable Laser Spider Vein Vascular Removal Machine
| | |
| --- | --- |
| Power | 600W |
| Laser power | 16W |
| Brightness of indicator | 1-5 level adjustable |
| Work mode | Continuous/Pulse |
| Spot size | 1.4mm/1.9mm/2.4mm |
| Voltage | 110-240V 50-60Hz |
Portable Laser Spider Vein Vascular Removal Machine Manufacturer Price
Standard Price
Free Shipping For A Limited Time
Add any language into the machine system
Print your company logo on the machine
Customize the machine's color and appearance
Customize marketing services including posters, brochures, videos, and pictures
Design a machine shell that is customized to your branding needs
Create new user interfaces for the ease of your clients
Support sufficient customer resources in your sales market
Support accessories customization including handpiece, screen, handle, etc
Buy Now
Pro Price
Free Shipping
Add any language into the machine system
Print your company logo on the machine
Customize the machine's color and appearance
Customize marketing services including posters, brochures, videos, and pictures
Design a machine shell that is customized to your branding needs
Create new user interfaces for the ease of your clients
Support sufficient customer resources in your sales market
Support accessories customization including handpiece, screen, handle, etc
Buy Now
OEM/ODM Price
Free Shipping
Add any language into the machine system
Print your company logo on the machine
Customize the machine's color and appearance
Customize marketing services including posters, brochures, videos, and pictures
Design a machine shell that is customized to your branding needs
Create new user interfaces for the ease of your clients
Support sufficient customer resources in your sales market
Support accessories customization including handpiece, screen, handle, etc
Get Custom Made Price
Questions That Might Worry You
Similar Products