Introduction
Introduction of Diode Laser Hair Removal Device
Diode Laser Hair Removal Equipment is an instrument that uses the principle of selective thermodynamics to select appropriate power, energy density and light spots to treat excess hair according to different characteristics of patients.
Working Theory of Diode Laser Hair Removal Device
Diode Laser Hair Removal Equipment is based on Selective photothermal principle .The 808nm laser passes through the surface of the skin to reach the hair follicles. The melanin particles in the hair matrix absorb light to generate a large amount of heat. The hair nipple absorbs heat, destroyed, and cannot provide nutrients. The hair matrix can not produce melanin particles, thus achieving permanent hair removal.
Advantages of Diode Laser Hair Removal Device
1.The best laser wavelength, 808nm semiconductor laser. This kind of laser has a good unity, has a good penetrating power, and is also a relatively good wavelength for the black pigment cells. It is used in the principle of selective photothermal action. The black pigment of the hair follicle is the target color base, so that the hair follicle is effective and achieves a better hair insulation effect.

2.The light pulse time is adjusted for a long time to protect the epidermis while removing different thickness hairs.
Functions of Diode Laser Hair Removal Device
1.Safety and effectively hair removal on all skin types (I to VI) ;


2.With Sapphire Crystal on the treatment head that can be used forever;

3.Big spot size is quick and efficient for large area treatment;

4.Rotatable Color Touch Screen makes convinient operation;

5.Advanced cooling handpiece ensures patient safety and comfort.

6.Hair removal and skin rejuvenation.
Benefits of Diode Laser Hair Removal Device
1.The condition of hirsutism has been fundamentally improved. Complete the course of treatment as required, which can basically achieve the effect of no longer growing and leaving only a little velveteen.

2.Semiconductor laser hair removal has little side effects, does not affect life and work, and does not require recuperation.

3.Only a few people have mild redness and swelling after finishing semiconductor laser hair removal, but they will recover after a few hours.
Technical Parameters of Diode Laser Hair Removal Device
Laser type

Diode Laser

Wavelength

808nm

Energy density

2-100J/cm2

Pulse width

3-150 ms

Spot size

22*35 mm2

Handpiece power

1600watts

Machine power

3000watts

Cooling temperature

-5℃-0℃

Voltage

AC 220V/50HZ

AC 110V/60HZ

Packing

Aluminum alloy case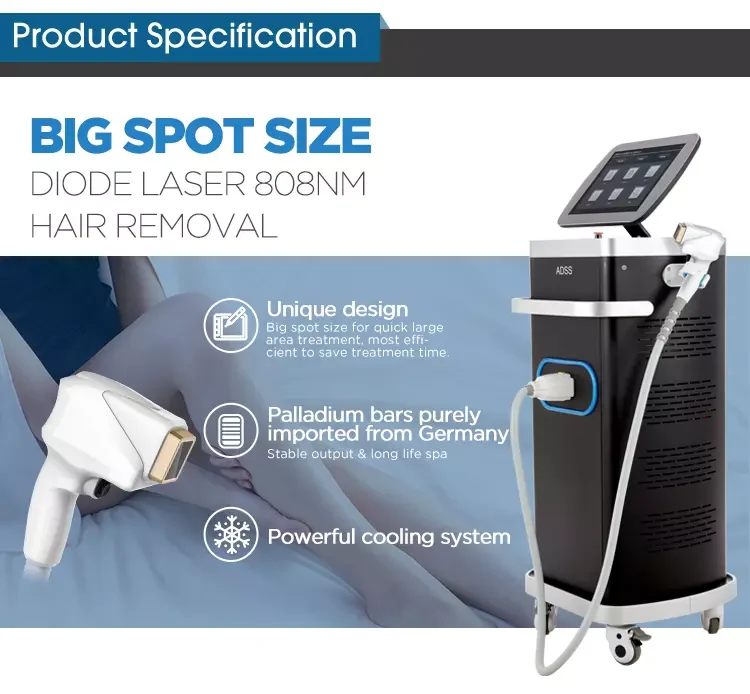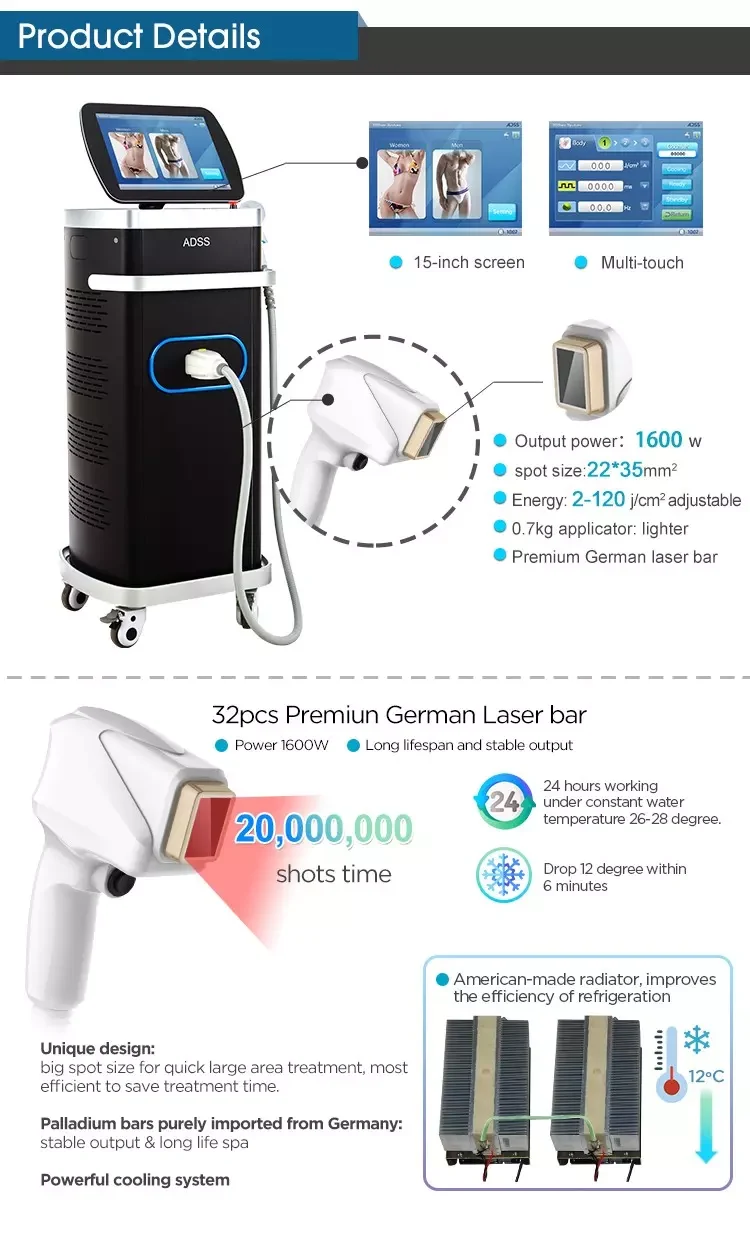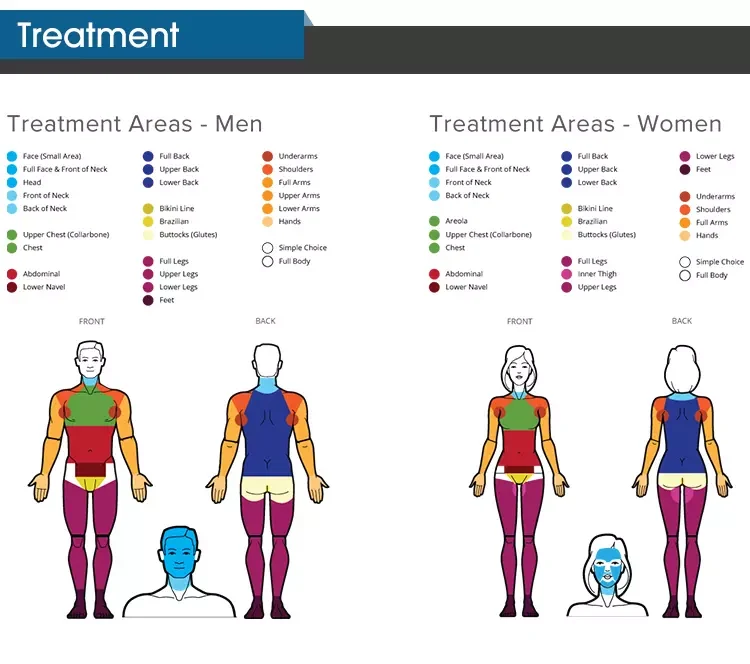 Before & After the Treatments
Treatment Operation Video
Diode Laser Hair Removal Device Price
Standard Price

Manufacturer Price: Negotiable/ (Free Shipping)

Custom Price

Custom Price: Negotiable / (Free Shipping)