Introduction
Introduction of Medical Portable Diode Laser Hair Removal Machine
Lasers are a great choice to remove hair since they are safe and can provide long lasting results or permanent removal of hair. It is a quick and a precise method to get a permanent solution for your unwanted hair. Another great advantage of using lasers is that you do not have to wait for the hair to grow long and above the surface of the skin before you can treat it.
Working Theory of Diode Laser
The Diode lasers make use of light of a single wavelength; this light has a high absorption rate in melanin. When the melanin in the follicle heats up due to the absorbed energy, it destroys the root of the hair, disables the blood flow to it, and cuts out the hair growth permanently.
Some of the best quality Diode laser hair removal machines use the concept of crystal freeze refrigeration contact cooling (+5 degrees Celsius). This helps to protect the surface of the skin during the procedure and makes the entire experience cool, comfortable and pain-free for the patients. Since diode lasers deliver a high frequency and low fluence pulses, they can be easily used on all the types of skin safely.
Advantages of Medical Portable Diode Laser Hair Removal Machine
1.10mm*20mm big spot size area.

2.Intelligent control system.

3.Adjustable frequency 1-10HZ.

4.Ice Laser hair removal.

5.Pressing and Sliding treatment method.

6.Air +water+semiconductor+TEC cooling system.

7.Update laser bar: 10 Germany imported DILAS Laser Bar built-in

8.More than 20 million shots.
Benefits of Medical Portable Diode Laser Hair Removal Machine
1.The 808nm near-infrared laser is best for absorbing melanin so that it is highly effective in different parts of the skin, hair follicles and reach to removing any hair easily, with lasting results.

2.Suitable for all skin types

3.The technology behind the Diode 808 laser ensures the skin absorbs less laser, reducing the risk of hyper-pigmentation.

4.Sapphire touch cooling system can make sure that treatment more safe and painless.

5.Painless: new AFT technology (Advanced Fluorescence Technology) uses low and equal energy, which make patient feel comfortable and no pain.

6.Rotatable screen easy to operate for home use or clinic.

7.Can help you custom your local languages and add LOGO on the machine screen.

8.We have detailed user manual and operation video for you reference, we also can provide online training!
Technical Parameters of Medical Portable Diode Laser Hair Removal Machine
| | |
| --- | --- |
| Laser type | Diode Laser |
| Laser wavelength | 1064nm/808nm/755nm |
| Display | 10 color touch LCD screen |
| Output power | 600W |
| Spot size | 12*16mm |
| Pulse width | 8-685ms adjustable |
| Energy | 2-120J/cm2 adjustable |
| Frequency | 1-10Hz |
| Cooling | Water + air + semiconductor |
| Temperature of probe | 0~ -5degree |
| Dimensions | 65x75x62cm |
| Weight | 34kg |
| Gross weight | 50kg |
| Voltage | AC 110V / 60HZ; AC 220V / 50Hz |
| Packing | Aluminum alloy case |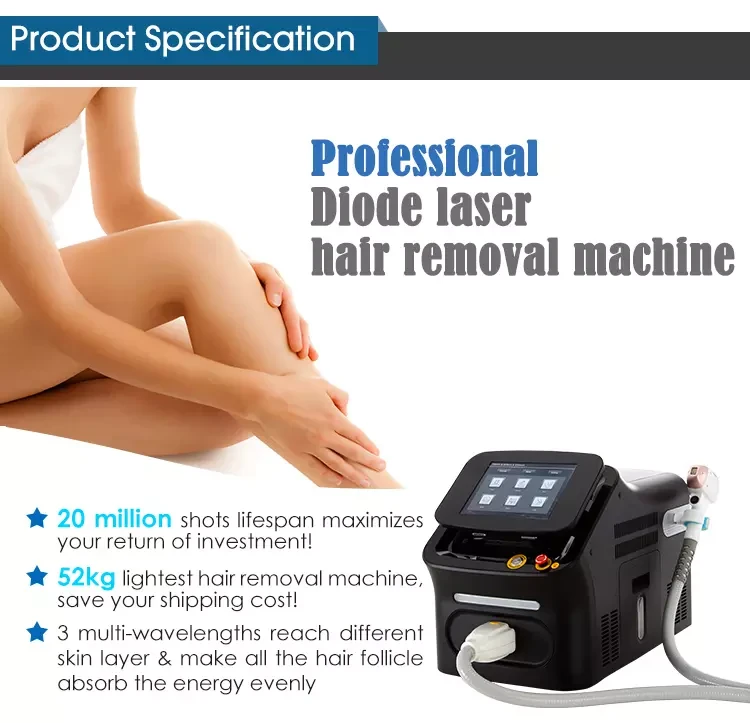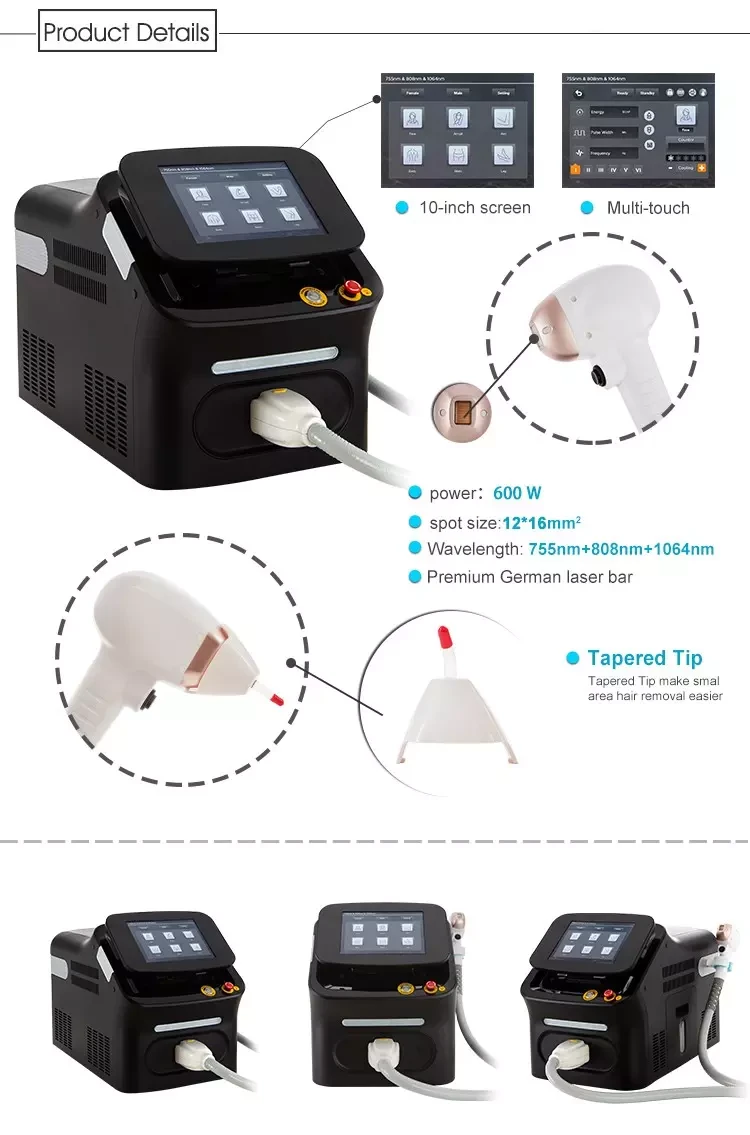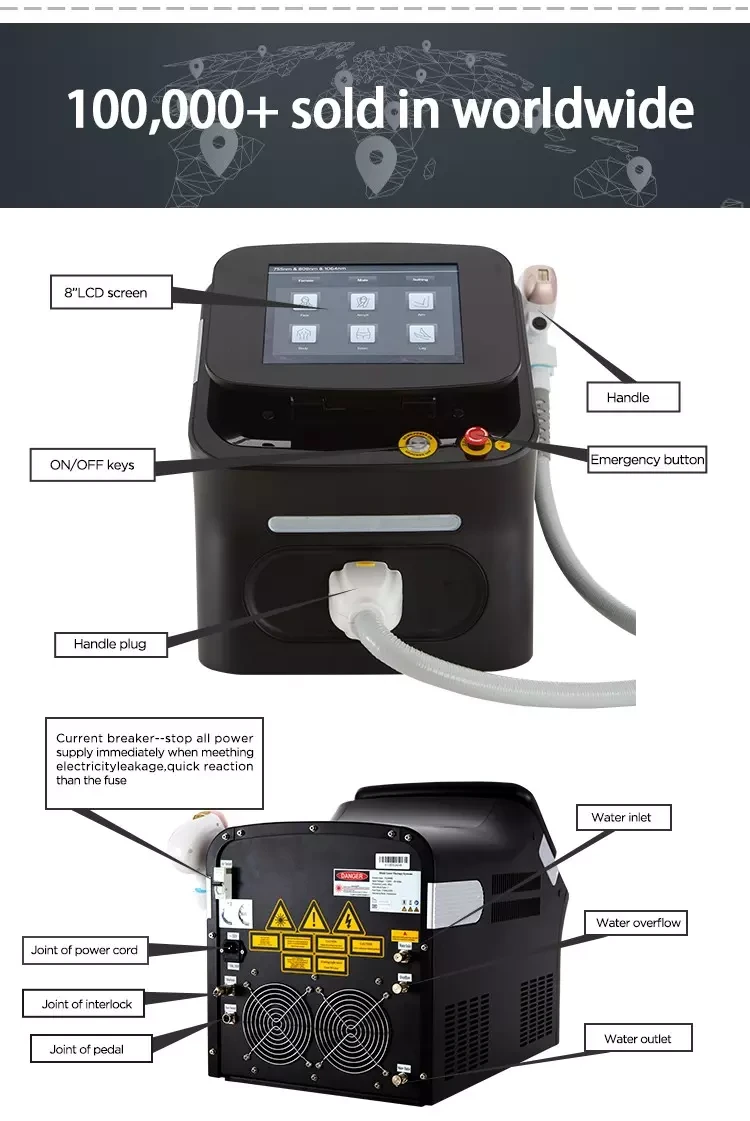 Product Videos
Before & After the Treatments
Treatment Operation Video
Medical Portable Diode Laser Hair Removal Machine Price
Standard Price
Free Shipping For A Limited Time
Add any language into the machine system
Print your company logo on the machine
Customize the machine's color and appearance
Customize marketing services including posters, brochures, videos, and pictures
Design a machine shell that is customized to your branding needs
Create new user interfaces for the ease of your clients
Support sufficient customer resources in your sales market
Support accessories customization including handpiece, screen, handle, etc
Buy Now
Pro Price
Free Shipping
Add any language into the machine system
Print your company logo on the machine
Customize the machine's color and appearance
Customize marketing services including posters, brochures, videos, and pictures
Design a machine shell that is customized to your branding needs
Create new user interfaces for the ease of your clients
Support sufficient customer resources in your sales market
Support accessories customization including handpiece, screen, handle, etc
Buy Now
OEM/ODM Price
Free Shipping
Add any language into the machine system
Print your company logo on the machine
Customize the machine's color and appearance
Customize marketing services including posters, brochures, videos, and pictures
Design a machine shell that is customized to your branding needs
Create new user interfaces for the ease of your clients
Support sufficient customer resources in your sales market
Support accessories customization including handpiece, screen, handle, etc
Get Custom Made Price