Introduction
Introduction of Portable Laser Hair Removal Equipment
Remove unwanted hair with this Portable Laser Hair Removal device. This product gives the user a professional hair removal experience from the comfort of home. This painless laser hair removal device provides a 300,000-flash capacity which can give a full-body hair treatment and five different modes to suit the needs of the user. This versatile product is ideal for quick and easy full body hair removal including the face, arms, underarms, bikini line, legs, back and chest. This portable facial and body hair removal system is mini-sized so the owner can carry it on the go, at work or at home.
Working Theory of Portable Laser Hair Removal Equipment
The best diode laser for hair removal can emit laser light of 808nm wavelength. Diode lasers use the principle of selective photothermolysis to target specific chromophores in the skin, usually melanin or blood. The lasers damage the chromophores by selectively heating them while leaving surrounding tissue unharmed. When treating unwanted hair by the diode laser hair removal machine 808nm, for example, the melanin in the hair follicles is targeted and damaged which results in the disruption of hair growth and regeneration. A diode laser can be complemented by cooling technology, or other pain reducing methods which improve treatment efficacy and patient comfort. Then the unwanted hair can be removed completely and permanently.
Functions of Portable Laser Hair Removal Equipment
1.diode laser enables the light to penetrate deeper into skin and is safer than other lasers because it can avoid the melanin pigment in the skin's epidermis. We can use it for permanent hair reduction of all color hairs on all 6 skin types, including tanned skin.

2.diode laser allows fast repetition rates up to 10Hz(10 pulses-per-second), with in-motion treatment, fast hair removal for big area treatment.

3.built in with excellent contact cooling technology, PAIN-FREE hair removal.

4.Provides faster, more comfortable treatments

5.Permanent hair removal treatment

6.Hair reduction
Advantages of Portable Laser Hair Removal Equipment
1.Multi-Application Platform

2.Germany import Laser Bar

3.Totally painless treatment,permanent result

4.Up to 10hz in motion treatment

5.24 hours non-stop continue working

6.Germany imported filter

7.Clinically proven in extensive clinical studies

8.Medical CE approval, ISO9001:2008.

9.Esaier installation: Plug & Play Connector

10.Advanced flash computer calculater: xenon lamp computer calculater system always show how many flashes you have used
Benefits of Portable Laser Hair Removal Equipment
1.Comes with 7 light levels

2.600,000 flashes for a complete treatment

3.Clinically proven safe and effective

4.100% pain-free - gentle on the skin

5.Time-saving and cost-effective

6.Easy to use and operate

7.Suitable for most areas of the body

8.Suitable for both women and men

9.Safe for all types of skin (except black)
Technical Portable Laser Hair Removal Equipment
| | |
| --- | --- |
| Laser type | Diode Laser |
| Laser wavelength | 1064nm/808nm/755nm |
| Display | 10 color touch LCD screen |
| Output power | 600W |
| Spot size | 12*16mm |
| Pulse width | 8-685ms adjustable |
| Energy | 2-120J/cm2 adjustable |
| Frequency | 1-10Hz |
| Cooling | Water + air + semiconductor |
| Temperature of probe | 0~ -5degree |
| Dimensions | 65x75x62cm |
| Weight | 34kg |
| Gross weight | 50kg |
| Voltage | AC 110V / 60HZ; AC 220V / 50Hz |
| Packing | Aluminum alloy case |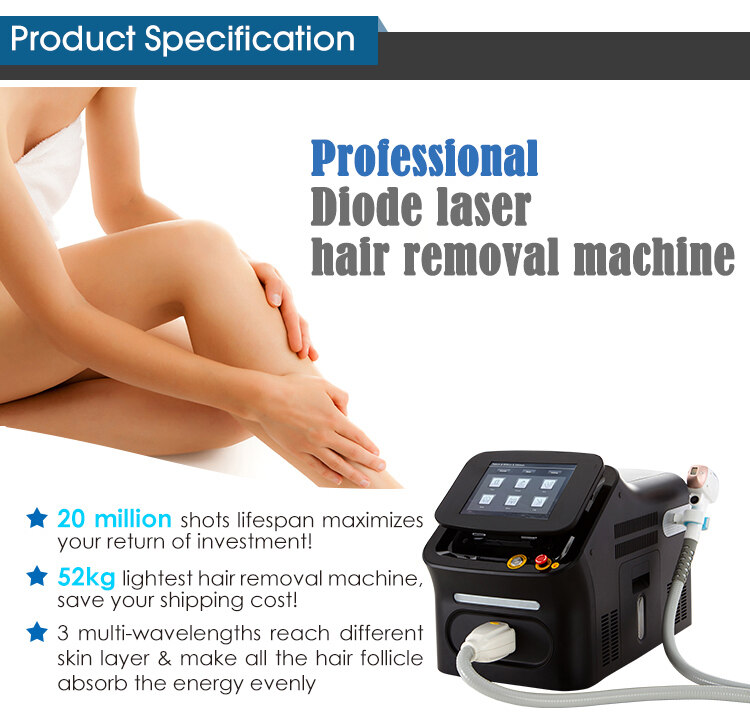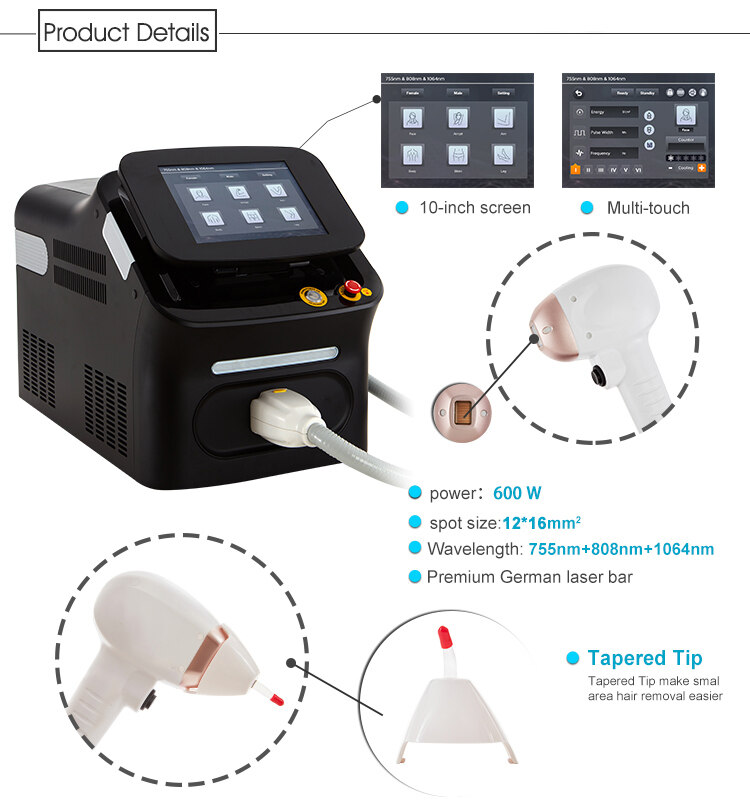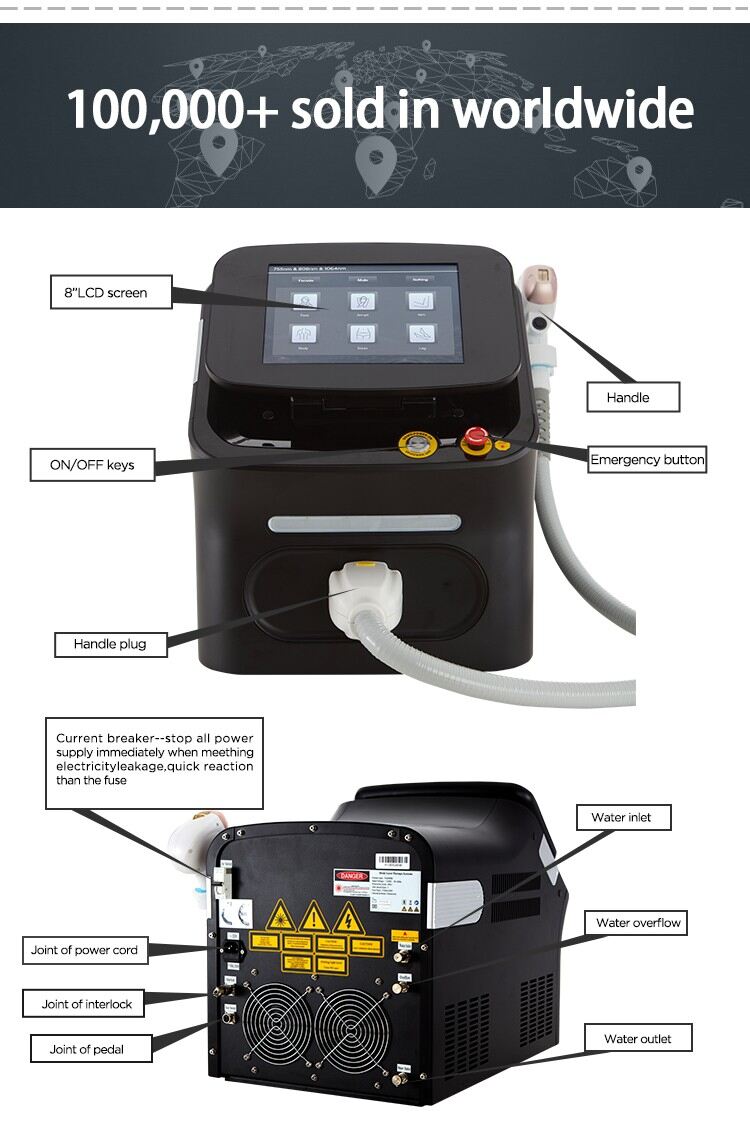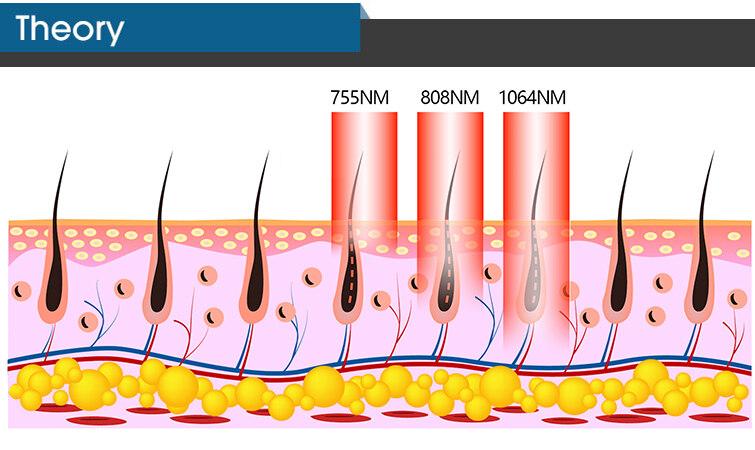 Before & After the Treatments
Treatment Operation Video
Portable Laser Hair Removal Equipment Price
Standard Price

Manufacturer Price: Negotiable/ (Free Shipping)

Custom Price

Custom Price: Negotiable / (Free Shipping)