Introduction
Product Video
Theory
Natural fat elimination
Cryolipolysis is a method in which fat cells are tackled by means of a cold treatment. It is a safe and reliable method which requires neither an operation nor anaesthetic. We're all familiar with cold treatments, such as an ice pack for strained muscles and joints. Coolsculpting works on the basis of Cryolipolysis, using controlled freezing to cool fat cells until they crystallise. The body then gradually disposes of the fat cells in a natural manner.
Function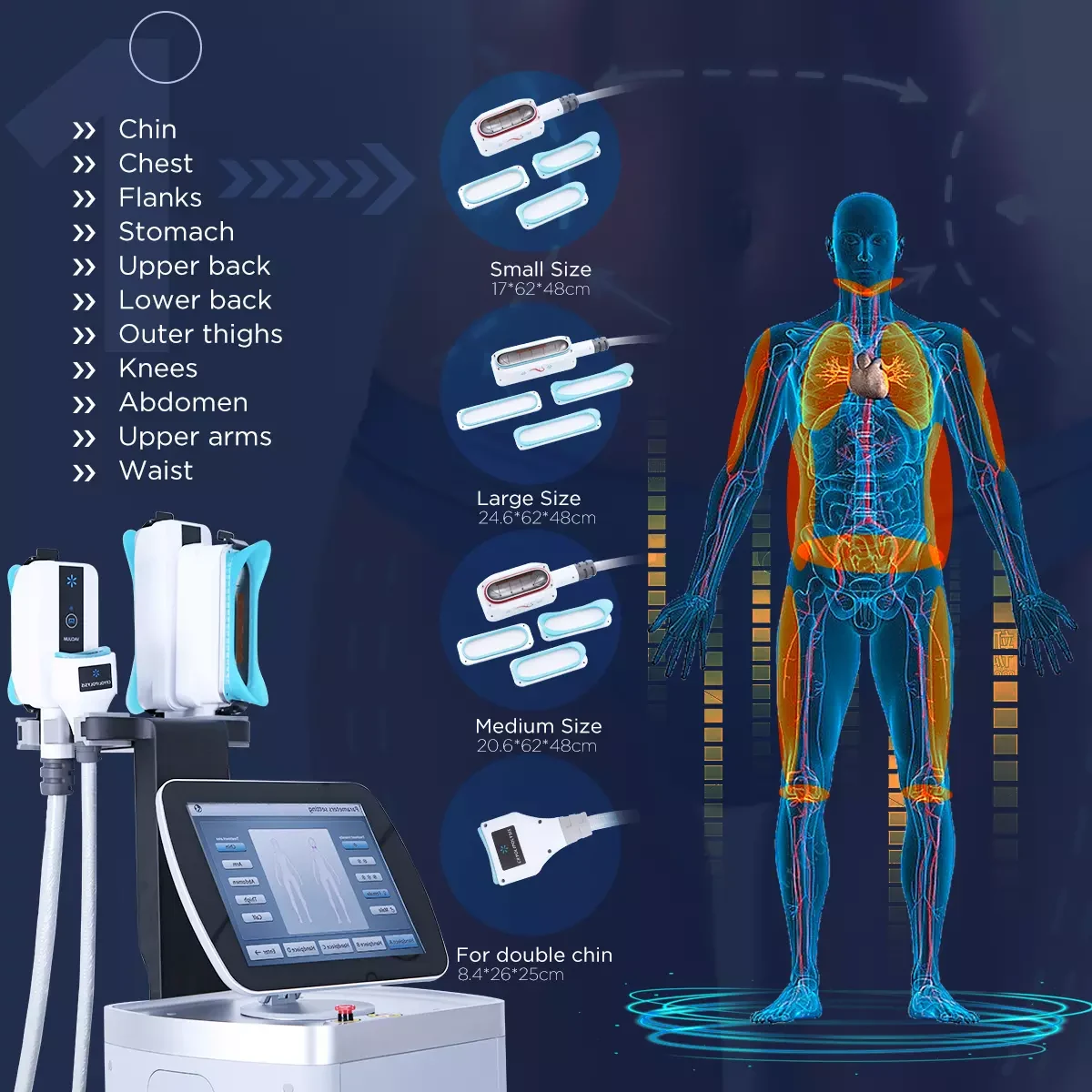 1.Face thinner, skin tightening

2.Fat reduction, cellulite reduction

3.Body slimming, body contouring

4.To promote and accelerate the bodys metabolism

The Cryolipolysis treatment using cryo beauty machine is safe, painless and unlike liposuction, does not require invasive surgery or an anaesthetic. This means that you can continue your daily routine almost immediately. The cyro treatment is a targeted approach to slim down the specific body zones. Unlike the more general effect of dieting, it therefore only has impact on the area treated. The end results are visible after a few months, with 25 to 35% reduction in fat. The lost centimetres will create a slimmer silhouette.
Advantages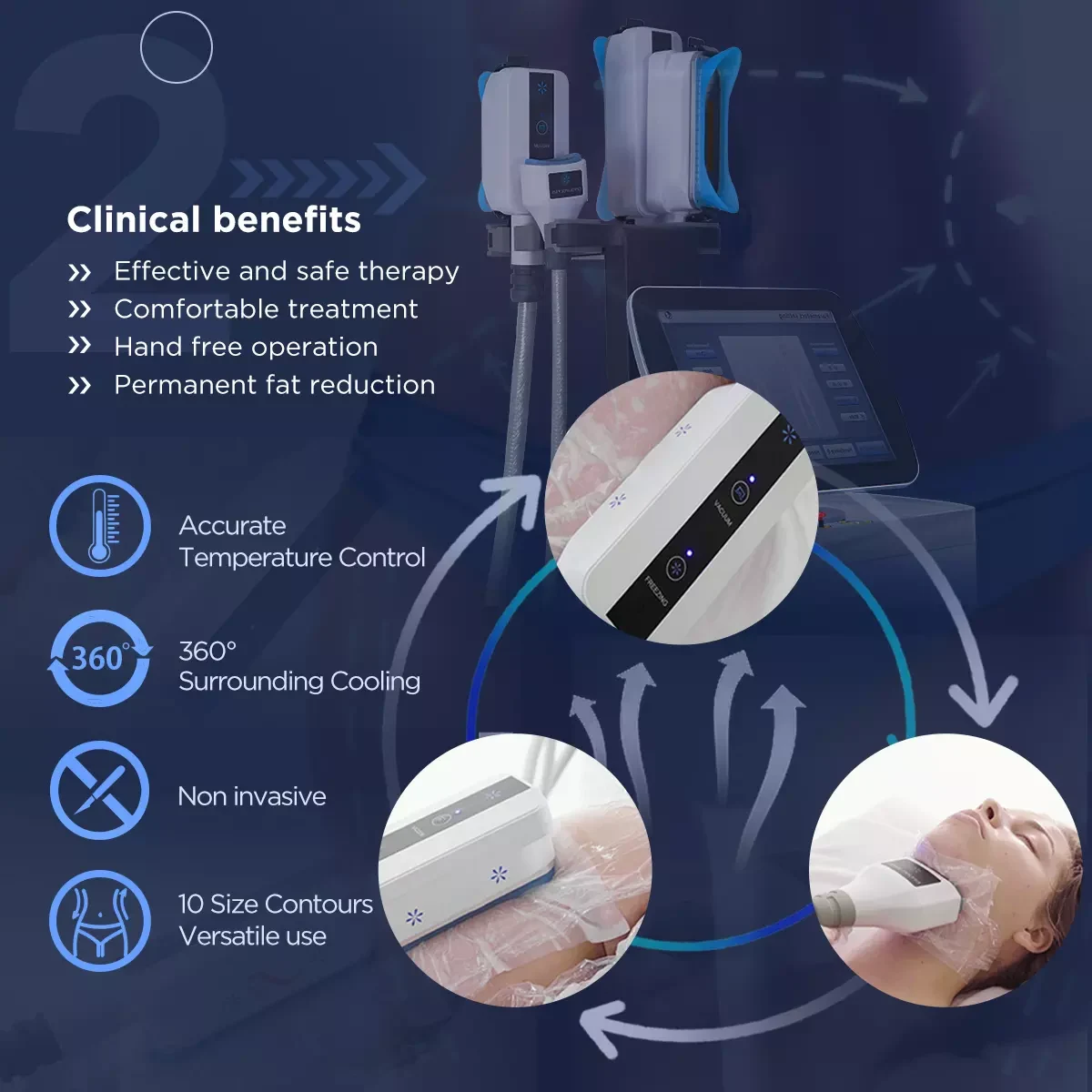 1.Cooling temperature control: Exact cooling temperature controlling in clinic, reduce error to ±0.6℃

2.Instant cooling result as setup, best quality peltier chips is of 16 times better than others, even if 40℃ in operation room

3.2 cryo handles can works at the same time for two different person or two different areas of same person, high efficient.

4.Long lifep more than 5 years, 80% spare parts imported and can ensure high quality and stable function

5. 2 in 1 system: cold therapy/ cryo and multi-frquency ultrasonic cavitation.

6.3 handles facility different area treatment

7.LCD screen on each cryo handle, which greatly easy parameters setting during treatment and enhance efficiency

8.South Korea imported pump, best suction performance and quite during working
Treatments Operation Videos
Before & After
Power Supply Output

1000W

LCD Display

3(S1: 10.4" color touch LCD screen;

S2: 3.5" color touch LCD screen;

S3: 3.5" color touch LCD screen;)

Ultrasonic Frequency

40.5KHz + 28KHz

Ultrasonic Power

1-50W/CM2

Vacuum Pressure

0 ~ -1Mpa

Handpiece Number

3(H1: for small area treatment;

H2: for big area treatment;

H3: for multi-frequency ultrasonic cavitation treatment)

Shots Number

No Limited

Cooling System

Water + Wind + Semiconductor

Skin Cooling

0~ -100C

Cooling Temperature

-10 ~ 100C

Language

English

Working Time

Continuously / Time Setting

Dimension of Machine

53*61*113cm

Dimension of Packing

61*74.5*114cm

N.W.

30kg

G.W.

48.5kg

Voltage

220V/110V

Packing

Aluminum Alloy Case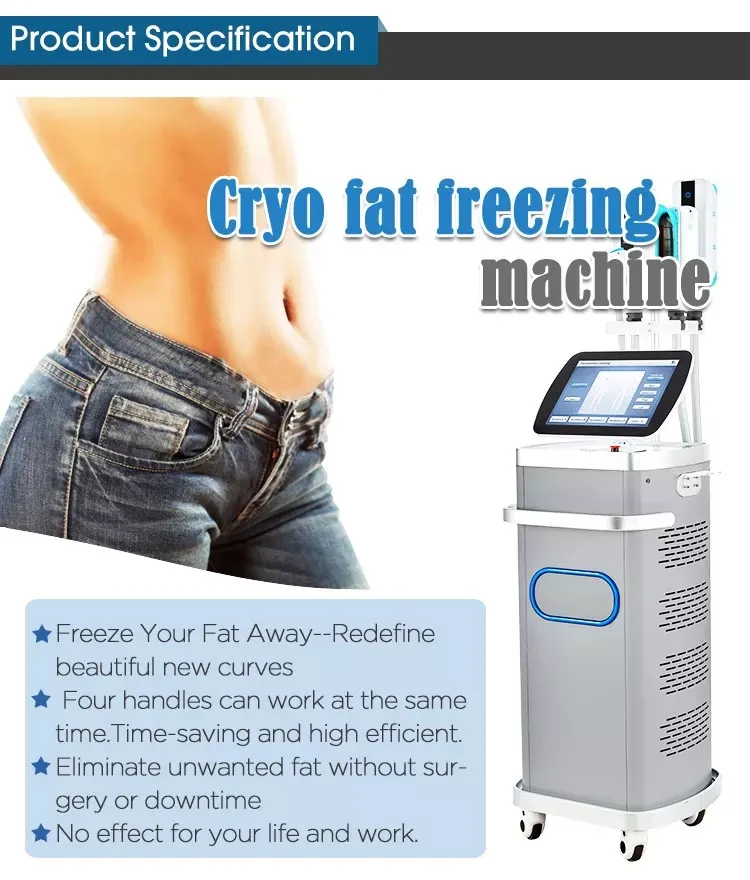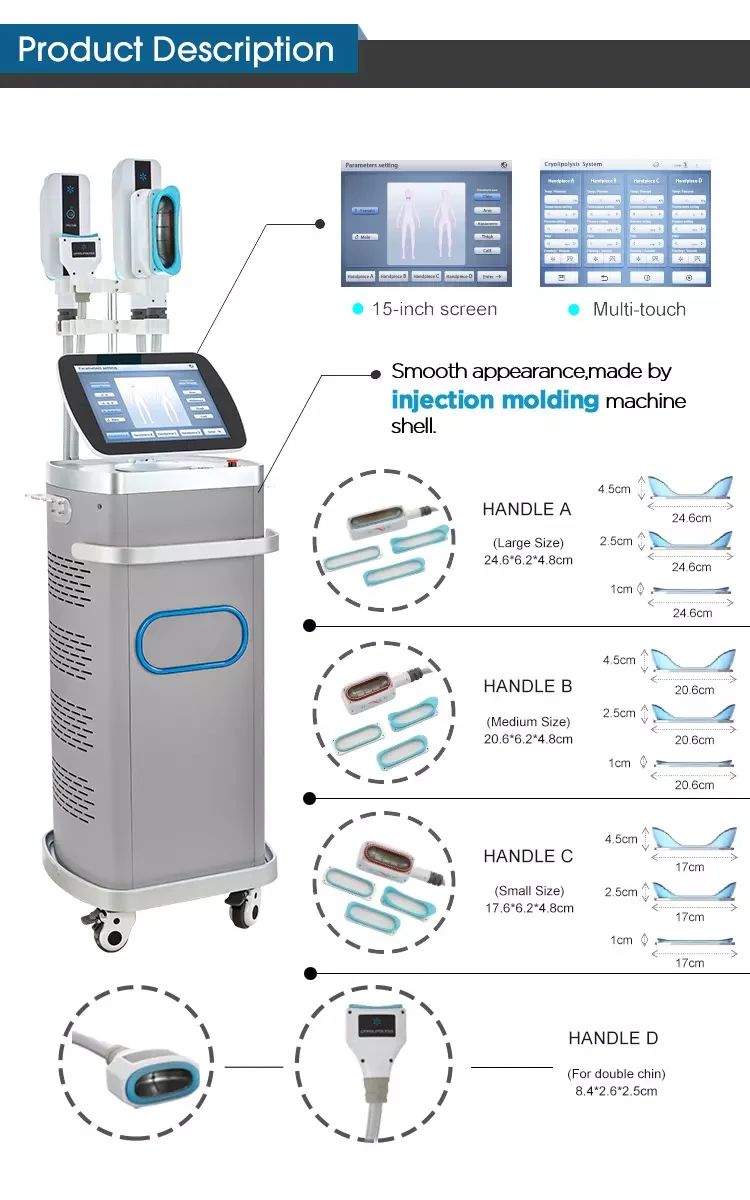 Cool Slimming Machine Manufacturer Price
Standard Price

Manufacturer Price: Negotiable/ (Free Shipping)

Custom Made Price

Custom Price: Negotiable/ (Free Shipping)
Cool Slimming Machine Certificates
ADSS Cool Slimming Machine has FDA, (TUV) CE, (TUV) ISO 13485, Utility Model Patent Certificate; as well as the right of import and export certificate.
Similar Products