Introduction
Introduction of Freeze Slimming Machine
Cryolipolysis also call it the 'fat freeze method' for short. ADSS applies the most user-friendly design with different size replacement cup to treat all body area, even the chin area. The unique soft silicon gel head make the vacuum suction the most comfortable during treatment. Contact cooling area updated to 360°full contact, more area can be treatment within 1 session. The super cooling system with condenser ensure machine long continuous working time more than 5 hours. The high efficacy, ease of use, and cutting-edge technology provide a strong ROI on fat removal investment.
Working Theory of Freeze Slimming Machine
As triglyceride in fats will be converted into solid in particular low temperatures, It uses advanced cooling technology to selectively target fat bulges and eliminate fat cells through a gradual process that does not harm the surrounding tissues, reduce unwanted fat, When fat cells are exposed to precise cooling, they trigger a process of natural removal that gradually reduces the thickness of the fat layer. And The fat cells in the treated area are gently eliminated through the body's normal metabolism process, to eliminate unwanted fat.
Functions of Freeze Slimming Machine
1.Firmer and rejuvenated skin.

2.Facial contouring.

3.Firming up of the skin.

4.Reduction of the facial contour.

5.Firming up of the face and wrinkle reduction.
Advantages of Freeze Slimming Machine
1.Remove the waist, abdomen, legs, arms, back and other parts of fat.

2.Solve cellulite problems caused by cellulite and cellulite.

3.Firming tissue to prevent relaxation.

4.Promote metabolism and blood circulation.
Benefits for Buying Freeze Slimming Machine
1.Short Treatment time: treatment cycles are 35 minutes, cutting treatment time by almost half.

2.Up to 4 areas (Double, Triple and Four areas) can be treated simultaneously.

3.Freeze Mini Applicator for Double Chin for Optional.

4.Completely Painless, comfortable and no downtime.

5.Precise cooling control for maximum safety, temperature controlled in 0.1 degree centigrade.

6.Unique thermal and chill system can minimum reduce The risk of skin damage from frostbite.
Technical Parameters of Freeze Slimming Machine
Power Supply Output

1000W

LCD Display

3(S1: 10.4" color touch LCD screen;

S2: 3.5" color touch LCD screen;

S3: 3.5" color touch LCD screen;)

Ultrasonic Frequency

40.5KHz + 28KHz

Ultrasonic Power

1-50W/CM2

Vacuum Pressure

0 ~ -1Mpa

Handpiece Number

3(H1: for small area treatment;

H2: for big area treatment;

H3: for multi-frequency ultrasonic cavitation treatment)

Shots Number

No Limited

Cooling System

Water + Wind + Semiconductor

Skin Cooling

0~ -100C

Cooling Temperature

-10 ~ 100C

Language

English

Working Time

Continuously / Time Setting

Dimension of Machine

53*61*113cm

Dimension of Packing

61*74.5*114cm

N.W.

30kg

G.W.

48.5kg

Voltage

220V/110V

Packing

Aluminum Alloy Case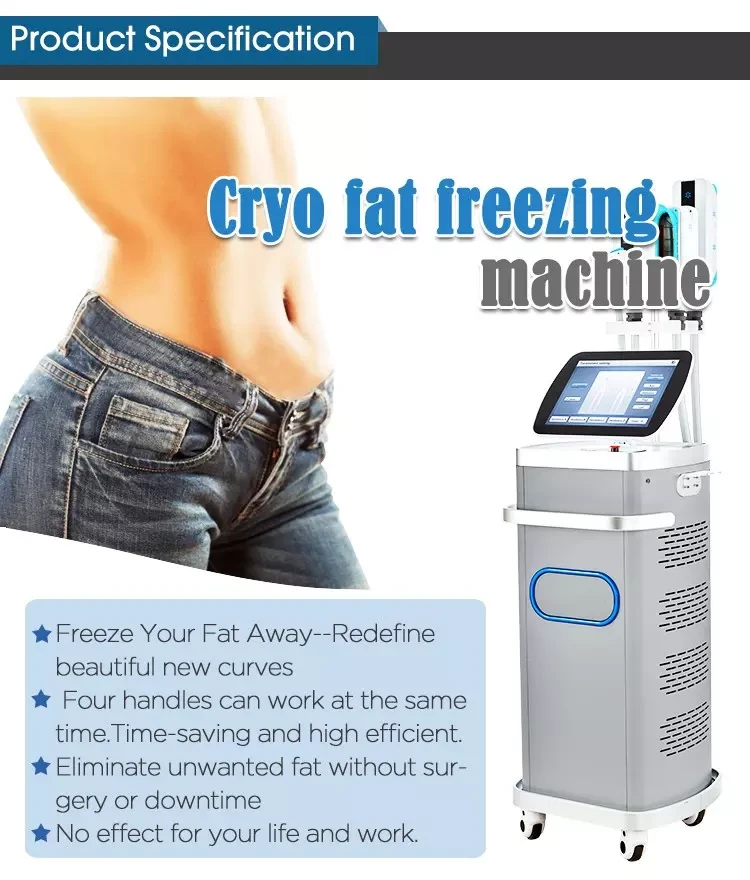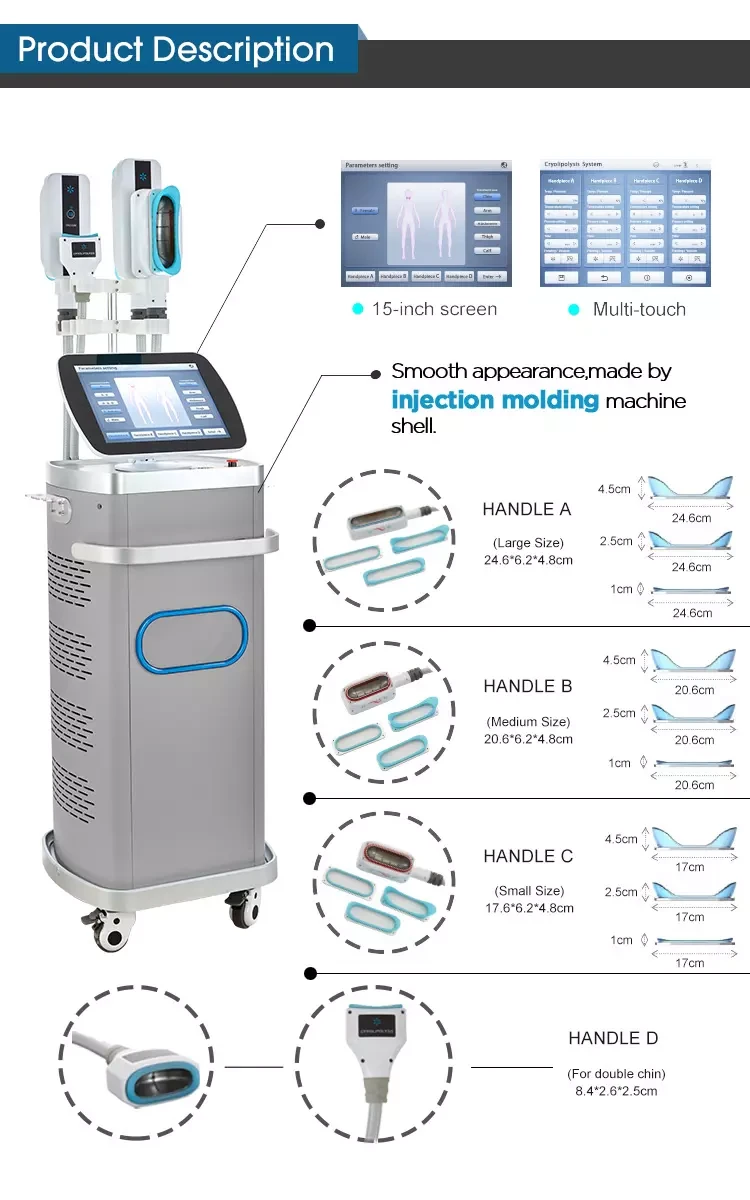 Product Video
Before & After the Treatments
Treatments Operation Videos
Freeze Slimming Machine Manufacturer Price
Standard Price
Free Shipping For A Limited Time
Add any language into the machine system
Print your company logo on the machine
Customize the machine's color and appearance
Customize marketing services including posters, brochures, videos, and pictures
Design a machine shell that is customized to your branding needs
Create new user interfaces for the ease of your clients
Support sufficient customer resources in your sales market
Support accessories customization including handpiece, screen, handle, etc
Buy Now
Pro Price
Free Shipping
Add any language into the machine system
Print your company logo on the machine
Customize the machine's color and appearance
Customize marketing services including posters, brochures, videos, and pictures
Design a machine shell that is customized to your branding needs
Create new user interfaces for the ease of your clients
Support sufficient customer resources in your sales market
Support accessories customization including handpiece, screen, handle, etc
Buy Now
OEM/ODM Price
Free Shipping
Add any language into the machine system
Print your company logo on the machine
Customize the machine's color and appearance
Customize marketing services including posters, brochures, videos, and pictures
Design a machine shell that is customized to your branding needs
Create new user interfaces for the ease of your clients
Support sufficient customer resources in your sales market
Support accessories customization including handpiece, screen, handle, etc
Get Custom Made Price
Questions That Might Worry You