Introduction
Introduction of Tummy Cryolipolysis Slimming Machine
The cool body shaping procedure is the a non-invasive procedure that uses advanced cooling technology to gently and effectively target and eliminate fat in specific areas of a patient's body through a proprietary technology called fat freezing.This procedure involves no incisions and no anesthesia and reduces the fat layer without harming the skin or other tissues.Fat freezing is not technique dependent and requires no staff time once the patient is set up and the treatment is underway. It is designed for use in a medical office specializing in aesthetic procedures.
Working Theory of Cryolipolysis Slimming Machine
It controls the rate of energy extraction or cooling during the procedure. The result is a reduction in fat bulges that is visible in most patients in two to four months. The fat cells in the treated area are gradually eliminated through the body's normal metabolic processes, similar to how fat from food is eliminated.
With this non-invasive technology, there are no needles, no incisions, no need for anesthesia, and no recovery time. Patients typically resume normal activities on the same day as the procedure, making it a good choice for patients seeking a non-surgical alternative to liposuction.
Functions of Tummy Cryolipolysis Slimming Machine
1.Fat burning, Slimming, Body shaping.


2.Effective promoting tissue metabolism and blood circulation, better for whiten skin.


3.Improve orange peel organization.


4.Strengthen the skin elasticity.


5.Repair striate gravid arum.


6.Anti-aging for face and body.


7.Eliminate slow acne scars.


8.Increase the speed of metabolism, speed up the body to excrete waste and excessive.

9.Relax muscles, relieve muscle spasms, relieve muscle pain.


10.To tighten muscles of the arms, legs, thighs, buttocks, lower back, abdominal muscles, re-shaping body contour.

Advantages of Tummy Cryolipolysis Slimming Machine
1. About the freezing handle: Five frozen weight loss handles, including 2 large handles, 2 medium handles, and 1 small double chin handle, which can be used for different body parts.


2.All handles are new 360-degree handles, the large handle has 4 different depth cup replacements, and the medium handle has 3 different depth cup replacements.


3.The four handles can work at the same time to improve the efficiency of treatment.


4.Silicone handle, better treatment effect.

Benefits for Buying Tummy Cryolipolysis Slimming Machine
1.Cool and comfortable, painless.


2.Non-invasive, no injury.


3.No anesthesia, no risk.


4.Safe, no downtime.


5.Average 20% fat reduction per treatment.

Technical Parameters of Cryolipolysis Slimming Machine
| | |
| --- | --- |
| Power Supply Output | 3000W |
| Handles Number | 4 |
| Vacuum Pressure | 0-60kpa |
| treatment time | 0-60mins adjustable |
| Cooling System | water+wind+semiconductor |
| Cooling Temperature | -10℃to10℃ |
| Screen | 15"true color touch LCD display |
| Language | multi languages |
| Voltage | 110V/220V |
| Package size | 67*63*123CM 76*51*44CM |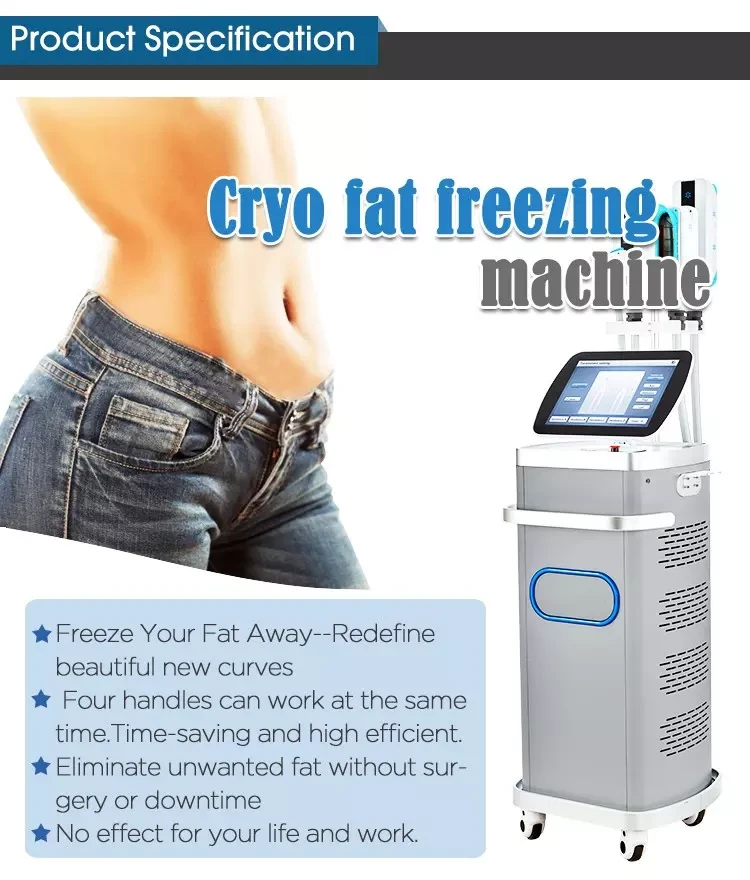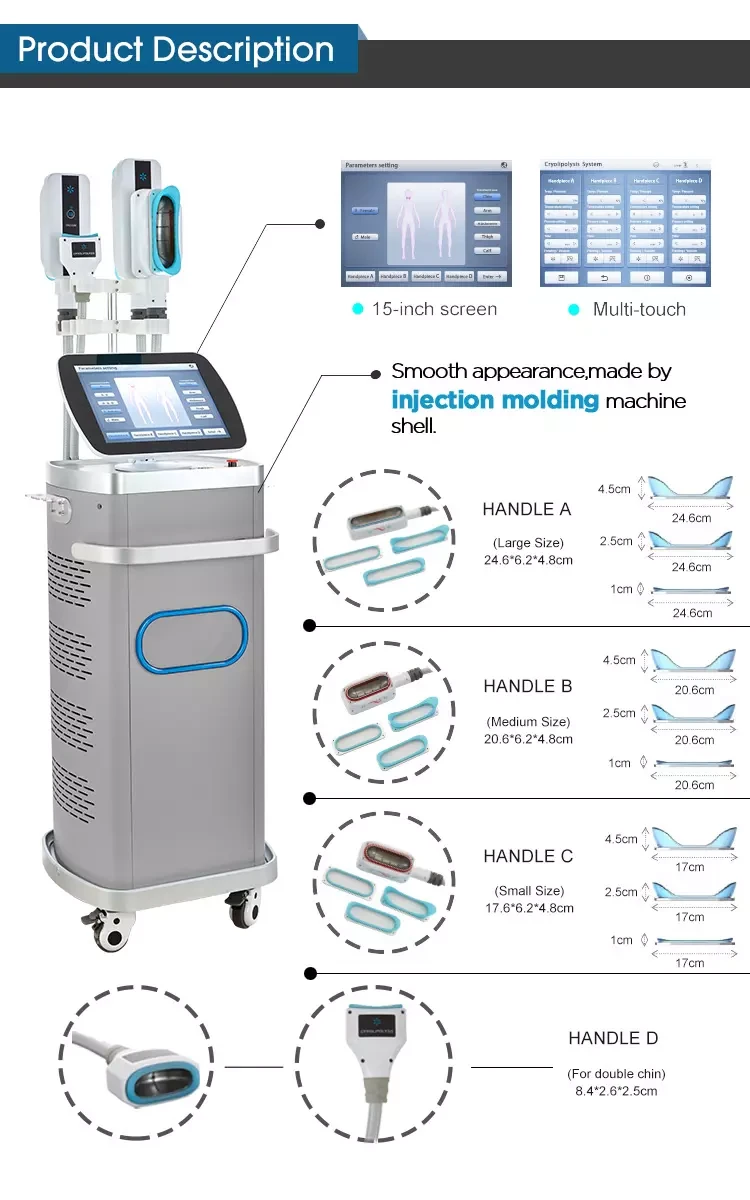 Product Video
Before & After the Treatments
Treatments Operation Videos
Tummy Cryolipolysis Slimming Machine Manufacturer Price
Standard Price
Free Shipping For A Limited Time
Add any language into the machine system
Print your company logo on the machine
Customize the machine's color and appearance
Customize marketing services including posters, brochures, videos, and pictures
Design a machine shell that is customized to your branding needs
Create new user interfaces for the ease of your clients
Support sufficient customer resources in your sales market
Support accessories customization including handpiece, screen, handle, etc
Buy Now
Pro Price
Free Shipping
Add any language into the machine system
Print your company logo on the machine
Customize the machine's color and appearance
Customize marketing services including posters, brochures, videos, and pictures
Design a machine shell that is customized to your branding needs
Create new user interfaces for the ease of your clients
Support sufficient customer resources in your sales market
Support accessories customization including handpiece, screen, handle, etc
Buy Now
OEM/ODM Price
Free Shipping
Add any language into the machine system
Print your company logo on the machine
Customize the machine's color and appearance
Customize marketing services including posters, brochures, videos, and pictures
Design a machine shell that is customized to your branding needs
Create new user interfaces for the ease of your clients
Support sufficient customer resources in your sales market
Support accessories customization including handpiece, screen, handle, etc
Get Custom Made Price
Questions That Might Worry You