Introduction
Introduction of Medical Sculpting Machine
Cryo 360 is the most advanced device allows not only performing cryolipolysis alone, but also treating under Thermal-Shock therapy according to very precise time, speed, temperature, energy rates piloted automatically through software.
Working Theory of Medical Sculpting Machine
Cryolipolysis: a new, non-invasive way to gently and effectively reduce fat in targeted areas of the body that results in a noticeable, advanced-looking fat reduction in the treated areas. As triglyceride in fats will be converted into solid in particular low temperatures, it uses cooling technology to selectively target fat bulgesand eliminate fat cells through a gradual process that does not harm the surrounding tissues,reduce unwanted fat, The contact cooling of the hand piece surface regulates the temperature of the skin and protects fine dermal structures, realizing the fast body-reshape effects while tightening skin.
Functions of Medical Sculpting Machine
1.Fat burning, Slimming, Body shaping.

2.Effective promoting tissue metabolism and blood circulation,better for whiten skin.

3.Improve orange peel organization.

4.Strengthen the skin elasticity.

5.Repair striate gravid arum.

6.Anti-aging for face and body.
Advantages of Medical Sculpting Machine
1.More Treated Area: 360 Cooling applicator provides more uniform cooling and largest cooling area which in turn increases direct tissue contact.

2.Shorter Treatment Time: The same proven efficacy in almost half the time.

3.Maximum Safety: Precise cooling control ( 0.1 deviation ) for maximum safety.

4.Faster Result: Patients reported approximately 80% of the final results visible 20 days after treatment.
Benefits for Hospital Buying Sculpting Machine
1.Different language display for your choice.

2.Newest design,cryo handle has temperature indicator to avoid frostbite.

3.Combining the most effective techniques for body treatments.

4.Painless and safe: By vacuum sensitivity test negative pressure adapts to each person avoiding pain and side effects such as bruising or may be sagging.
Technical Parameters of Body Sculpting Machines
| | |
| --- | --- |
| Power Supply Output | 3000W |
| Handles Number | 4 |
| Vacuum Pressure | 0-60kpa |
| treatment time | 0-60mins adjustable |
| Cooling System | water+wind+semiconductor |
| Cooling Temperature | -10℃to10℃ |
| Screen | 15"true color touch LCD display |
| Language | multi languages |
| Voltage | 110V/220V |
| Package size | 67*63*123CM 76*51*44CM |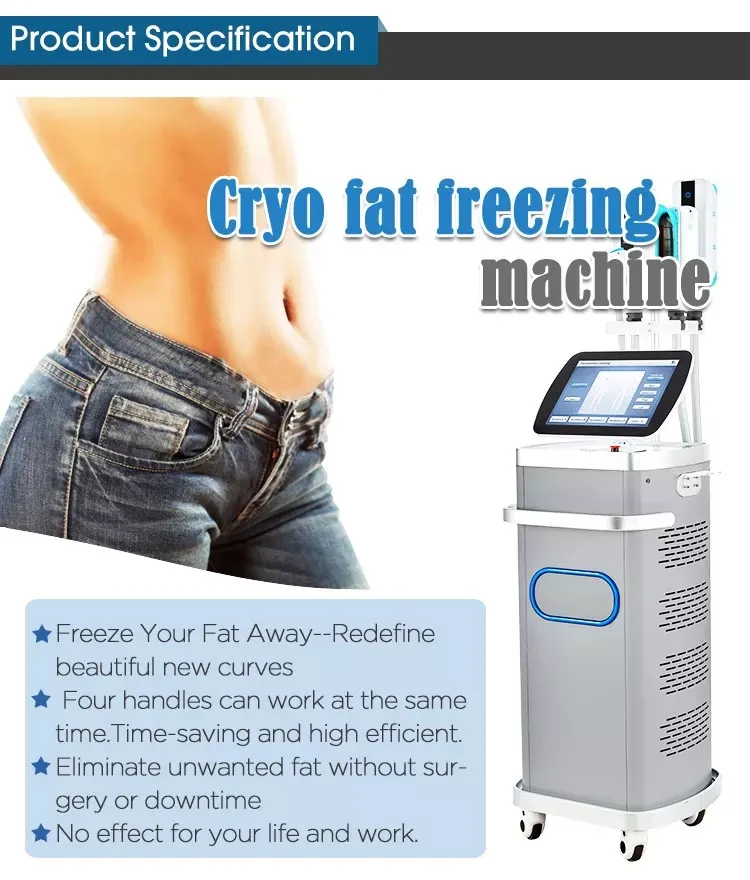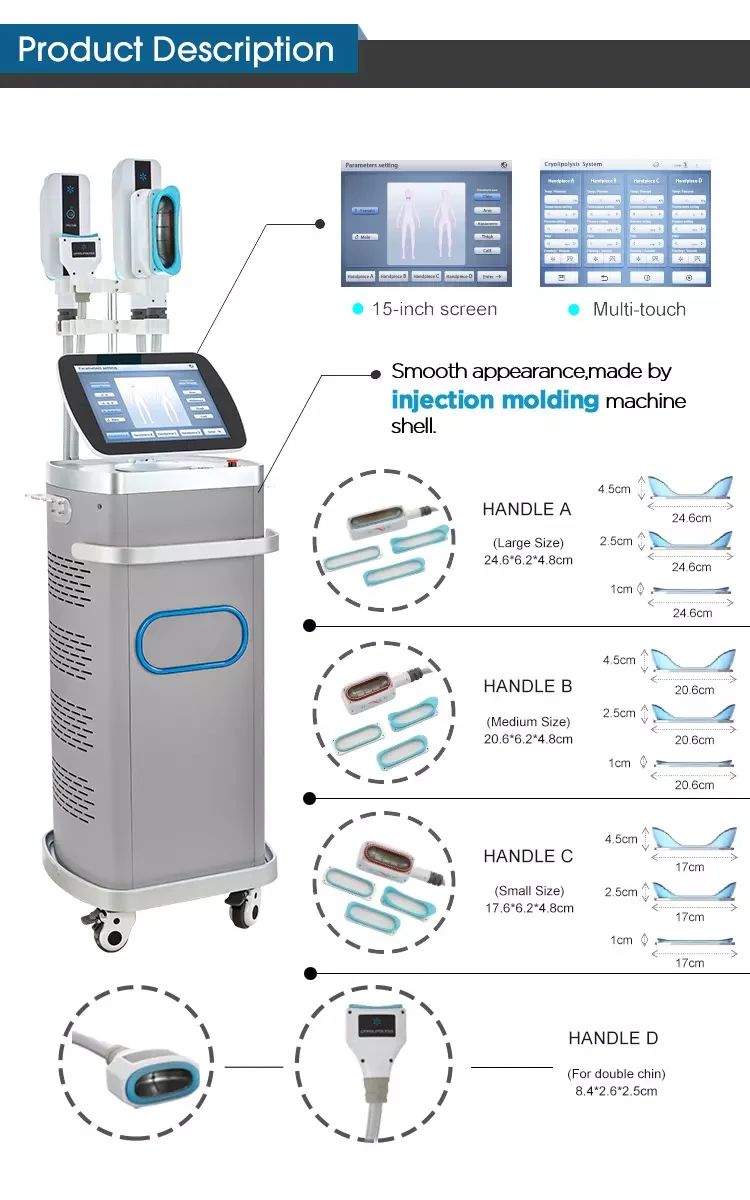 Product Video
Before & After the Treatments
Treatments Operation Videos
Medical Sculpting Machine Factory Price
Standard Price

Manufacturer Price: Negotiable/ (Free Shipping)

Custom Price

Custom Price: Negotiable/ (Free Shipping)