Introduction
Product Video
Theory
Vacuum shaping is a non-invasive body contouring treatment for circumferential and cellulite reduction. Velashape enables you to safely achieve a toned, contoured and well shaped body in typically 3 treatment sessions (single treatment protocol is also available); making you look and feel more youthful. VelaShape provides dramatic results without downtime or significant discomfort.
VelaShape technology combines infrared light, bi-polar radio frequency energy and vacuum, which cause deep heating of the fat cells, their surrounding connective tissue and the underlying dermal collagen fibers. This type of efficient heating and vacuum stimulates the growth of new and better collagen and elastin which results in localized reduction in skin laxity, body volume, and an overall improvement in skin structure and texture.
Function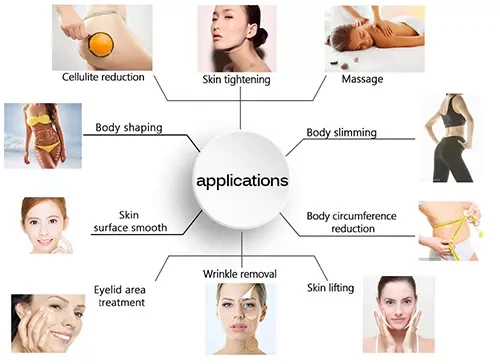 Cellulite treatment areas could be on the neck (under chin), arms, thighs, buttocks, flank and abdomen. Most patients see gradual and cumulative results throughout the treatment regime.VelaShape is not a weight loss treatment. VelaShape uses a combination of technologies to contour your body, reducing the trouble spots that diet and exercise can't reach. The ideal VelaShape patient is someone with a BMI (Body Mass Index) of less than 30, who falls under The Nurnberger-Muller Cellulite Classification Stage 1 and 2. Ask your doctor to see if you're a candidate for VelaShape treatments
Advantages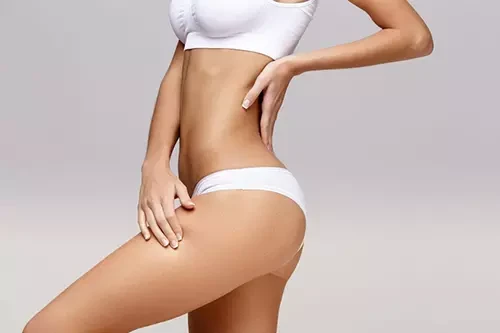 Handles for all stage, all area weight loss:

1.Large handle,vacuum roller+RF+IR,with 5.5inch display,for large area such as thigh,buttock,waist and abdomen.

2. Medium handle,vacuum roller+RF+IR,button control,for small area,such as arms,flanks.

3. Small handle,vacuum +RF,for face,forehead and neck.

4. Large 40KHz cavitation handle

Features

1.Combined with bi-polar RF and infrared, Blue and Green energy; the vacuum suction coordinated with mechanical outer automatic rollers;

2. The RF and Red, Blue and Green light therapy generate heat, increasing the oxygen content of skin cells.

3. The special vacuum roller massage soothes the skin and makes the heat conduction effect better.

4. It increases the metabolic rate effectively and reduces fat accumulation through lymphatic drainage.

5. It increases the skin tissue elasticity and makes the skin more smooth and delicate.

6. Laser for fat reduction, use the 650nm soft laser to destroy the deep fat cells, broke the cell membrane, change the fat to triglyceride, then leave out the body thanks

to metabolism.
Treatment Videos
Before & After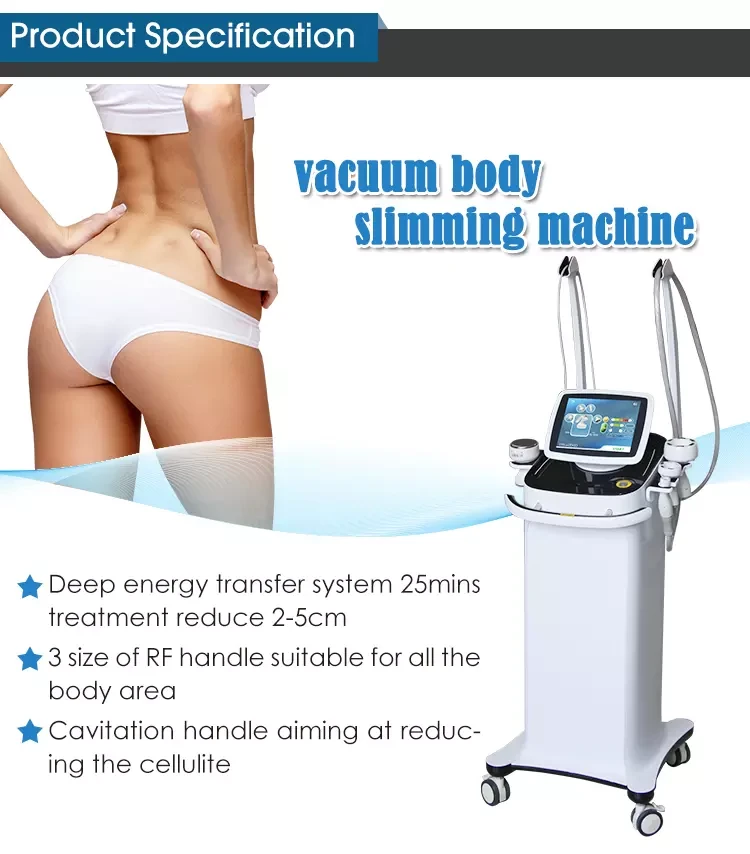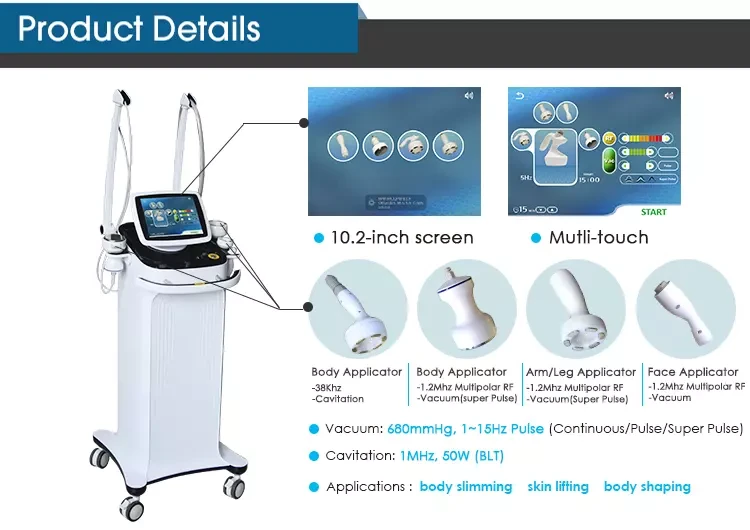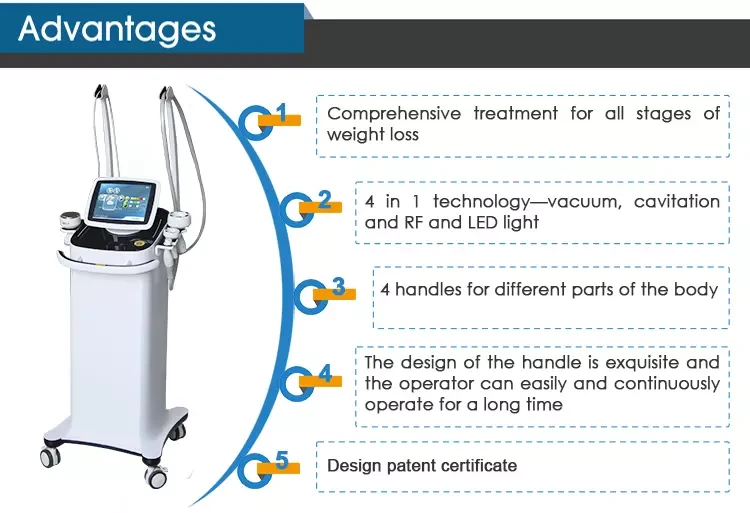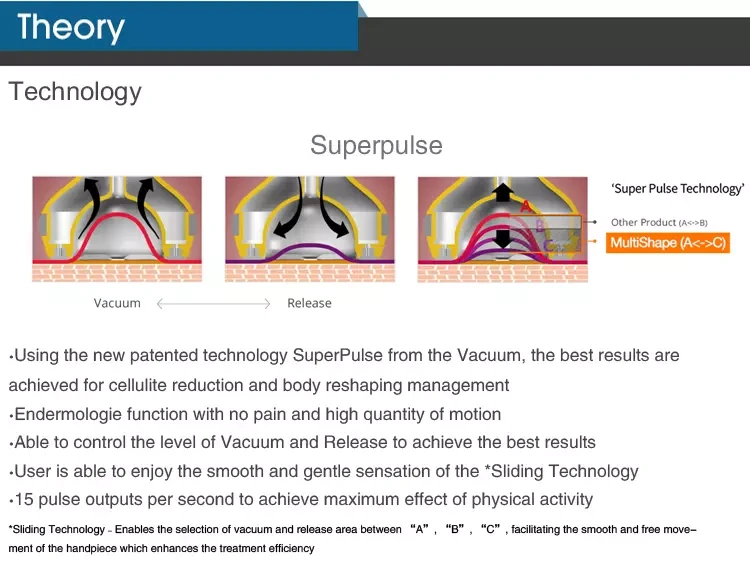 Display

10.4 inch Colorful Touch Screen

Pulse Width

0.5s-0.7s

Vacuum

Absolute Value:10kPa-80kPa(7.6cmHg-60.8cmHg)

Relative Value:20kPa-90kPa(15.2cmHg-68.4cmHg)

Wheel Speed

0-36rpm

Safety Monitoring

Real time online

RF Frequency

20M CRF

RF Energy

60J

Laser Width

640nm/635nm

Laser Power

20W

Number of Handpiece

Automatically Recognize

Function Area

40*70mm/29*40mm/17*10mm/125.6mm²
Vacuum Shaping VS++ Manufacturer Price
Standard Price
Free Shipping For A Limited Time
Add any language into the machine system
Print your company logo on the machine
Customize the machine's color and appearance
Customize marketing services including posters, brochures, videos, and pictures
Design a machine shell that is customized to your branding needs
Create new user interfaces for the ease of your clients
Support sufficient customer resources in your sales market
Support accessories customization including handpiece, screen, handle, etc
Buy Now
Pro Price
Free Shipping
Add any language into the machine system
Print your company logo on the machine
Customize the machine's color and appearance
Customize marketing services including posters, brochures, videos, and pictures
Design a machine shell that is customized to your branding needs
Create new user interfaces for the ease of your clients
Support sufficient customer resources in your sales market
Support accessories customization including handpiece, screen, handle, etc
Buy Now
OEM/ODM Price
Free Shipping
Add any language into the machine system
Print your company logo on the machine
Customize the machine's color and appearance
Customize marketing services including posters, brochures, videos, and pictures
Design a machine shell that is customized to your branding needs
Create new user interfaces for the ease of your clients
Support sufficient customer resources in your sales market
Support accessories customization including handpiece, screen, handle, etc
Get Custom Made Price
Questions That Might Worry You
Similar Products