Introduction
Product Video
Theory

IPL treatment means is Intense Pulsed Light, whcih is based on its selective absorbability. This technology was begin at USA. With time going by, the technology became more mature. This is a multifunctional machine which can do hair removal, skin rejuvenation,ance removal, vascular removal, pigment therapy and breast lift.
Function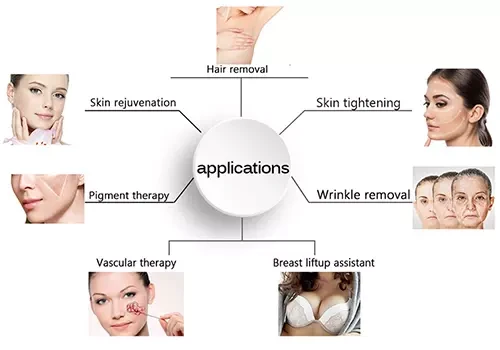 Hair removal, Pigment therapy, Vascular therapy, Skin rejuvenation, wrinkle removal, Breast liftup
Advantages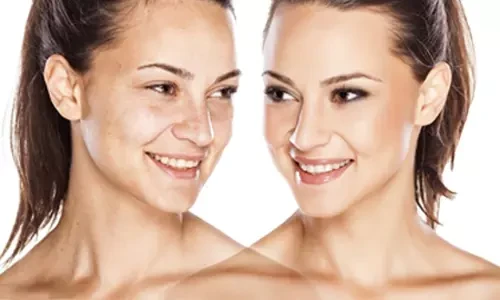 1.Screen:10.4" TFT true color LCD (24-bit color display,same as computer or TV)

2.Handpiece: Two handpiece with fixed crystal strong energy,long continual working time

3.WavelengthFilter: Wavelength film plated by Germany- -madeequipment unit price 2.2 times than Chinese equipment,super durable even using with big energy.

4.System: 2 systems:SHR system + Normal IPL system

5.Hose: Germany imported hoselifespan 10-20 years

6.Electrical filter: Schaffner brand in Switzerland

7.Crystal: 100% REAL sapphire

8.Lamp:Double Heraeus imported xenon lamps, up to 1,000,000 shots lifespan in each one
Treatments Videos
Before & After the Treatments


Working Theory of Portable IPL Laser Hair Removal Machine
Intense Pulsed Light (abbreviated IPL) describes the use of intense pulses of non-coherent light distributed over a range of wavelengths; IPL treatment is based on its selective absorbability. from 400nm to 1200nm. The technology utilizes specific wavelength ranges to target various chromophores in the skin.The light penetrates the tissue and is absorbed by either the relevant chromophores and damages them. This enables effective treatment of a broad spectrum of conditions, including vascular and pigmented lesions, skin photoaging treatments and hair removal.
Technical Parameters of Portable IPL Laser Hair Removal Machine
| | |
| --- | --- |
| Display | 15 inch colorful touch screen |
| Power | 4000W |
| RF frequency | 10MHz |
| RF energy | 1-50J |
| IPL energy | SHR:1-15J / E-LIGHT:1-50J |
| Number of pulses | SHR:1 T/E-LIGHT:1-6T |
| Pulse frequency | SHR:1-10Hz |
| Discharge interval | E-LIGHT:1-4s |
| Number of handles | 2 pcs |
| Spot size | 10*50mm |
| Lifespan of lamp | 1 million shots |
| Cooling System | Air+water+semiconductor |
| Cooling temperature | 0~10℃ |
| Voltage | 110V~240V AC |
| Machine dimension | 470*470*1090mm |
| Package dimension | 670*630*1230mm |
| Net/Gross Weight | 57KG/90KG |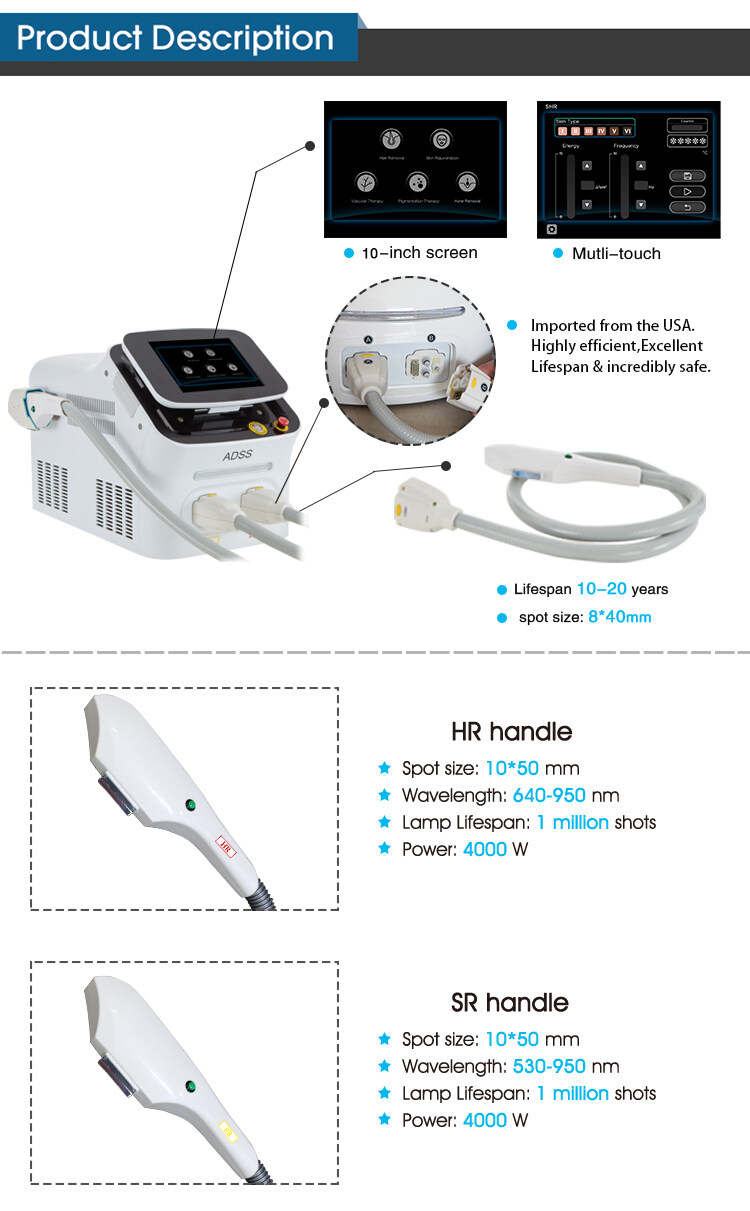 Portable IPL Laser Hair Removal Machine Manufacturer Price
Standard Price
Free Shipping For A Limited Time
Add any language into the machine system
Print your company logo on the machine
Customize the machine's color and appearance
Customize marketing services including posters, brochures, videos, and pictures
Design a machine shell that is customized to your branding needs
Create new user interfaces for the ease of your clients
Support sufficient customer resources in your sales market
Support accessories customization including handpiece, screen, handle, etc
Buy Now
Pro Price
Free Shipping
Add any language into the machine system
Print your company logo on the machine
Customize the machine's color and appearance
Customize marketing services including posters, brochures, videos, and pictures
Design a machine shell that is customized to your branding needs
Create new user interfaces for the ease of your clients
Support sufficient customer resources in your sales market
Support accessories customization including handpiece, screen, handle, etc
Buy Now
OEM/ODM Price
Free Shipping
Add any language into the machine system
Print your company logo on the machine
Customize the machine's color and appearance
Customize marketing services including posters, brochures, videos, and pictures
Design a machine shell that is customized to your branding needs
Create new user interfaces for the ease of your clients
Support sufficient customer resources in your sales market
Support accessories customization including handpiece, screen, handle, etc
Get Custom Made Price
Questions That Might Worry You
Similar Products