Introduction
Introduction of Facial Skin Analyzer
skin analysis is a professional face skin analysis device, it adopts RGB and UV light sources, through spectral imaging technology to help us detect 9 skin problems both surface and deep skin :spot like freckle, acne marks, pigmented nevus, big pores; wrinkles; skin roughness as well as deep skin problems like Hyper-pigmentation; closed acne; moisture state; skin sensitivity and skin properties.
How Does Facial Scanner Work?
Skin analysis system give a new defintion of skin care, analysis system delivers a significantly improved experience for aesthetic and skin care consultations. Updated software allows faster image capture with automatic skin type classification, refined facial feature detection and more.
It uses RGB, UV, and PL spectral imaging technology to accurately and qualitatively analyze the number of spots, the density of spots, the number of pores, the number of wrinkles, etc., as well as the harmful effects of harmful cosmetics, ultraviolet rays, etc. on the skin. Accurately
diagnosis and analysis the skin.
Functions of Facial Skin Analyzer
The all new Complexion Analysis System delivers a significantly professional, in-advanced & reliable experience for aesthetic and skin care consultations.
1.Spectrum:RGB &UV&PL

2.Diagnose Facial Problem such as: Spot,Pore,Pigmentation,Wrinkle,Acne etc.

3.Offer a set of diagnosis solution and medical suggestion treatment for poor skin improvement.

4.Helps to compare different skin conditions before and after care and treatment.

5.Distinguish the quality of cosmetics, afford advices on suitable cosmetics based on skin conditions
Advantages of Facial Skin Analyzer
1.Complexion Analysis System is the only instrument that can quantitatively analyze skin characteristics.

2.The visual impact of ADSS Complexion Analysis combined with clear targeted recommendations from ADSS built-in, customizable Product & Treatment Library will enable your staff to sell rejuvenation and skin care treatments more effectively.

3.Cross-polarized and UV lighting are used to record and measure surface and subsurface skin conditions. UV photography provides the most complete data set available for sun damage assessment and analysis, including UV fluorescence imaging to reveal porphyrins.

4.Complexion Analysis System own automatic quick test function:

5.Through Seven standard test light sources of different combinations, We can analyze 6 test results, including pigmentation, UV damage degree, bacterial infection degree, microvascular damage degree and wrinkle analysis.
Features of Facial Skin Analyzer
1.15 Megapixel camera body and E-TTL metering

2.the automatic camera mode

3.Show the degree of UV damage of deep layer of skin

4.Provide professional analysis data on skin problems such as wrinkles, uneven skin tone, pores, and pigmentation

5.platform:win\Win8\Windows10 System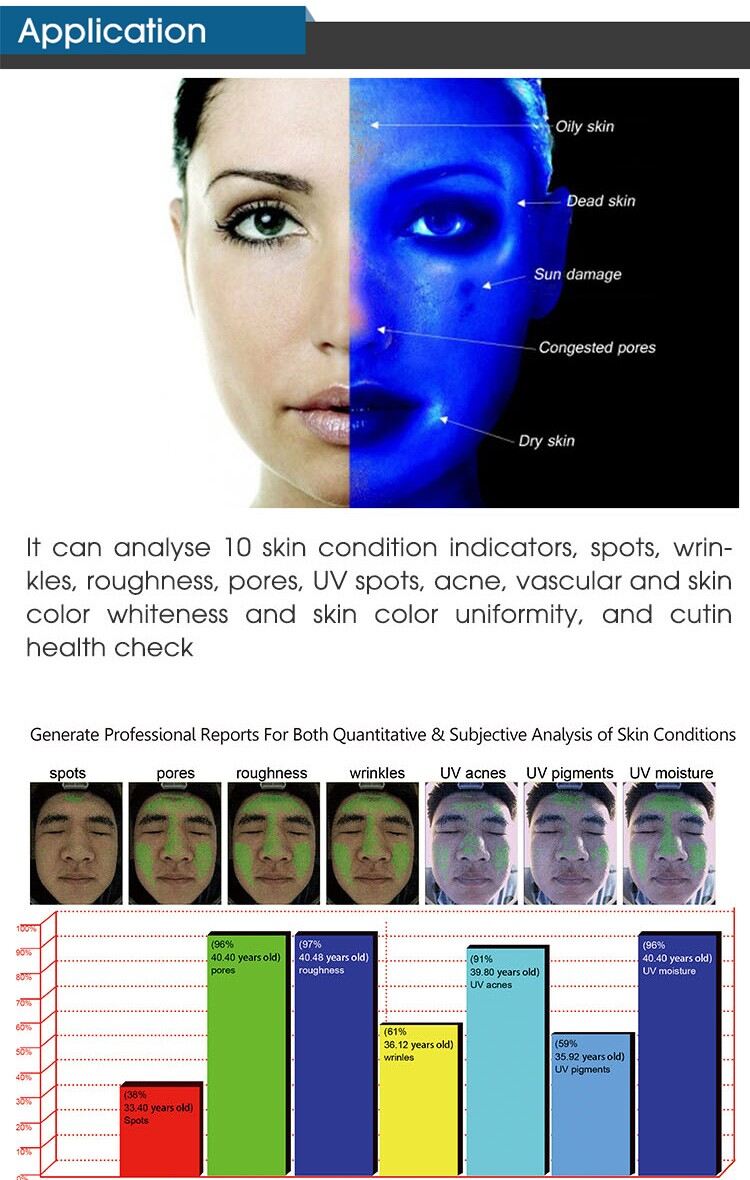 Facial Skin Analyzer Machine Factory Price
Standard Price

Manufacturer Price: Negotiable/ (Free Shipping)

Custom Price

Custom Price: Negotiable / (Free Shipping)