Introduction
Product Video
Theory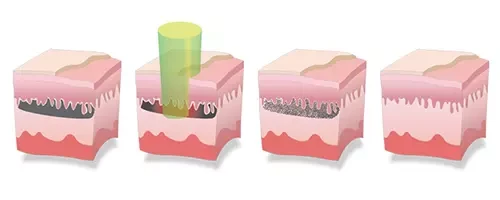 Nd:Yag laser is named after the laser medium, Neodymium: yytrium-alumunium-garnet. This laser was specifically designed to help with pigmentation, roughness and also can help removing old tattoos.
The Q-switched ND YAG laser takes specific wavelengths light in high energy, which are absorbed by the pigment and shatters the pigment into particles, breaking them into very small fragments , some parts will consequently bounce out of the skin and the other parts will spilt even further into minute particles which eventually will be engulfed by the phagocytes and ultimately gets eliminated by the lymphatic system.
Function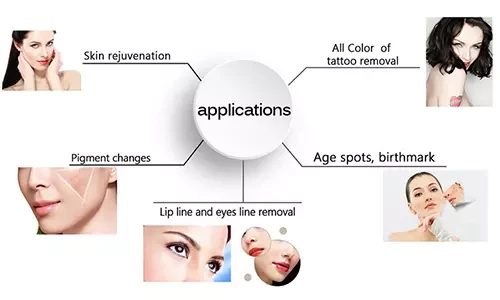 Q-Switched Nd:YAG is very effective for the removal of dark tattoos and the safest for skin of color. Using a top-hat beam profile ensures control of homogeneous energy delivery and maximum safety without hot-spots nor any risk of side effects or complication for the patient. The versatility of 5 spot sizes allows to use the ideal parameters for the clearance of dark tattoos. Also, there are other functions like the following.

1.Improve skin tone

2.Reduce rosacea and thread facial vein

3.Reduce facial wrinkles and fine lines

4.Treat sun damage including age spots and brown pigmentation

5. Firming and tightening the skin

6. Stimulate new collagen and elastin tissue production
Advantages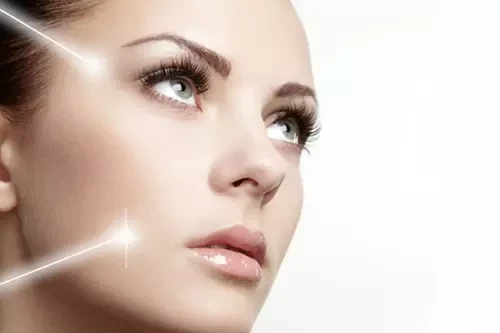 1.Our machine has USA FDA approval.(K161925)

2.Laser. It is the cavity of 2 lamp and 2 rods,which is the most advanced design at present.The lamp is used to emit laser. The rods are used to magnify energy. The light will not polarize. Double laser bars, single cavity.

3.One lamp with 2 rods is very difficult technology to achieve and finally we really made it.we adopt the korea WONTEC beam.

4.There is big difference between Korean beam and Chinese beam.

A.The energy of Chinese beam is not precise.While Korean beam,you rotate the beam(360°),the laser energy still keeps the same.

B.The energy loss of Chinese beam reach to at least 20%.While,Korean beam only loss 10% which has been the best worldwide.

C.Chinese beam is only 4000RMB/pc,while Korean imported beam cost us 20000RMB/pc.

D.Korean beam has exquisite appearance.

5. The pulse width is narrow(5nm adjustable). Painless treatment and less injury to skin,better result, more comfortable, short downtime.the pulse width of common machine is 14-20ns

6. Maximum Single Energy. The single pulse energy is high, the energy reaches 1600mj, and there is double pulse mode, the energy is 3200mj

7. Spot size. The diameter of spot is 2-10mm adjustable. Uniform energy output even at max spot size.
Treatment Operation Video
Before & After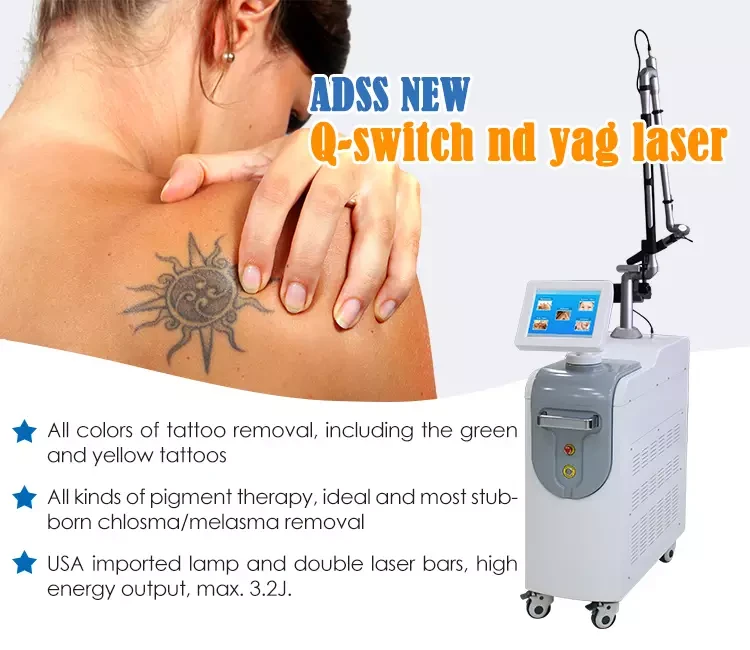 Laser Style

E-optical Q Swith Nd Yag Laser

Wavelength

1064nm, 532nm

power

2000W

Output Energy

1064nm Single pulse 100-1600MJ

Double pulse 200-3200MJ

532nm Single pulse 50MJ-1000MJ

Double pulse 100-2000MJ

Output Frequency

1-10Hz

Spot size

2-10mm adjustable

Pulse duration

5ns

Energy transfer arm

7 articular arm, 90% transmissibility

Voltage/Electric current

220V 50Hz or 110V 60Hz

Machine size

90*33*133cm

Machine weight

100kg
Q-Switch ND YAG Pigmented Lesions Removal System Manufacturer Price
Standard Price
Free Shipping For A Limited Time
Add any language into the machine system
Print your company logo on the machine
Customize the machine's color and appearance
Customize marketing services including posters, brochures, videos, and pictures
Design a machine shell that is customized to your branding needs
Create new user interfaces for the ease of your clients
Support sufficient customer resources in your sales market
Support accessories customization including handpiece, screen, handle, etc
Buy Now
Pro Price
Free Shipping
Add any language into the machine system
Print your company logo on the machine
Customize the machine's color and appearance
Customize marketing services including posters, brochures, videos, and pictures
Design a machine shell that is customized to your branding needs
Create new user interfaces for the ease of your clients
Support sufficient customer resources in your sales market
Support accessories customization including handpiece, screen, handle, etc
Buy Now
OEM/ODM Price
Free Shipping
Add any language into the machine system
Print your company logo on the machine
Customize the machine's color and appearance
Customize marketing services including posters, brochures, videos, and pictures
Design a machine shell that is customized to your branding needs
Create new user interfaces for the ease of your clients
Support sufficient customer resources in your sales market
Support accessories customization including handpiece, screen, handle, etc
Get Custom Made Price
Questions That Might Worry You
Similar Products