Introduction
Theory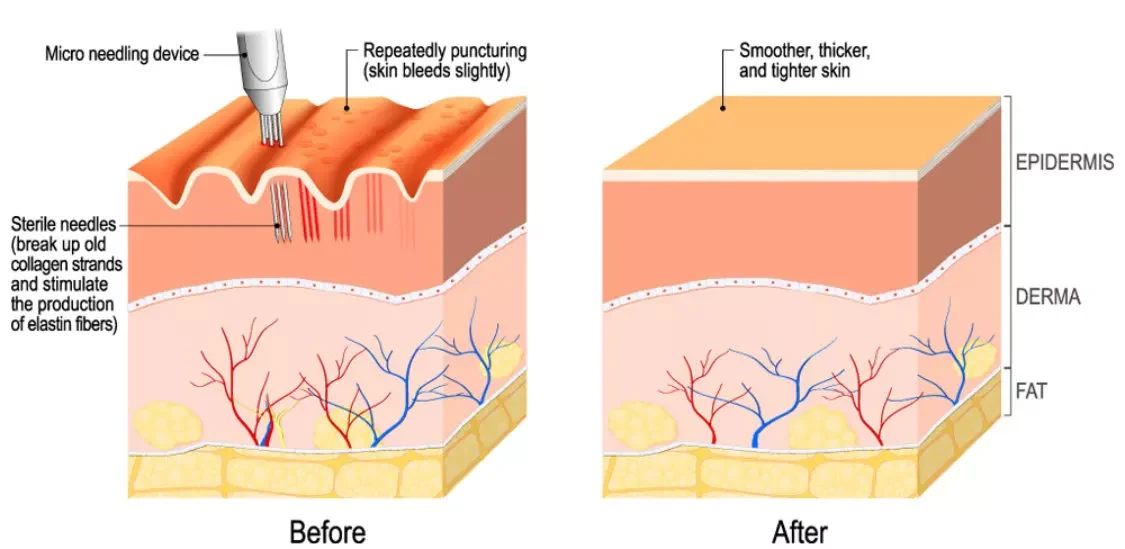 It is a Fractional skin treatment that stimulates collagen production of the underlying layers of the dermis. By targeting the deeper layers of the skin, the building blocks will reorganize themselves in a natural anti-aging process.
Microneedling is a invasive method of skin rejuvenation that uses your body's natural healing process to improve the appearance of the skin. It's true that the majority of patients seek microneedling with radio frequency treatment for its anti-aging benefits like smooth, taut skin and a less wrinkled appearance, but it also corrects scarring due to acne. The collagen that the procedure creates helps fade your scarring. The result is the restoration of your flawless skin!
It delivers focused radio frequency (RF) technology to heat the skin. Using RF technology will trigger the body's natural response to create an increased level of collagen and elastin production, resulting in an enhanced skin revitalization treatment versus microneedling alone.

Deep and safe fractional treatment penetrating up to 4.5mm with an additional thermal profile of up to 2mm. Advanced design creates extremely uniform effect. Little to no thermal damage to dermis. Safe on skin type VI with little risk of post inflammatory hyperpigmentation (PIH).
Function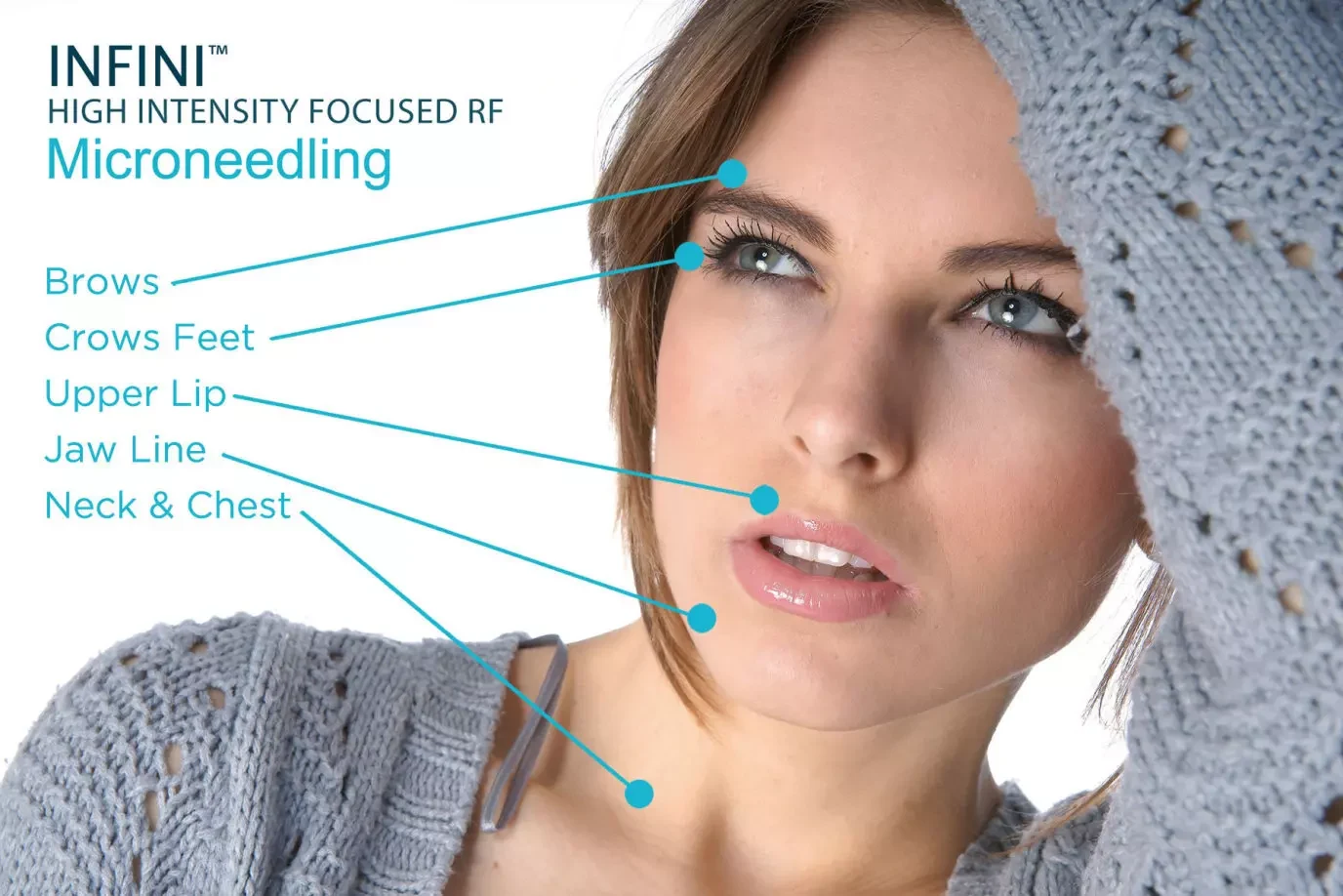 1.Minimally invasive remodeling for face and body.


2.Morph the aging facial features into a more youthful appearance.


3.Remove wrinkles, skin tightening.


4.Pigment and acne treatment.


5.Skin rejuvenation, make skin more lightening and smooth.


6.Lighten the scar or acne scar, make pore smaller.


7.Lighten stretch marks.
Advantages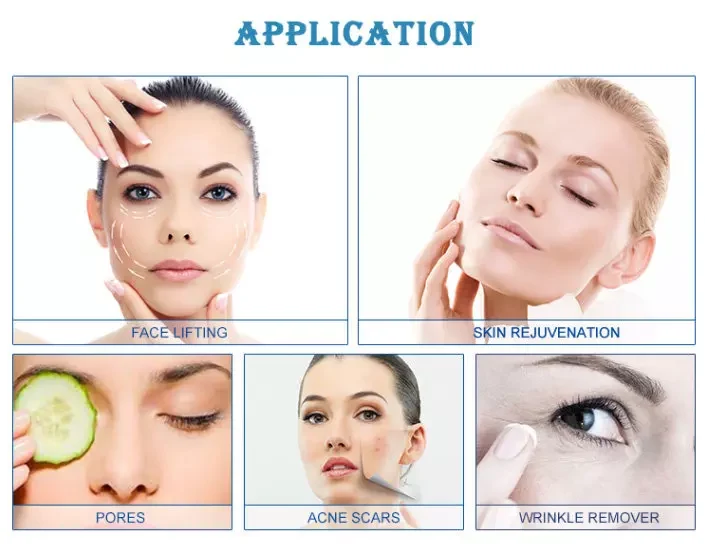 1.Non insulated needles: Equal therapy to epidermis and dermis layer.


2.Stepping motor type: Needle inserts to skin smoothly without shock.


3.Gold plated needles: High bio-compatibility, suits metal allergy patient.


4.Precise depth control: 0.5-4.5mm adjustable.


5.Safety needle system: Sterilized disposable needle cartridges and suction combined probe for better skin contact.


6.User-friendly handpiece design: Handpiece trigger button. 2 different needle cartridges suits to different treatment area.


7.Humanized handle design: Linear humanized design. Button switch on handle for convenient treatment. The needle is easy to replace.


8.User friendly screen: 6 treatment areas guides promotion projects. Simple and easy using.
Before & After
Benefits of Microneedling RF
1.Treatment with vacuum, more comfortable.

2.Non insulated needles: It is possible to operate equal therapy to epidermis layer and dermis. Layeras the needle do not have insulation plating.

3.Stepping motor type: Different to existing solenoid type, the needle inserts to the skin smoothly with no shock, and causes no bleeding and no pain after the procedure.

4.Gold plated needles: Needle is durable and also has high bio-compatibility by applying gold plating. Patient with metal allergy could also use it with not concerning contact dermatitis.

5.Precise depth control. 0.5~4.5mm [0.1mm Step]: Operates epidermis layer and dermis layer by controlling the needle depth in unit of 0.1mm.

6.Safety needle system: Sterilized disposable needle tip. Operator can easily notice the applying RF energy from red light.

7.Elaborate needle thickness. Min : 0mm < Max : 0.2mm. The needle structure is easy to penetrate the skin with minimum resistance.
Technical parameters of Microneedling RF
| | |
| --- | --- |
| RF Frequency | 1MHZ |
| Top Energy | 35W |
| Tips | Invasive |
| Tip Size | 15*15mm |
| Tip Pin | 25pins ,49pins |
| Needle Size | 200um |
| Depth | 0.5mm-4.5mm |
| Screen Size | 10.4 inch touch screen |
| Dimension | 50*50*110cm |
| Net Weight | 40kg |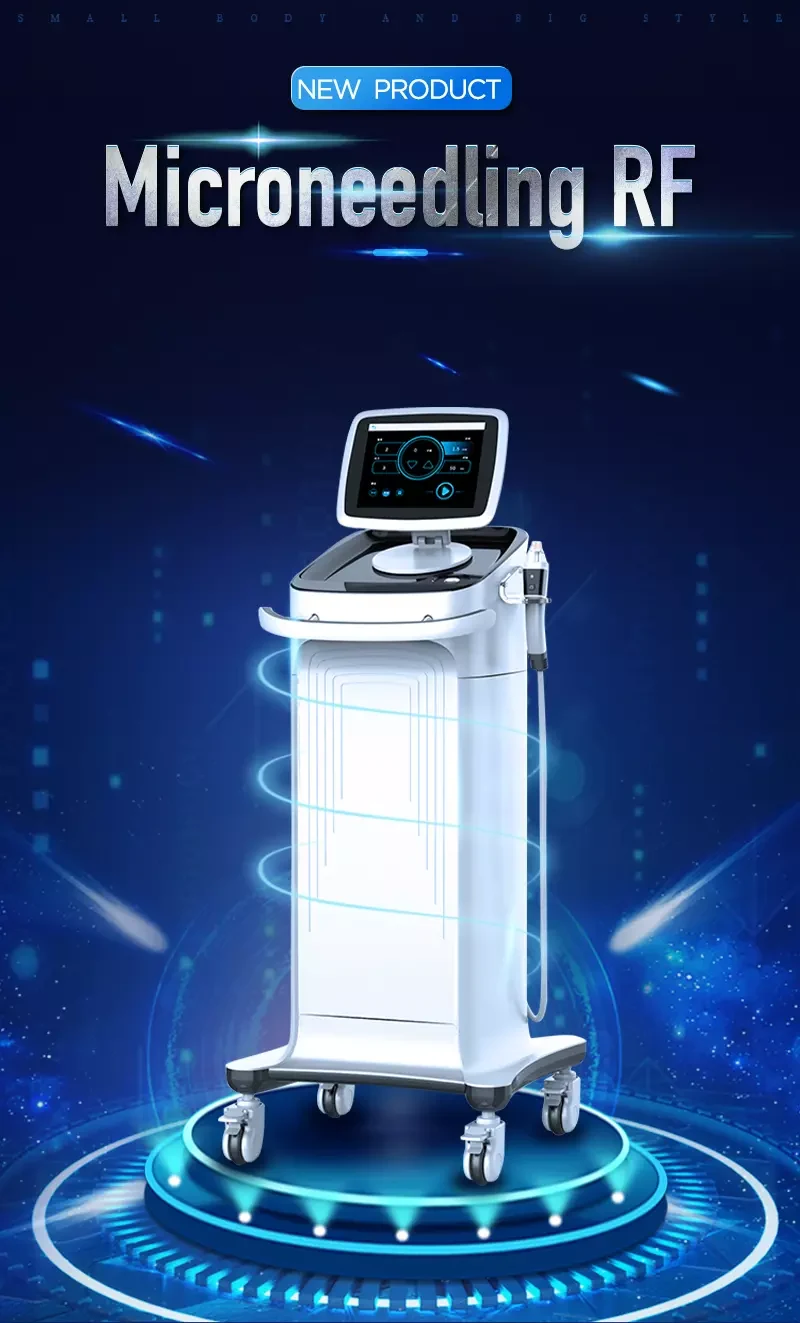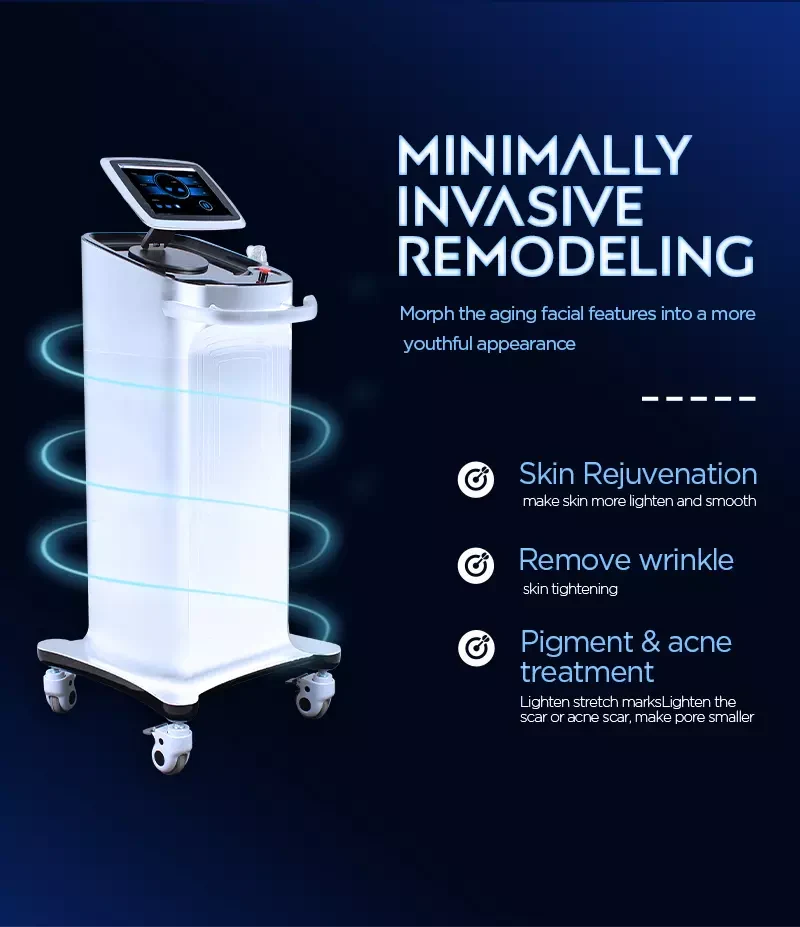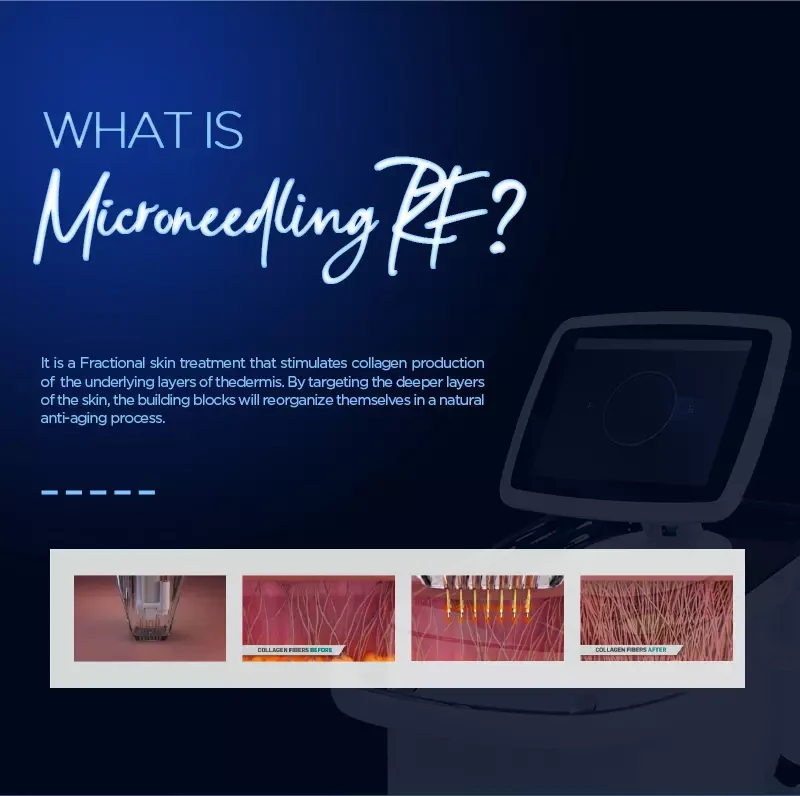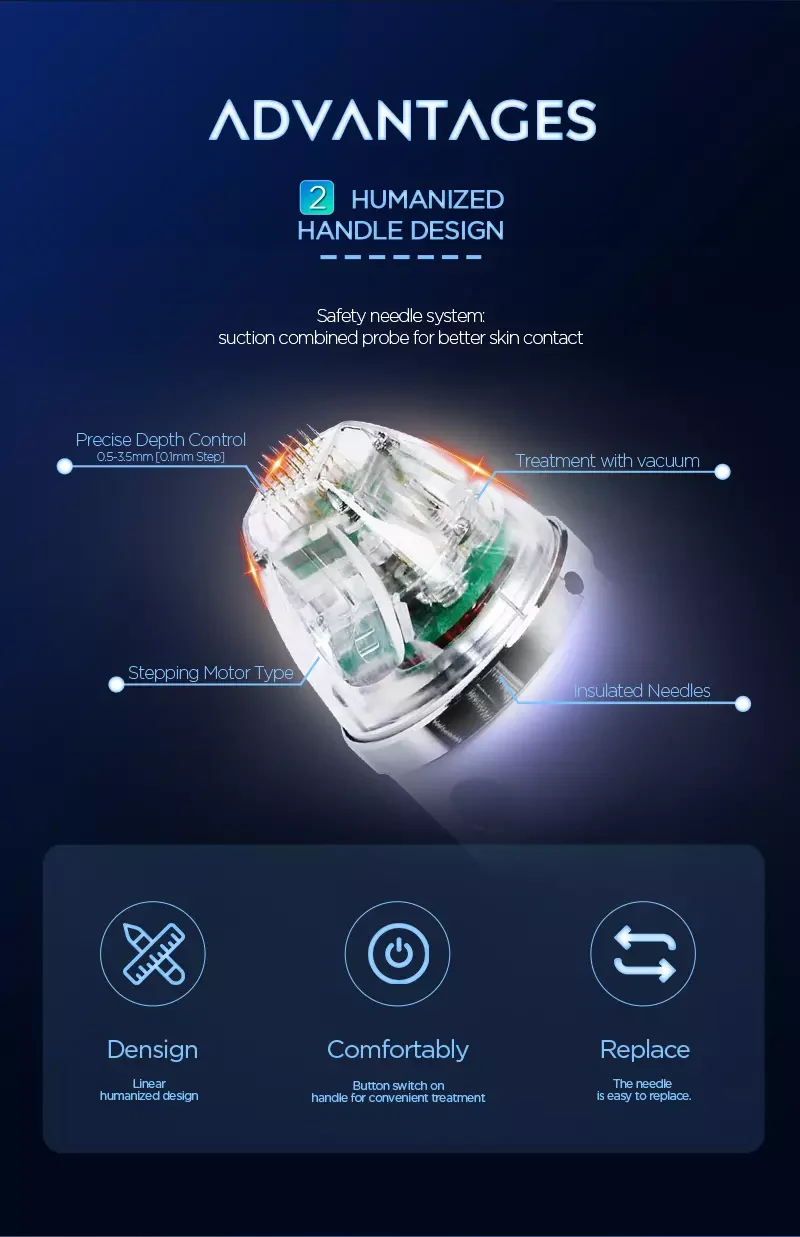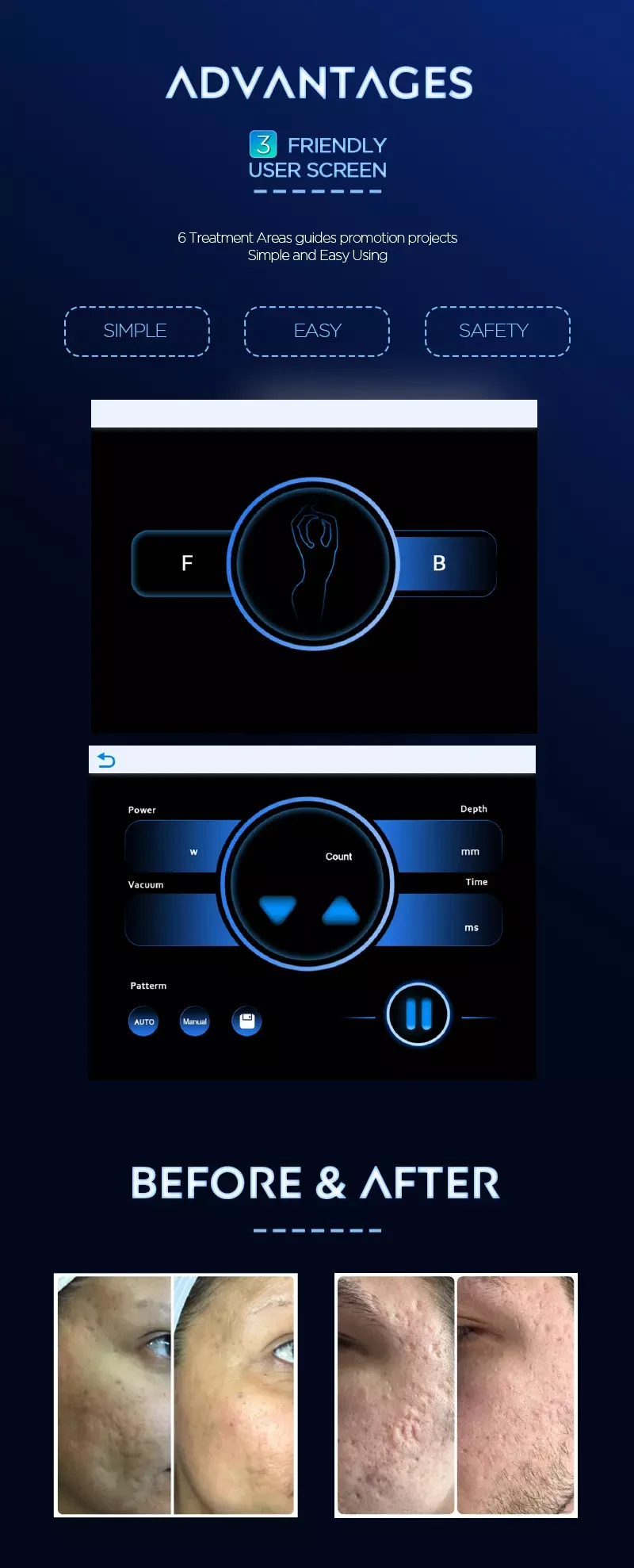 Microneedling RF Manufacturer Price
Standard Price

Manufacturer Price: Negotiable/ (Free Shipping)

Custom Made Price

Custom Price: Negotiable/ (Free Shipping)
Microneedling RF Certificates
ADSS Microneedling RF has FDA, (TUV) CE, (TUV) ISO 13485, Utility Model Patent Certificate; as well as the right of import and export certificate.
Similar Products