Introduction
Product Video
Theory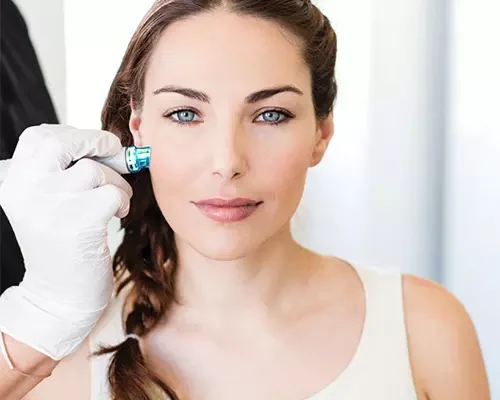 The negative pressure mode controlled by the full intelligent program, through the perfect combination of products and equipment, deep cleansing of exfoliation, acne, blackheads and other dirt in the skin and pores in a short time. At the same time, it enhances the deep absorption of the nutrients of the product, promotes the pores to be fine, and smooths the skin, increases the moisturizing effect of the skin, and makes the skin appear moist and white, moist and full of texture.

Ultrasound:

In the ultrasonic million times per second to 3,000,000 times the frequency of the vibration, transmitted to the body and skin in the process, is absorbed by skin, dermis, subcutaneous tissue, absorption of ultrasonic waves into heat and thus the temperature of the thermal effects of ultrasound living tissue slightly rise, promote blood capillary tube between hair cell function and lymph flow, it helps to transport nutrients to the cells needed for hair thin tube of blood, promote metabolism.

RF:

Through a multi-polar radiofrequency subcutaneous tissue into the subcutaneous tissue of the natural heat resistance movement 50 degrees, collagen after heating to produce immediate contraction, while the dermis to stimulate the secretion of new collagen to fill shrinkage and loss collagen vacancies, thus again hold up the skin of the stent and restore skin elasticity.

The water oxygen jet

The water oxygen jet facial machine uses oxygen under extreme pressure and water, takes tiny water drops, through spray-type to act on skin. It can penetrate nutrient components to pores and cracks of skin from the epidermis to dermis layer, then promote rebirth of cells, rapidly and directly supply rich nutrient for skin. Simultaneously, it can clear deep dirt in epidermis. Oxygen of extreme pressure and nutrient liquid can stimulate the rebirth of fiber tissue in dermis, make cells metabolism. So as to improve skin dark, yellow, chloasma, get good effect of wrinkle removal, skin rejuvenation and etc.
Function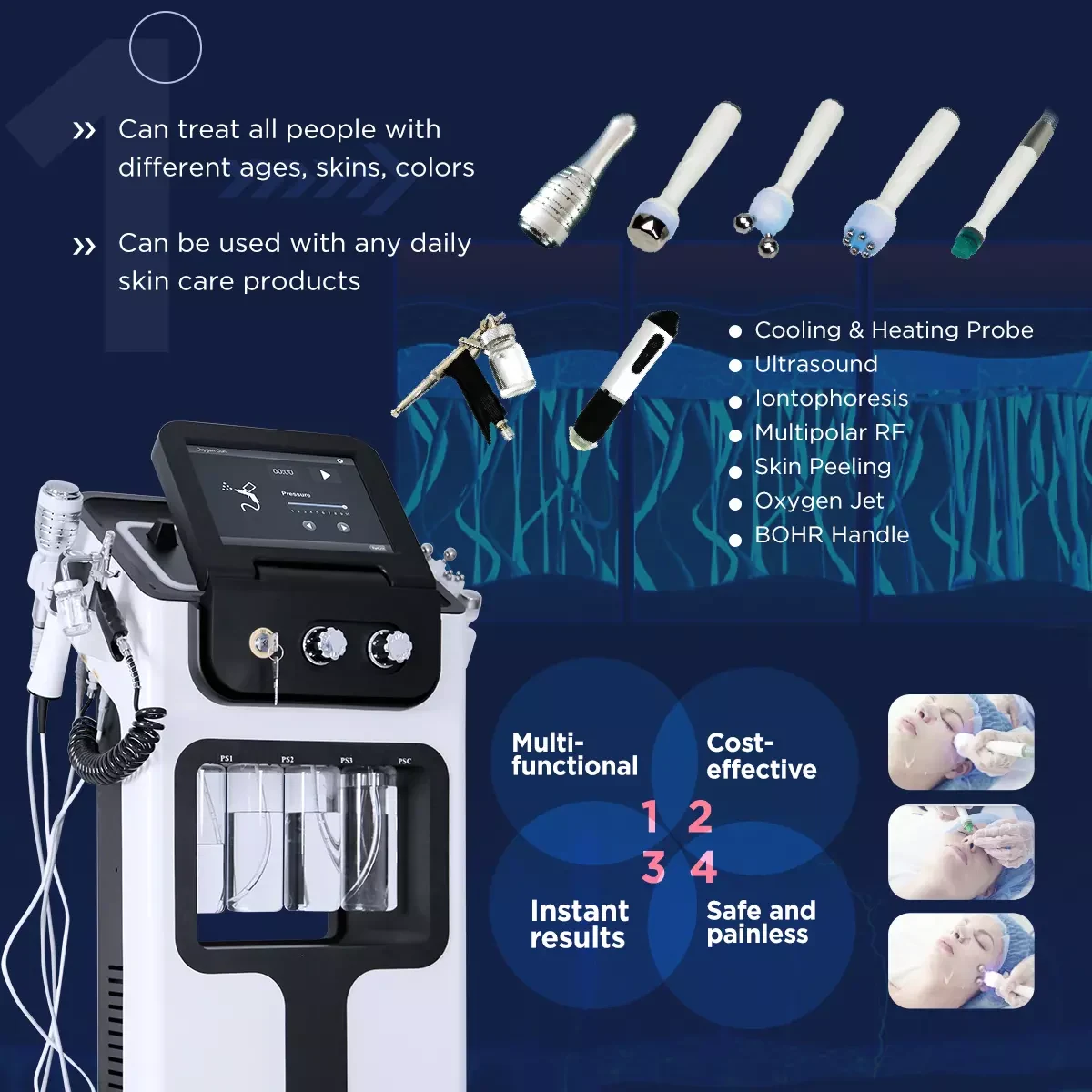 1.Deep clean skin scrubber Ultrasound for dead Skin Exfoliator removal, Skin Impurities Removal, and skin Cleaning,

2.skin rejuvenation, improve skin dull, dark yellow, improve skin quality.

3.deep cleansing of the skin, while hydrating the skin, nourishment.

4.removing blackheads, improve skin relaxation, reduce pores, increase skin transparency.

5.Facial RF Probe: Face lifting, skin lifting around eyes, Wrinkle removal and skin rejuvenation;

6.Cooling Freeze Probe: Face Tightening, make the sensitive skin a ice cool feeling, remove the red spots;

7.O2 Spray keep the facial moisture, Oxygen Jet to make Skin Refresh and Skin Rejuvenation

8.hemorrhoids, seborrheic alopecia, folliculitis, clearing, clearing allergens of skin.

Microdermabrasion for removing dead skin, Dead Skin Exfoliator removal, Skin Impurities Removal, and skin Cleaning.
Advantages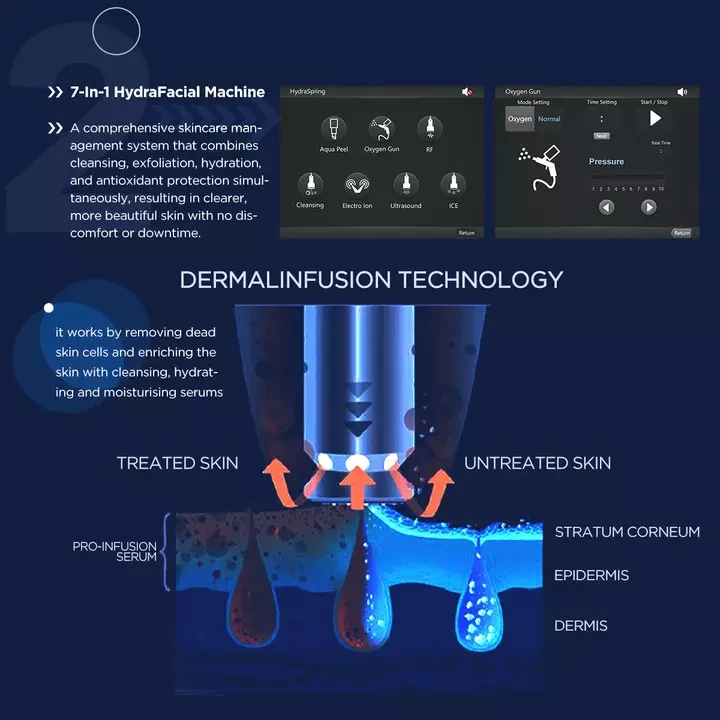 1.Rejuvenate sun damaged skin-face, neck, shoulders, back, arms and legs.

2.Reduce age spots

3.Minimize of blotchy skin coloring

4.Reduce acne and superficial scars from past injury 5 Remove blackheads and white head

5.Reduce oily skin

6.Improve overall skin health

7.Hot surface temperature of the device can be set up to 42℃

8.Cold surface temperature of the device can be set to 0℃

9.Make face skin tight, smooth and delicate

10.Enhance blood circulation, metabolism and relaxation

11.Strengthens collagen and enhances elasticity
Hydra Facial Treatments Videos
Aqua Facial - Radio Frequency Technologies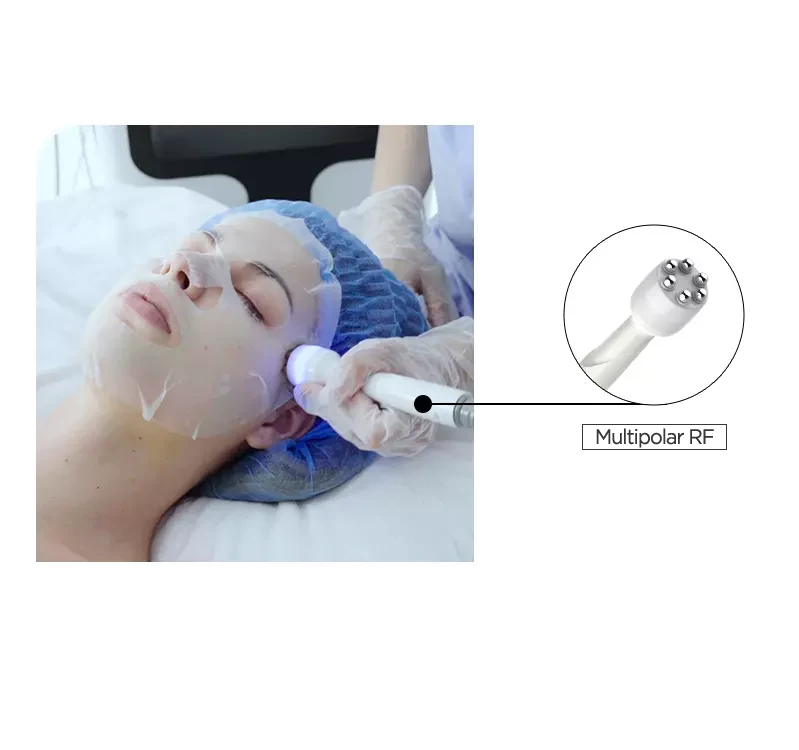 Best for: Skin-Tightening
Radio Frequency technology is used to increase collagen reproduction in mature skin.
Skin Tightening is ideal for incorporating into an anti-ageing facial.
Tri-polar radio-frequency delivers the energy specifically into the dermis creating heat, increasing the temperature in the dermis to a constant 40-42°c.
By heating the dermis, this causes an immediate contraction of the existing mature collagen cells, in turn stimulating fibroblast action.
This results in the production of new collagen, an increase in the diameter of the collagen and the spaces between the fibres are visibly reduced under the microscope increasing the density of the dermal layer, giving a skin tightening effect.
Hydra Facial - Hydro Peel Technologies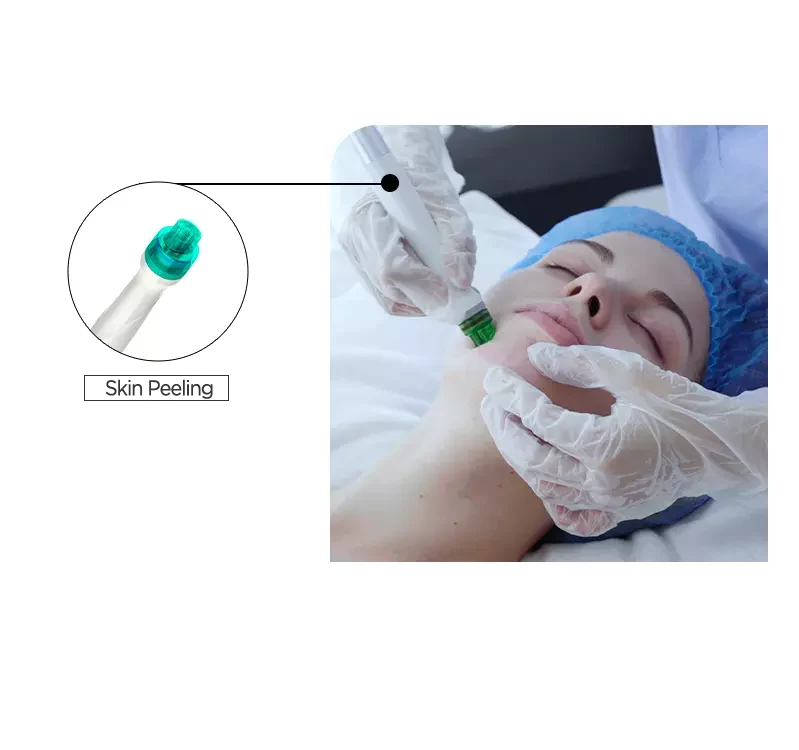 Best For: Targeting Congestion
It is a non-invasive, non-dripping, and non-costly skin-resurfacing treatment.
There are no longer jars, which means more controlled treatment; no serum overuse, and no more dripping serum.
Using the vacuum tip, skin is drawn onto the handpiece.
It hydrates and nourishes the skin using an RH-oligopeptide-1 and Acetyl Hexapeptide base. Bacteria and inflamed skin is improved using a BHA based solution. The BHA solution contains salicylic acid to remove comedones, sebum and cleanse inner pores which is perfect for managing congestion and bacteria.
This treatment provides a deep cleanse and hydration, whilst also aiding extraction.
The Hydro Peel treatment uses a combination of three solutions.
The AHA solution contains lactic acid and glycolic acid to dissolve keratin and smooths the skin's texture while deep cleansing the pores.
The final solution contains galactomyces ferment filtrate, hyaluronic acid and acetyl hexapeptide 8 to offer deep hydration and nourishment, reducing the appearance of wrinkles and provide elasticity and brightening to the skin.
Hydra Facial - Exfoliation Technologies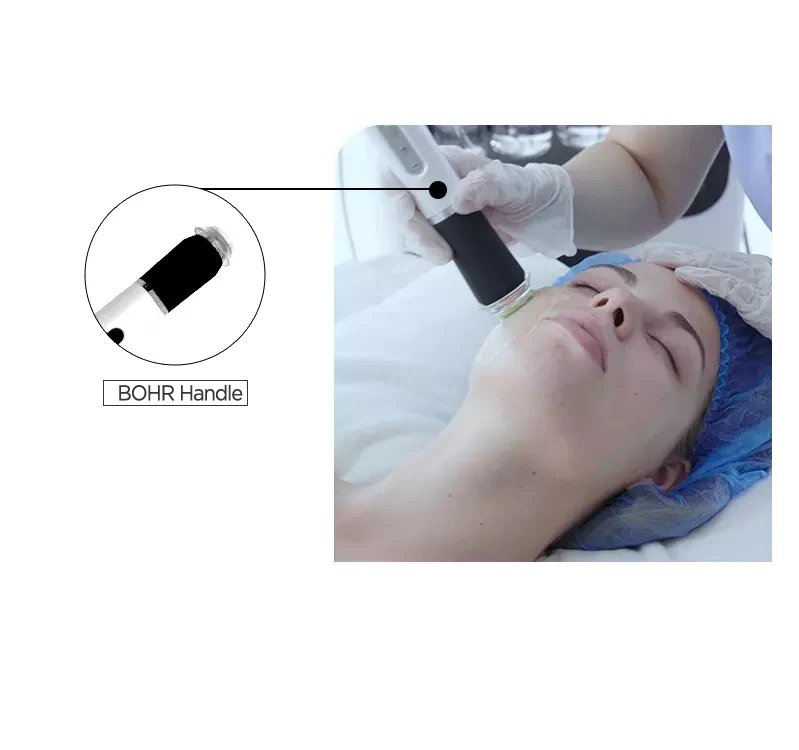 Best For: Exfoliation and Targeting Pigmentation.
Exfoliation/ Oxygenation provides deep exfoliation by buffing the skin using an exfoliation capsule containing active ingredients.
The active ingredients used are Kojic Acid and Retinol which result in a clearer, hydrated and brighter skin.
A vibration cleanser is used with a capsule that has an exfoliating effect on the skin, containing sodium bicarbonate and citric acid.
When the capsule is combined with the glycerol-based gel it will create an effervescent effect.
CO2 is produced during this reaction, inducing a release of oxygen from increase red blood cells.
When oxygen is naturally released to the skin from inside of the body, it results in true oxygenation and is far more effective than external oxygenation.This effect on the skin is known as the 'Bohr Effect'.
Hydra Facial - Oxygenation Technologies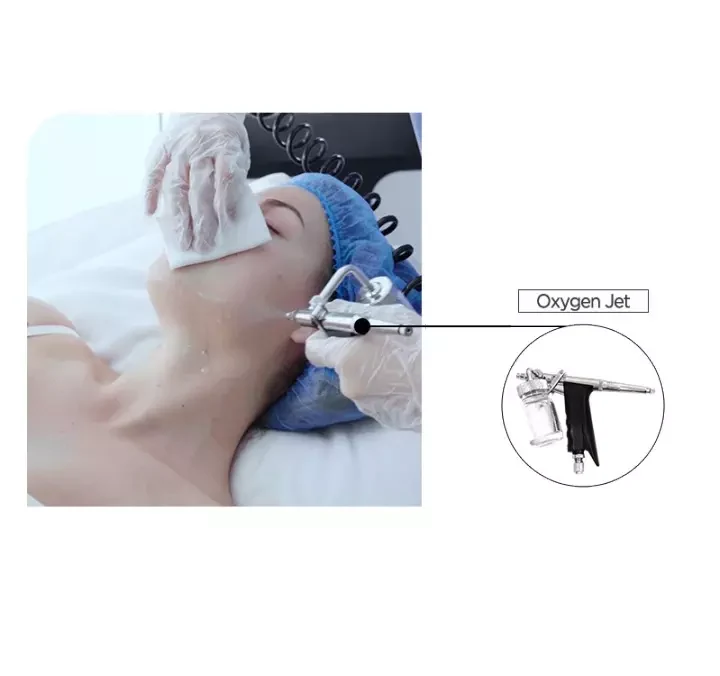 Best For: Improving Dull Complexion
This 'Oxy' spray encourages skin hydration.
The treatment encourages maximum absorption allowing intense skin hydration.
A lack of oxygen slows down cell metabolism, ages the cell prematurely, reduces skin firmness and gives a pale ashen complexion.
Applying oxygen to the skin using this method helps to increase cell metabolism and improve these concerns. Some bacteria are not able to live in oxygen, so applying oxygen to the skin will give this anti-bacterial effect, having a positive effect on
Hydra Facial - Electro Ion Technologies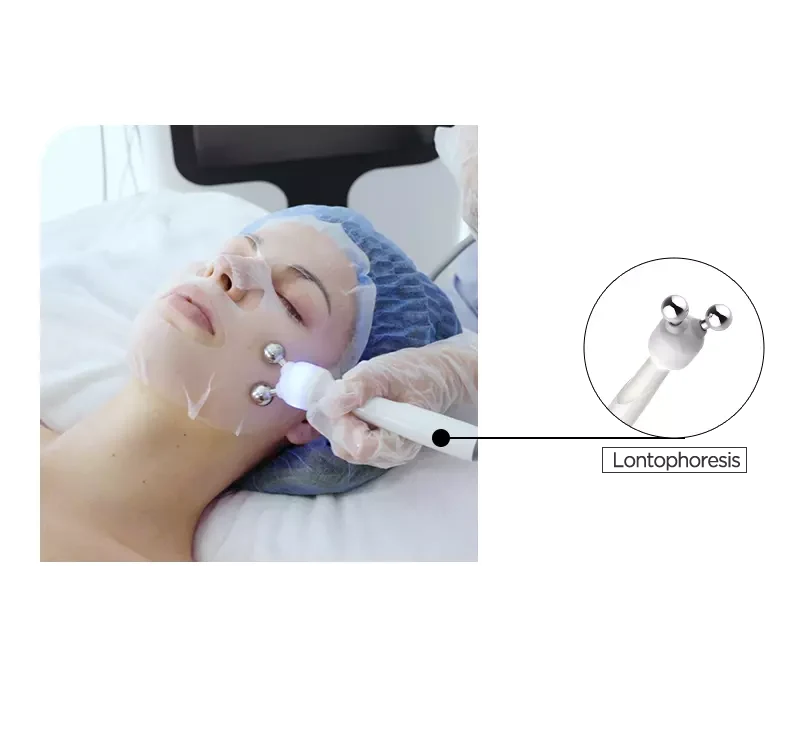 Best For: Jowl & Eyebrow Lifting
The Electro-ion technology is used for skin lifting and uses electroporation which increases the absorbency of the cell for product penetration.
Ultrasound vibrations momentarily create spaces in the outer layers of the skin.
By disrupting this barrier, it allows greater absorption of the applied product.
Using iontophoresis and anti-gravity actions, this handpiece penetrates our Time Defence and brightening serums deeper into the skin's sub surface but also gives a slight muscle contraction and lifting effect.
This, in turn, revitalises and 'wakes up' dull and lifeless skin.
Hydra Facial - Ultrasound Technologies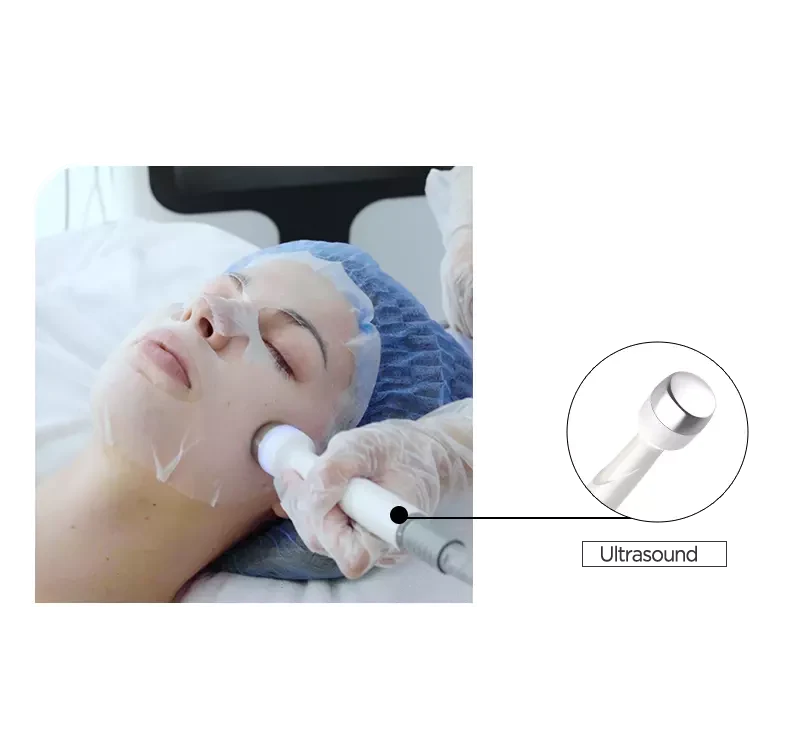 Best For: Product Infusion and Targeting Dehydrated Skin
Ultrasound technology is used for product infusion.
Professional Solutions range of face masks can also be used in conjunction with treatment to aid hydration.
The Ultrasound used in cosmetic applications has Thermal and Biochemical effects.
Its Thermal action has a stimulating effect on the blood flow and activates cell metabolism.
The Biochemical effects trigger a micro-massage in the tissue, which influences the fibroblasts and stimulates the formation of new collagen.
The frequency of the ultrasound allows more active ingredients to penetrate the skin's barrier.
Hydra Facial - Fire and Ice Technologies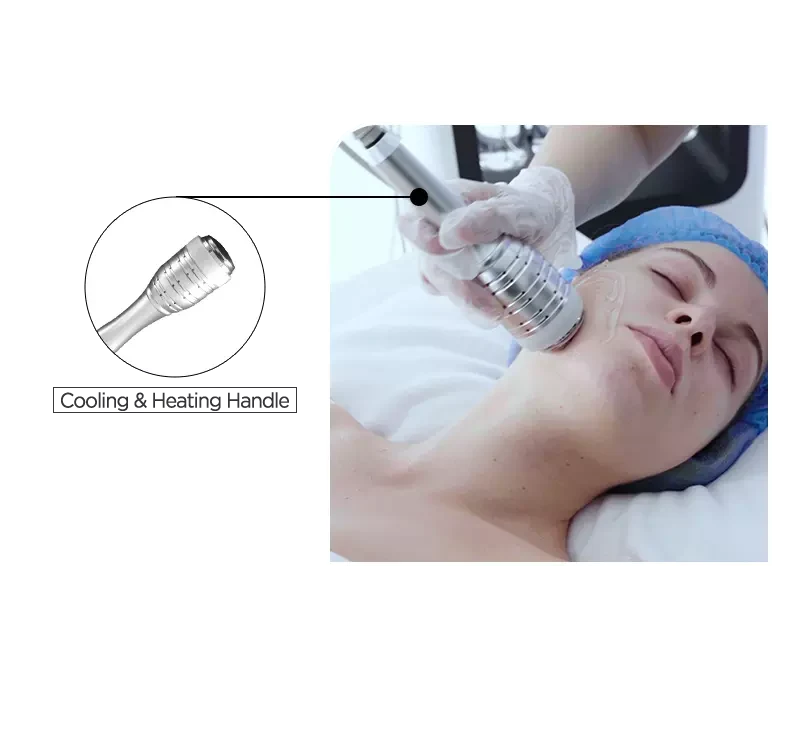 Best For: Evening Skin Tone & Invigorating the Skin
Using the warm applicator, heat can be incorporated to open the pores, increase blood supply, aid product infusion and strengthen the skin.
This can be used at the end of each facial to decrease the blood supply, giving a tightening effect and sealing in the infused products.
The Fire and Ice plate is a dual modality handpiece that produces a maximum of 42°c warming and a minimum of 5°c ice cooling.
By repeatedly bringing the skin to a temp of 42°c this helps to create heat-shock proteins.
These are the proteins that are produced by cells in response to exposure to stressful conditions. They help to repair the skin and strengthen the skins elasticity. 42°c helps to dilate the pores for deep cleansing.
The 5°c instantly tightens the pores, decreases the surface blood supply giving an instant brightening and tightening effect on the skin and also 'locks in' moisture.
Why ADSS Hydra Facial Machine?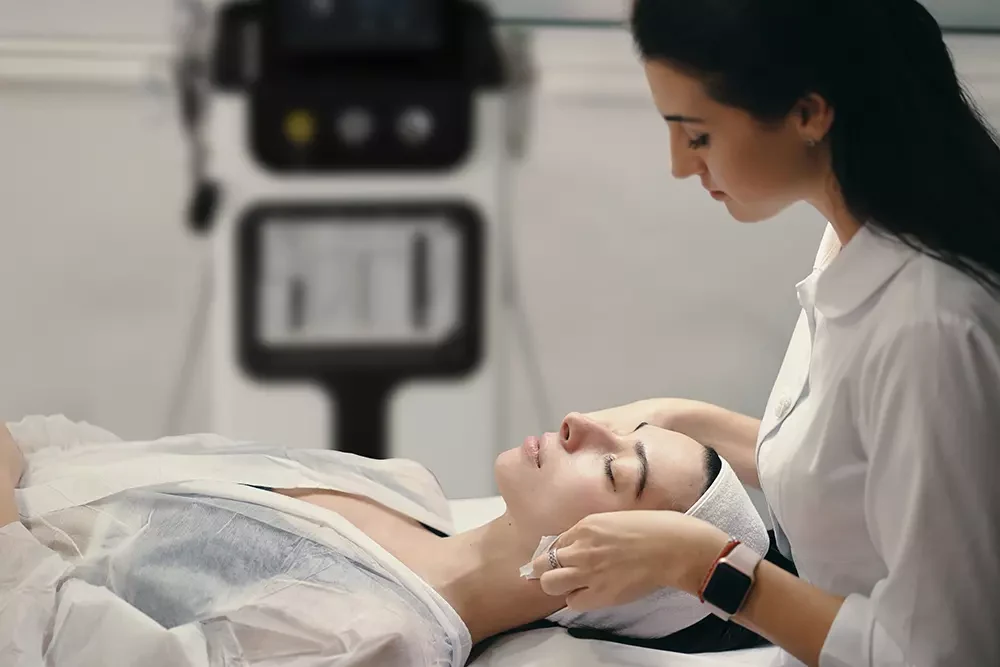 Dubbed the ultimate Hydra Facial Machine, a firm favourite with celebrities and is regularly featured in the national press. The seven technologies guarantee a complete, prescriptive approach to all your client's needs, providing extraordinary results to ensure maximum client retention.
1.7 technologies in one affordable device

2.More than half the price of comparable technologies on the market

3.5 unique facial protocols for brightening, anti-ageing and clear skin,Customisable to all skin types

4.Easily marketable

5.New lucrative profit centre

6.Low Consumable Costs

7.High consumer demand

8.Excellent adjunct to other treatments
Hydra Facial Treatment Before & After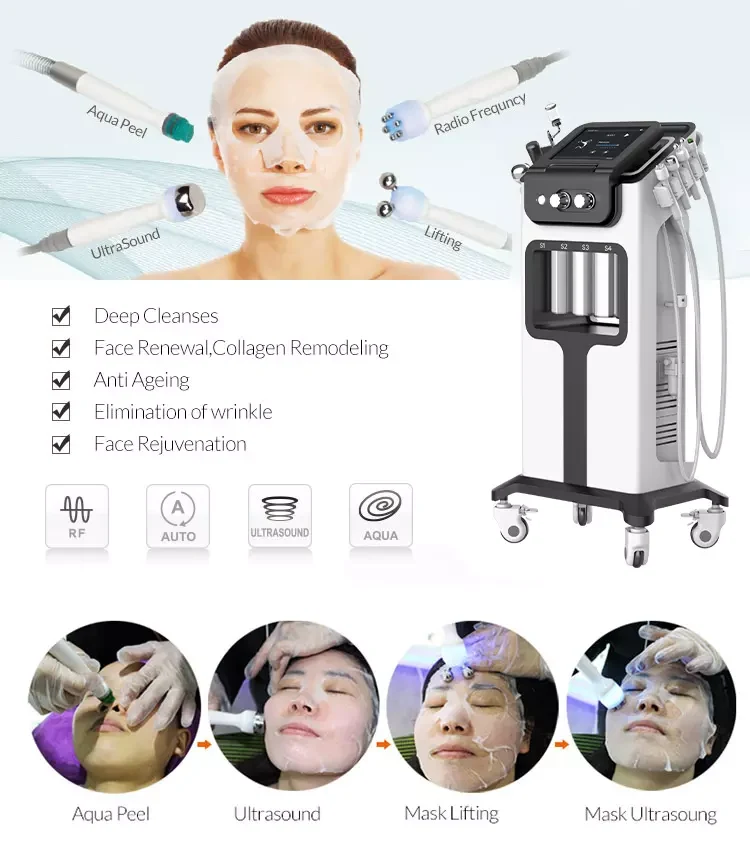 | | |
| --- | --- |
| Tornado tip | Large,small |
| Vacuum | Max 680 mmHg |
| Radio frequency | 1Mhz, Multi Polar(6 Pol) |
| Ion Lifting | 500Hz(Digital Ion Lifting) |
| Ultrasound | 1 Mhz/ 2W/cm*2 |
| User Interface | 10 inc Color Tough LCD |
| Input Voltage | 100~120V, 50/60/HZ / 220~240V |
| Noise Level | 45 dB |
7-in-1 Hydra Facial Machine Manufacturer Price
Standard Price

Manufacturer Price: Negotiable/ (Free Shipping)

Custom Made Price

Custom Price: Negotiable/ (Free Shipping)
7-in-1 Hydra Facial Machine Certificates
ADSS 7-in-1 Hydra Facial Machine has FDA, (TUV) CE, (TUV) ISO 13485, Utility Model Patent Certificate; as well as the right of import and export certificate.
Similar Products