Introduction
What is 8D HIFU?
8D HIFU, High-intensity focused ultrasound, is a new type of non-surgical, non-invasive method that uses ultrasound technology and the body's own natural healing process to tighten and tone wobbly skin on your face. The use of high-intensity focused ultrasound waves enables the technology to get to a specific point below the surface of the skin where it reaches the SMAS layer (muscle layer). Working deep below the surface it stimulates the growth of collagen without harming the outer layer of skin. This results in long-lasting firming, and tightening of the skin, after just one treatment.
Working Theory of 8D HIFU Machine
HIFU (high-intensity focused ultrasound) is considered the most viable and non-invasive alternative to facelift surgery. The technology involves the use of targeted energy in the form of ultrasound to reach the layers in the skin to stimulate collagen and elastin production. HIFU treatment can be used to tighten the skin, reduce wrinkles, and give skin a smoother, brighter appearance, all without the invasive procedure and long downtime of surgery.

Functions of 8D HIFU Machine
1.Reduce periorbital wrinkles and tighten saggy skin

2.Full V-shape face lifting and overall tightening

3.Lift the neck, cheeks, eyebrows, and eyelids

4.Tightening loose skin and reducing saggy jowls, enhance and lift the jawline

5.Reduce nasolabial fold and double chins

6.Natural looking and long-lasting results
Advantages of 8D HIFU Machine
1.High-efficiency: Instant results and long-lasting effects after one treatment.

2.Ease of use: Simple operating system and clear interface makes it very easy to use.

3.High performance: Stable power and constant depth, equipped 5 heads precisely acting on different depths of the skin.

4.Exact focusing technology: More precise program system, point spacing is more uniform and even.

5.Non-invasive: Non-surgical treatment. Pain-free, no risk and no recovery period.

6.Cost-effective: Affordable price and long life, no extra cost for any maintenance or care.
Technical Parameters of 8D HIFU Machine
Irradiation Type

High Intensity Focused Ultrasound

Frequency

4MHz,7MHz

Max Energy

2.0J/m2

LCD Screen

15 Inch True Color Touch LCD ADSS System

Standard Cartridges

4MHz:4.5mm,7MHz: 3.0m---10,000 shots

Operational Cartridges

2MHz: 13mm(Body/Reduce Fat)

3MHz: 7mm(Body/Reduce Fat)

10MHz: 1.5mm(Eye area)

Length

Face: 5~25mm(1mm step)

Body: 5~25mm(7.0mm, 13mm)

Demensions of Machine

45*30*15cm

N.W./G.W.

20/22KG

Voltage

AC110-220V 50/60Hz
How Does it Improve Skin Problems?
Prior to learning about the benefits of HIFU devices on the skin, it is important to understand the aging cycle of the skin.
1.When the skin begins to age, hyaluronic acid is lost.


2.This reduces the moisture in the skin, resulting in a decrease of fibroblasts.


3.As a result, the amount of collagen and elastin in the skin is reduced.


4.Because of that, various factors can age the skin. For example, UV light causes the skin to age, you begin to lose pigmentation, and wrinkles or sagging begins to appear.


5.When the skin ages, the biggest change occurs in the superficial tendon system, known as the dermis. Degeneration of the dermis is what causes most of the skin aging. The HIFU device targets the

dermis layer, preventing further aging from occurring and reducing problems such as wrinkling and sagging.
Why Purchase a 8D HIFU Device?
In addition to the wonderful skin benefits the HIFU device delivers, here are more reasons why this machine is the way to go.
1.Compact Body: The HIFU device has a small, easily portable body that makes storing it at home painless.


2.Painless: The HIFU device provides painless treatment when in use. There is no need to endure pain to be beautiful!


3.Cost-Effective: Instead of spending a large sum of money at a beauty salon, using a HIFU device can get you the same results for a much lower cost.


4.Intimate Care: Users can focus their treatment on specific positions according to their preferences.


5.Fast: Complete an entire treatment in only 10 minutes.
How Does 8D HIFU Compare to RF Devices?
HIFU and RF devices are the two most popular beauty devices in the market. Here are some different characteristics of the two:
1.The HIFU and RF devices use different technologies to heat up the deep skin tissues. HIFU delivers more precise and more intense fractional ultrasound energy while RF is based on a bulk heating strategy.


2.HIFU goes much deeper into and beyond the dermis, being able to reach the SMAS layer. RF, on the other hand, will not go as deep as HIFU. It focuses on epidermal layers and does not go beyond the deep dermis.


3.HIFU is generally performed as a single treatment RF may require several sessions. The exact frequency of either of those treatments will depend on the type of device used and your skin conditions such as its current elasticity or your genetic heritage.


4.The use of ultrasound energy in cosmetic procedures is a relatively new practice. So in terms of aesthetic facial rejuvenation, RF has been around much longer.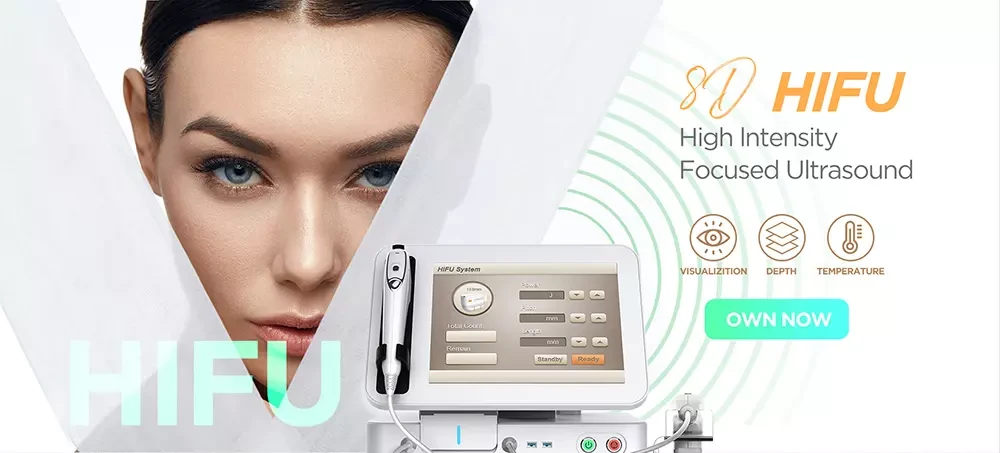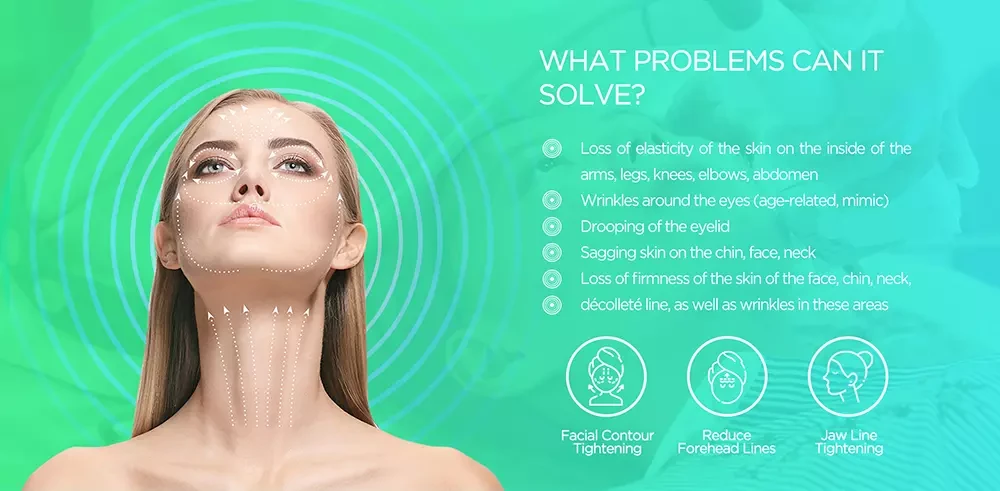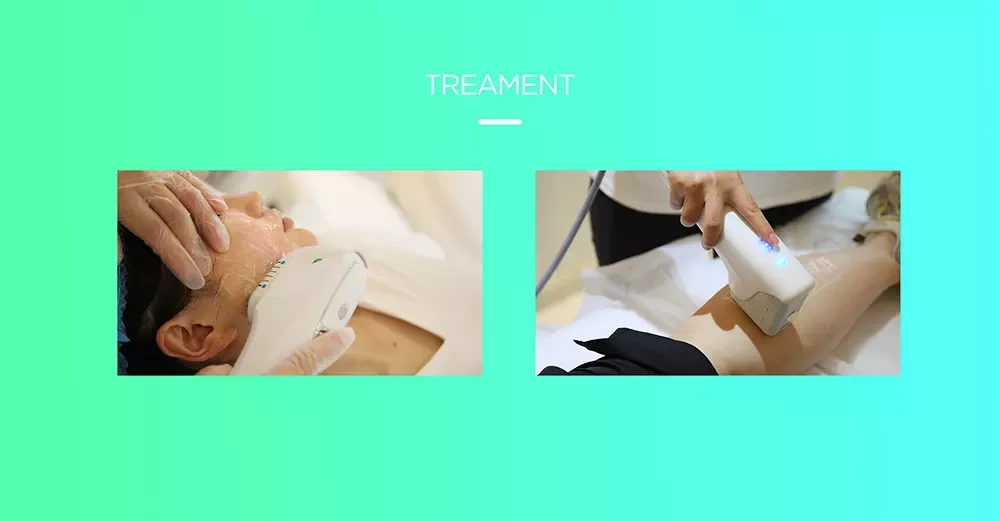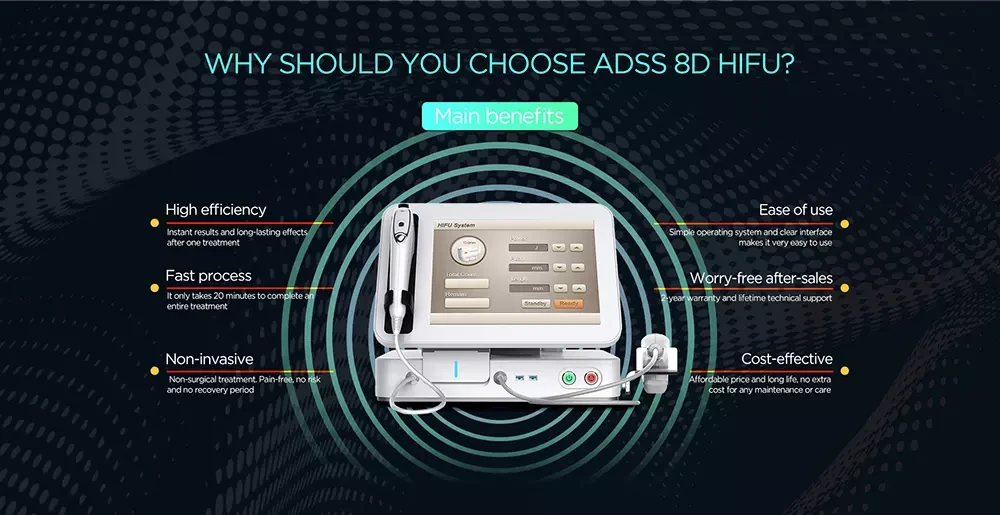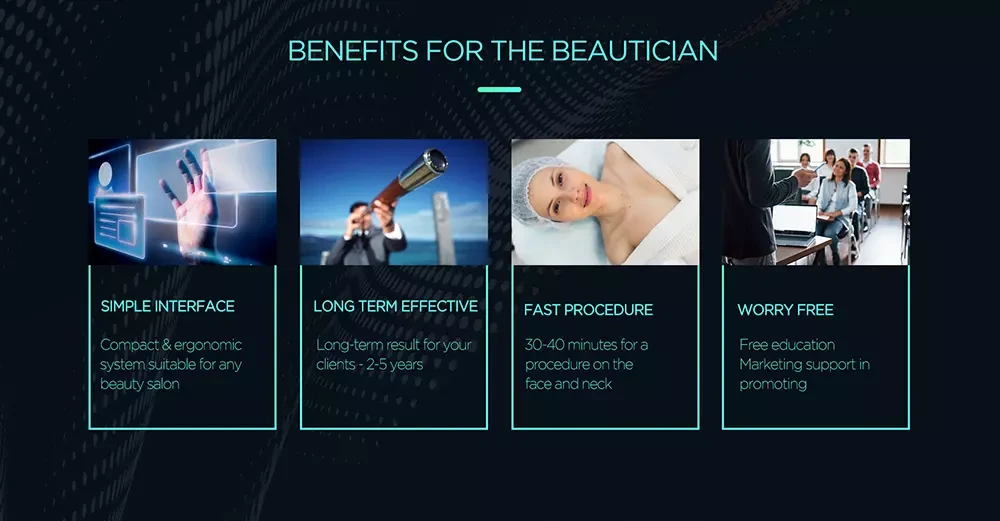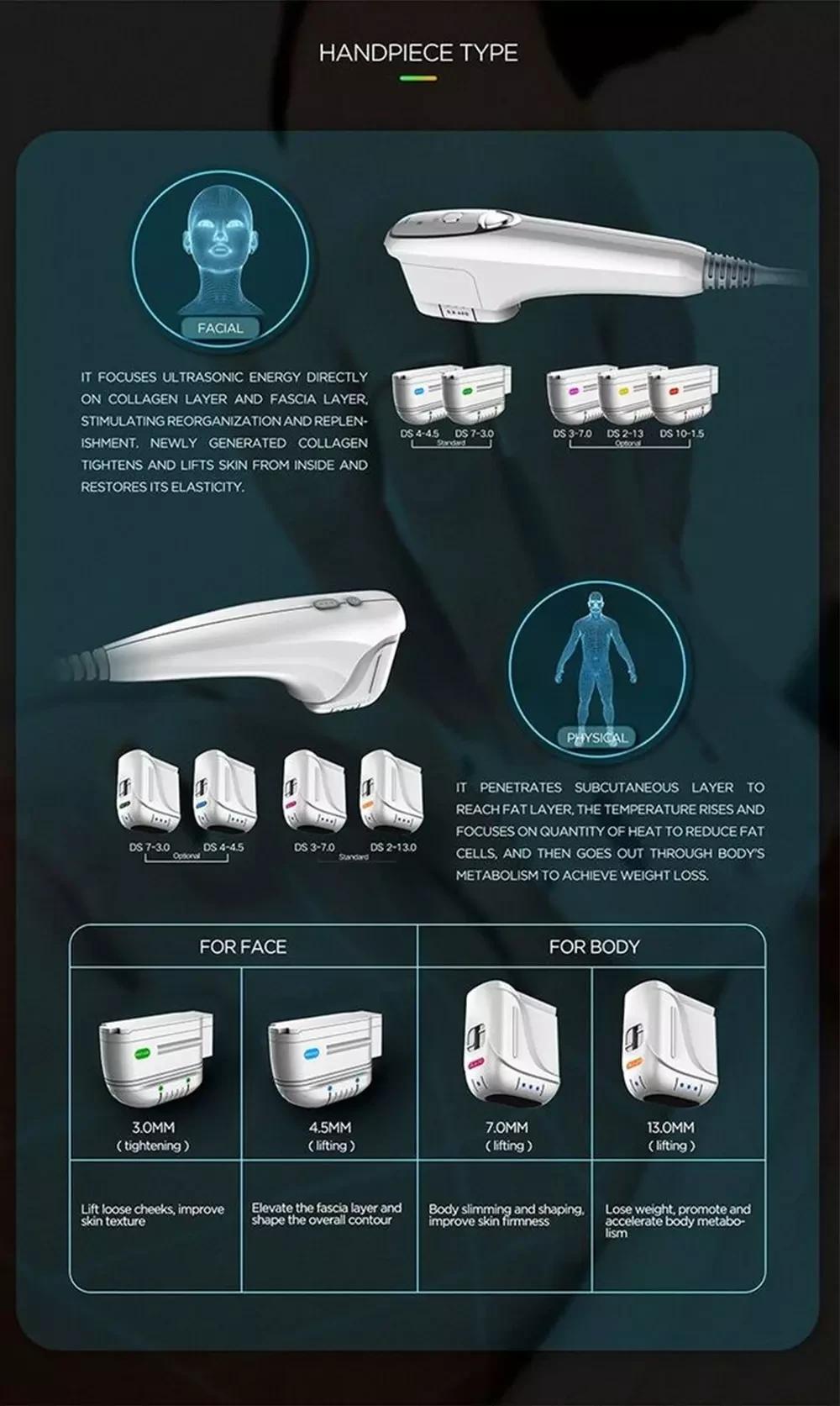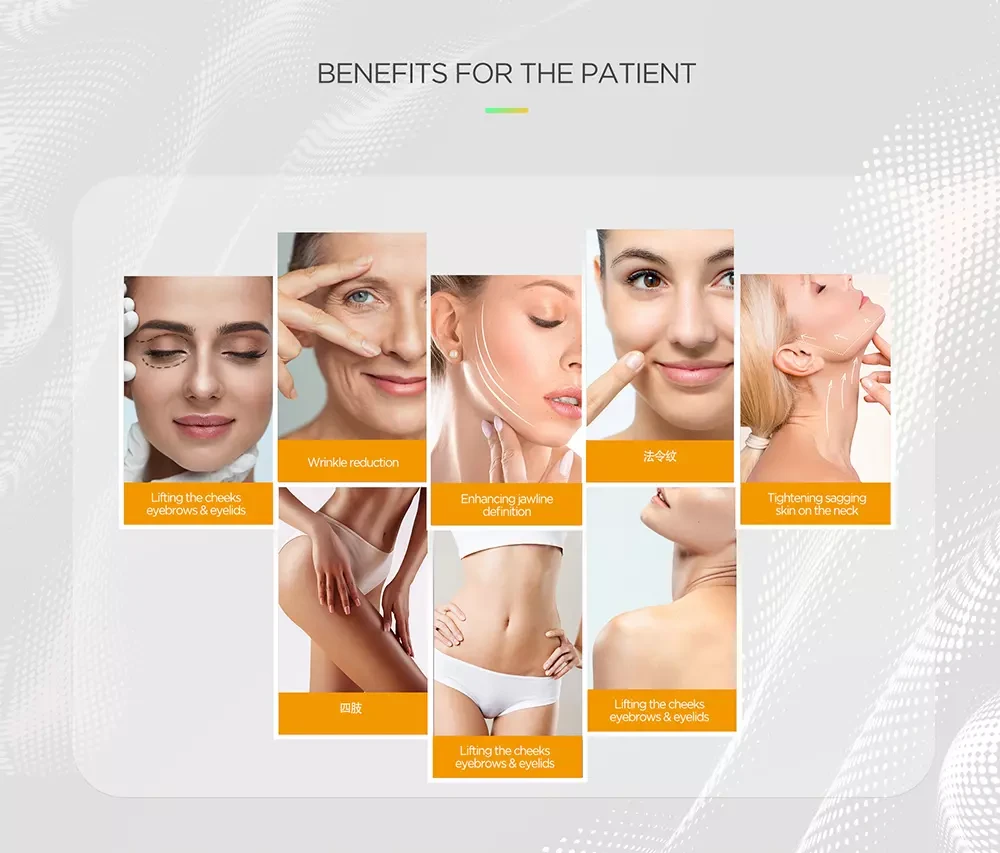 Product Videos
HIFU Treatment Before & After
Treatment Operation Video
8D HIFU Machine Price
Standard Price
Free Shipping For A Limited Time
Add any language into the machine system
Print your company logo on the machine
Customize the machine's color and appearance
Customize marketing services including posters, brochures, videos, and pictures
Design a machine shell that is customized to your branding needs
Create new user interfaces for the ease of your clients
Support sufficient customer resources in your sales market
Support accessories customization including handpiece, screen, handle, etc
Buy Now
Pro Price
Free Shipping
Add any language into the machine system
Print your company logo on the machine
Customize the machine's color and appearance
Customize marketing services including posters, brochures, videos, and pictures
Design a machine shell that is customized to your branding needs
Create new user interfaces for the ease of your clients
Support sufficient customer resources in your sales market
Support accessories customization including handpiece, screen, handle, etc
Buy Now
OEM/ODM Price
Free Shipping
Add any language into the machine system
Print your company logo on the machine
Customize the machine's color and appearance
Customize marketing services including posters, brochures, videos, and pictures
Design a machine shell that is customized to your branding needs
Create new user interfaces for the ease of your clients
Support sufficient customer resources in your sales market
Support accessories customization including handpiece, screen, handle, etc
Get Custom Made Price