Introduction
Introduction of 4D HIFU Machine
4D HIFU is the width, length and depth ultrasound energy distance, which is more comprehensive, three-dimensional. Directly sends thermal energy to the skin and subcutaneous tissue that can stimulate and renew skin collagen and therefore improve the texture and reduce sagging skin.
Working Theory of 4D HIFU Machine
1.DS-4.5mm transducer, 4MHz frequency used to transmit high-energy focused ultrasound to the skin, subcutaneous tissue, ultrasound to penetrate the skin to a depth of 4.5mm, direct subcutaneous SMAS layer, forming regional "heat coagulation" , Targeted at thicker skin, such as cheeks, etc.

2.The DS-3.0mm transducer, 4MHz frequency, used to release the ultrasound energy into the 3.0mm dermis layer, is responsible for activating the dermal skin layer of collagen, effectively enhance the effect of the Scheme consolidation, Pores and reduce the appearance of wrinkles.

3.7.0mm, 13mm transducer are responsible for transmission of 4MHZ high intensity focused ultrasound subcutaneous fat layer to fuse fat cells. Then the metabolites of the fat cells will be excreted by the metabolism of the human body. It is directed at the body.
Functions of 4D HIFU Beauty Machine
1.Instead of traditional surgical facelift with a non-invasive technique;

2.With a special transmission of the transmitter from the skin surface, conducting a high-energy focused ultrasound to the SMAS layer;

3.Patented 0.1-0.25 high speed transmission technology;

4.Up to 10,000 lines of a high precision layered transmitter transmitter is twice as large as similar instruments, greatly improving cost effectiveness.

5.Exclusive development of stable output 4-10MHZ broadband technology that is well suited to layered skin treatment technology.

6.Quick treatment time: 30 minutes of facial treatment.

7.Transducers for skin lifting and body thinning.
Advantages of 4D HIFU Beauty Machine
1.Equipped with 8 different cartridges, they aim at different skin depth. It can be arbitrarily selected. There are three options: 3.0, 4.5 and 8mm.

2.Insert different cartridges, the screen will show different treatment area, more accurate than traditional HIFU screen. More precise treatment, the most aesthetic screen.

3.Super big screen design, 15-inch color screen, external chassis uses metal material, looks more texture compared to ABS.

4.The machine packing box is an aluminum bar box, easy to carry, except beauty salons also suitable for mobile beauty salons. Inside the case covered with pearl cotton, better protection the machine, and ensure the safety of transportation. When we ship it out, we will also cover a layer of outer cartons in the aluminum case, 100% ensure safety and clean.

5.A wide range of treatment: face lift, wrinkle removal, breast lift, fat reduction. Multifunctional in one machine, very profitable!

6.Quick effect, show the obvious effect on the spot.

7.The distance between the line, the length of the line, the distance between the point, everything can be adjusted, operator can adjust the appropriate parameters according to the different customer's skin condition.
Technical Parameters of 4D HIFU Machine
| | |
| --- | --- |
| Model | 4D HIFU (High Intensity Focused Ultrasound) |
| Power | 500W |
| Cartridges | 5 different types: Face: 1.5,3.0, 4.5 Body: 7.0, 13,3.0, 4.5, 7mm are standard offered |
| Type of energy | 4Mhz/7Mhz |
| Power output | 0.1J~2.0J (0.1 step) |
| Shot length | 5.0-25mm (5, 10, 15, 20, 25) |
| Shots | 10,000 shots / each cartridge |
| Lines | 1-12 adjustable |
| Heat temperature | 40 ~ 60 degree |
| Screen size | 15 inch color touch screen |
| Voltage | 110V~ 240v, 50/60hz |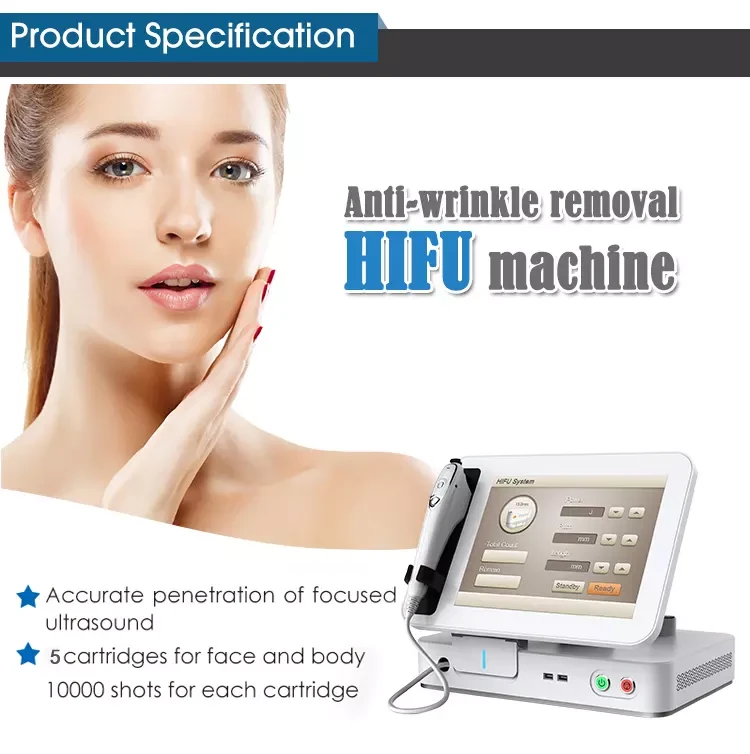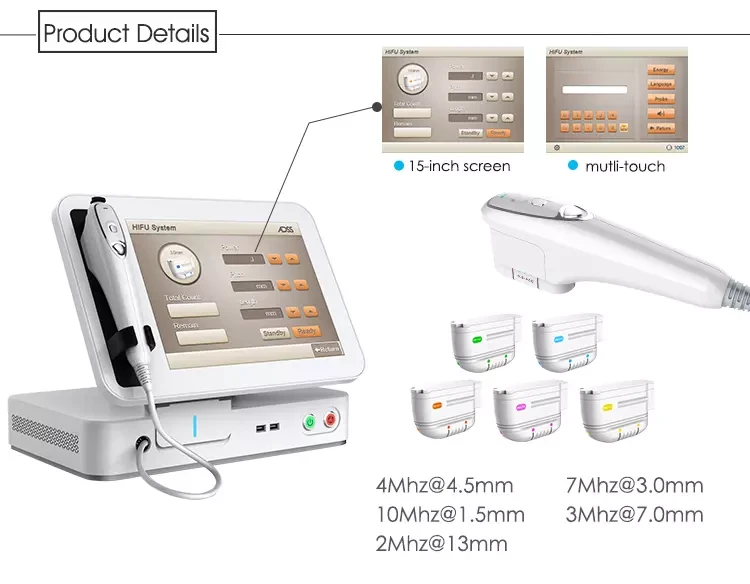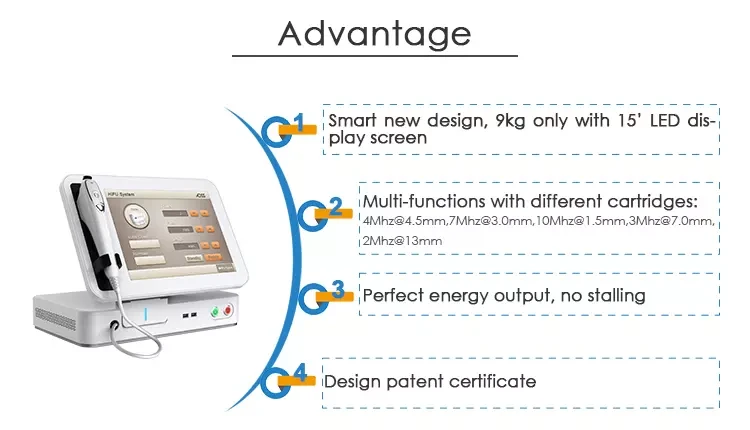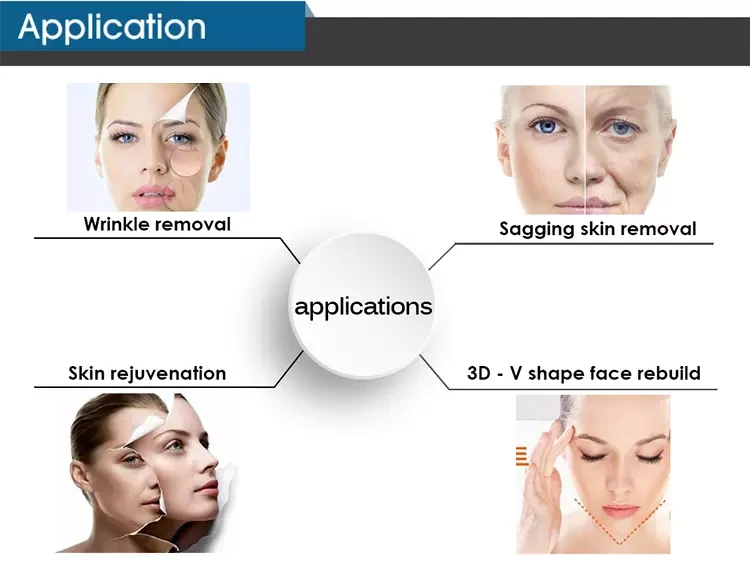 Product Videos
HIFU Treatment Before & After
Treatment Operation Video
4D HIFU Machine Price
Standard Price
Free Shipping For A Limited Time
Add any language into the machine system
Print your company logo on the machine
Customize the machine's color and appearance
Customize marketing services including posters, brochures, videos, and pictures
Design a machine shell that is customized to your branding needs
Create new user interfaces for the ease of your clients
Support sufficient customer resources in your sales market
Support accessories customization including handpiece, screen, handle, etc
Buy Now
Pro Price
Free Shipping
Add any language into the machine system
Print your company logo on the machine
Customize the machine's color and appearance
Customize marketing services including posters, brochures, videos, and pictures
Design a machine shell that is customized to your branding needs
Create new user interfaces for the ease of your clients
Support sufficient customer resources in your sales market
Support accessories customization including handpiece, screen, handle, etc
Buy Now
OEM/ODM Price
Free Shipping
Add any language into the machine system
Print your company logo on the machine
Customize the machine's color and appearance
Customize marketing services including posters, brochures, videos, and pictures
Design a machine shell that is customized to your branding needs
Create new user interfaces for the ease of your clients
Support sufficient customer resources in your sales market
Support accessories customization including handpiece, screen, handle, etc
Get Custom Made Price