Introduction
What is 7D HIFU
HIFU is a skin lifting system that offers a hugely profitable dimension to your clinic offering. This powerful technology achieves dramatic results and provides the best possible results to be seen without having surgery. Employing ultrasound technology to lift and tighten the skin on the face remains the most effective non-invasive treatment to give the patient a V-shaped face. Results produce a tighter, brighter, firmer, and more lifted face or body in 30 minutes. And, better still, the results continue to improve over the next 6 months!
How does 7D HIFU it work
HIFU stands for High-Intensity Focused Ultrasound (HIFU). It has become an increasingly popular innovation that holds extraordinary guarantee in different fields of medication. Dissimilar to ordinarily utilised laser-based procedures, it is successful on duskier skin too.
HIFU works by focussing on deep layers in the skin – it boosts new collagen production and collagen regeneration right at the source. It is also named the 'Lunchtime Face Lift' as the treatment is quick, tolerable, and has no downtime. HIFU treatment for the face is a non-invasive facelift. It tightens the skin, irons out wrinkles, shrinks pores, targets the 'V' line formation and Jowl lines. HIFU improves overall skin tone, pores, brightness, and elasticity.
HIFU restores and rejuvenates the skin's collagen-producing capacity, improves the existing collagen, and increases blood circulation, leading to smooth, supple, and radiant-looking skin.
Since it allows the dermatologist to target the deep foundational layer of skin (SMAS or superficial Musculo-aponeurotic system), the repair is carried out, makes it an invaluable non-surgical facelift technique. The process works through 3 critical phenomena.
Functions of 7D HIFU Machine
Multiple cartridges are customized for shallow layers of the face and décolleté to address sagging skin, collagen renewal, and absolute wrinkle reduction.
1.4.5 mm probe (lifting) – Acting on SAMA fascial layer to tighten the muscle bottom and achieve firmness

2.3.0 mm probe (Tightening) – Aiming at the dermis to stimulate continuous regeneration of collagen

3.1.5 mm transducer (Toning) – Targeting at the epidermis to improve superficial fine lines, skin tone, skin texture, and fine pores

4.7D HIFU works for face lifting, skin tightening, wrinkles, pores, v-line forming, jowl line, skin tone improvement, choler, and laxity improvement.
Benefits for 7D HIFU Facial Skin Wrinkle Removal Rejuvenating Equipment
1.Depth: Treats skin tissues at 5 layers – 1.5mm, 3.0mm, 4.5mm, 7mm, and 13mm.

2.Temperature: Consistently hears tissue to 65-70°C, optimal for stimulating

3.Precision: Precisely spaced and consistently placed coagulation points promote healing and protect healthy skin.

4.Imaging: Patented visualization technology lets you see and treat in real-time.

5.Results: Effectively lift from the inside out.
Technical Parameters of 7D HIFU Machine
Irradiation Type

High Intensity Focused Ultrasound

Frequency

4MHz,7MHz

Max Energy

2.0J/m2

LCD Screen

15 Inch True Color Touch LCD ADSS System

Standard Cartridges

4MHz:4.5mm,7MHz: 3.0m---10,000 shots

Operational Cartridges

2MHz: 13mm(Body/Reduce Fat)

3MHz: 7mm(Body/Reduce Fat)

10MHz: 1.5mm(Eye area)

Length

Face: 5~25mm(1mm step)

Body: 5~25mm(7.0mm, 13mm)

Spot Size

Spot:3mm

Demensions of Machine

45*30*15cm

N.W./G.W.

20/22KG

Voltage

AC110-220V 50/60Hz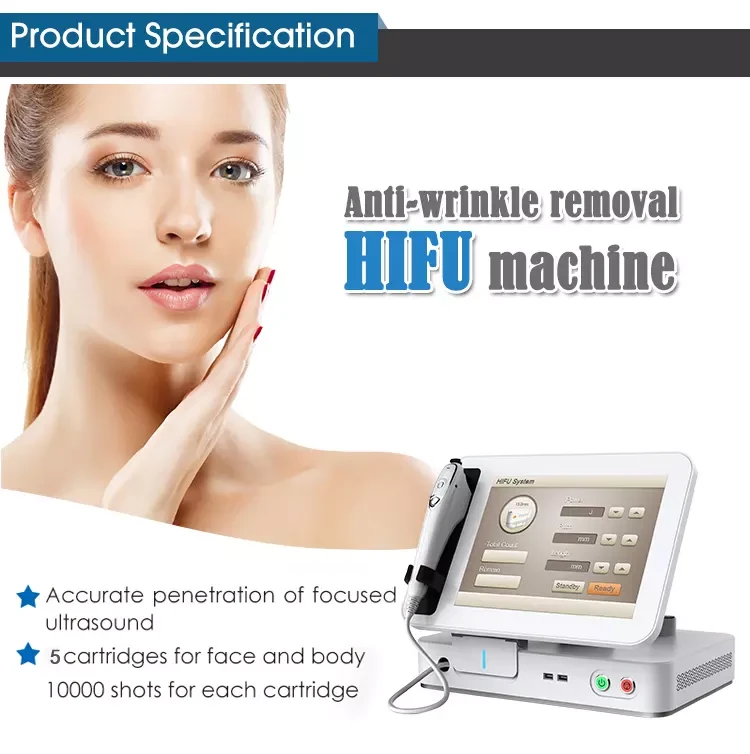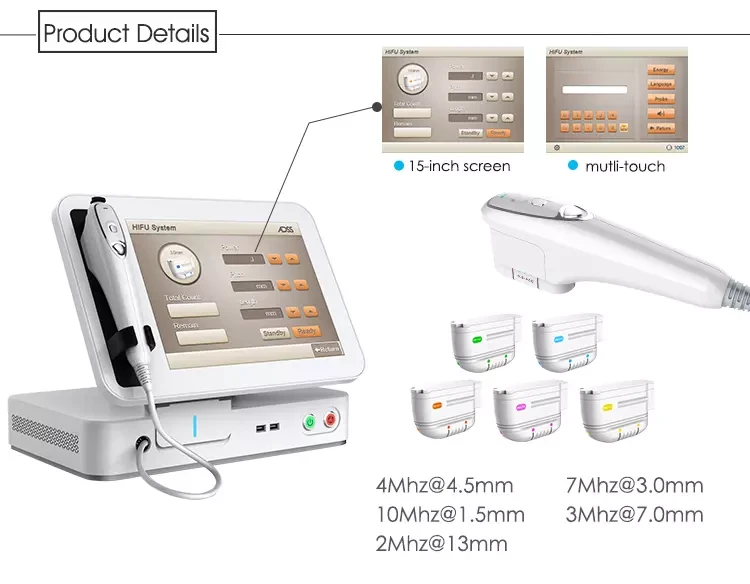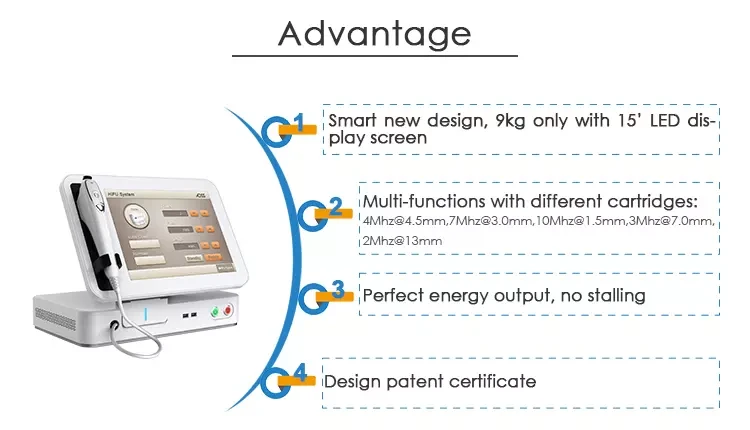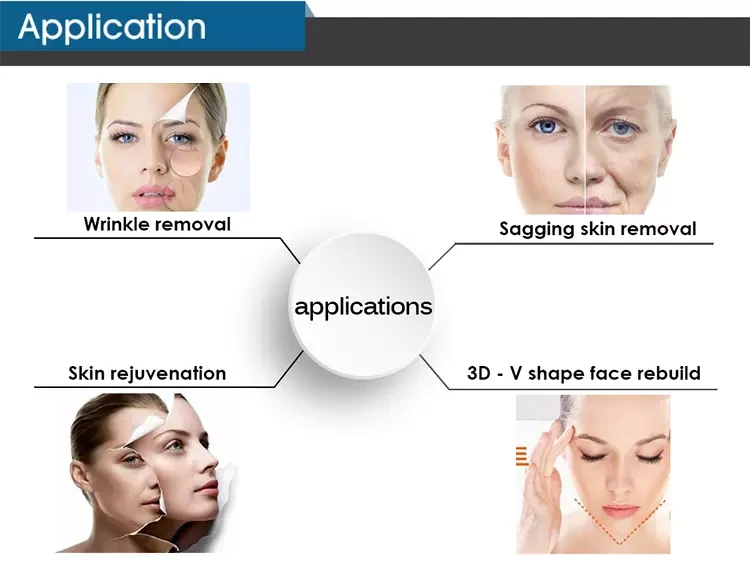 Product Videos
HIFU Treatment Before & After
Treatment Operation Video
7D HIFU Facial Skin Wrinkle Removal Rejuvenating Equipment Price
Standard Price
Free Shipping For A Limited Time
Add any language into the machine system
Print your company logo on the machine
Customize the machine's color and appearance
Customize marketing services including posters, brochures, videos, and pictures
Design a machine shell that is customized to your branding needs
Create new user interfaces for the ease of your clients
Support sufficient customer resources in your sales market
Support accessories customization including handpiece, screen, handle, etc
Buy Now
Pro Price
Free Shipping
Add any language into the machine system
Print your company logo on the machine
Customize the machine's color and appearance
Customize marketing services including posters, brochures, videos, and pictures
Design a machine shell that is customized to your branding needs
Create new user interfaces for the ease of your clients
Support sufficient customer resources in your sales market
Support accessories customization including handpiece, screen, handle, etc
Buy Now
OEM/ODM Price
Free Shipping
Add any language into the machine system
Print your company logo on the machine
Customize the machine's color and appearance
Customize marketing services including posters, brochures, videos, and pictures
Design a machine shell that is customized to your branding needs
Create new user interfaces for the ease of your clients
Support sufficient customer resources in your sales market
Support accessories customization including handpiece, screen, handle, etc
Get Custom Made Price