Introduction
Introduction of 4D HIFU Face Lifting Equipment
4D HIFU is an ultrasound energy distance of width, length and depth, which is more exhaustive, in three dimensions. It directly supplies thermal energy to the skin and the subcutaneous tissue that can stimulate and renew the skin`s collagen and consequently improving the texture and the reduction of sagging skin.
Working Theory of 4D HIFU
Adopting high intensity focused ultrasound, 4D Hifu can reach as deep as the SMAS layer (3 ~ 4.5mm) and focus the heat energy produced by high frequency vibration at one point. Then the internal heat solidifies from the outside and contributes to the hardening as well as the lifting effect of the fascia, after which the subcutaneous structure is precisely improved from deep to superficial, shrinking aged collagen and stimulating its rebirth.
Advantages of 4D HIFU Face Lifting Equipment
1.Eliminate wrinkles on the forehead, eyes, mouth, etc.

2.Lift and tighten the skin on both cheeks.

3.Improve skin elasticity and conformation contour.

4.Improve jaw line, reducing puppet lines

5.Tighten the skin tissue on the forehead, lifting the brow lines.

6.Improve the flexibility of the skin, making the skin delicate and shiny

7.Match with beauty injection like hyaluronic acid, collagen, to solve the problem more aging

8.Remove neck wrinkles, neck aging protection.
Technical Parameters of 4D HIFU Face Lifting Equipment
Irradiation Type

High Intensity Focused Ultrasound

Frequency

4MHz,7MHz

Max Energy

2.0J/m2

LCD Screen

15 Inch True Color Touch LCD ADSS System

Standard Cartridges

4MHz:4.5mm,7MHz: 3.0m---10,000 shots

Operational Cartridges

2MHz: 13mm(Body/Reduce Fat)

3MHz: 7mm(Body/Reduce Fat)

10MHz: 1.5mm(Eye area)

Length

Face: 5~25mm(1mm step)

Body: 5~25mm(7.0mm, 13mm)

Spot Size

Spot:3mm

Demensions of Machine

45*30*15cm

N.W./G.W.

20/22KG

Voltage

AC110-220V 50/60Hz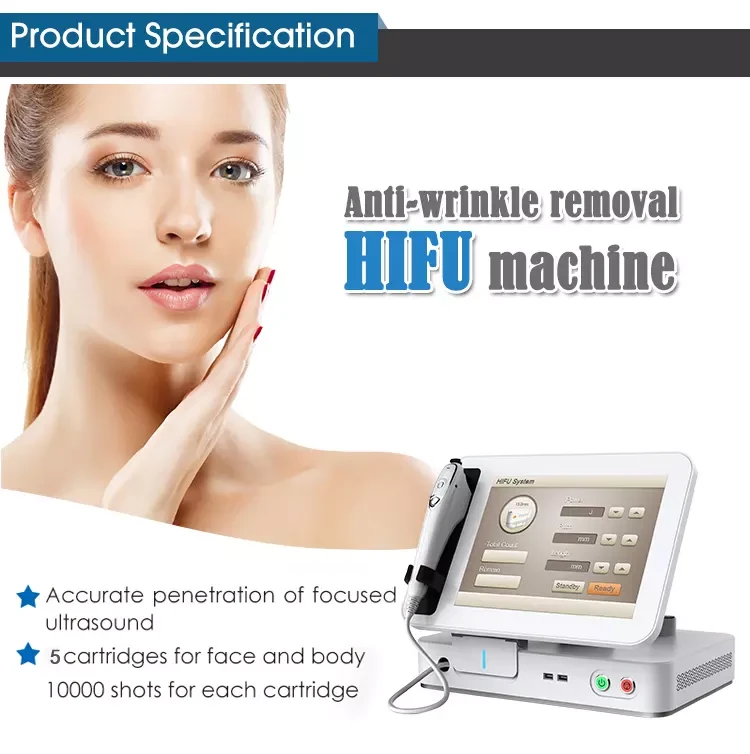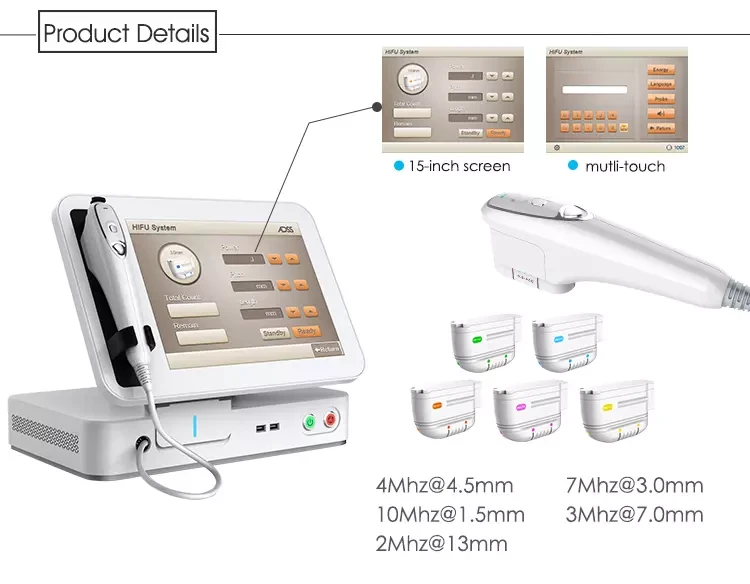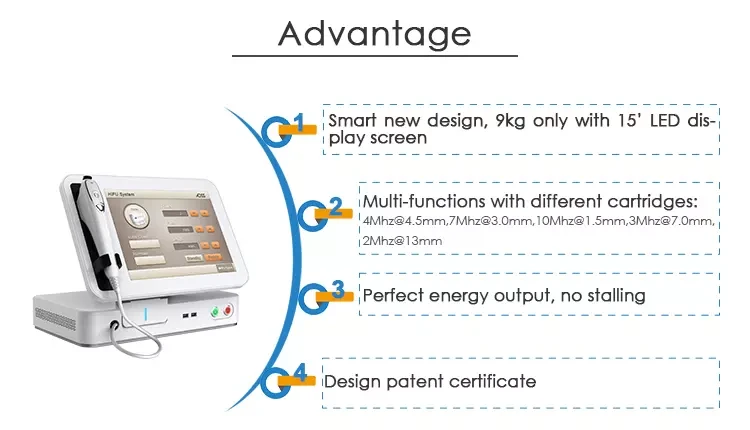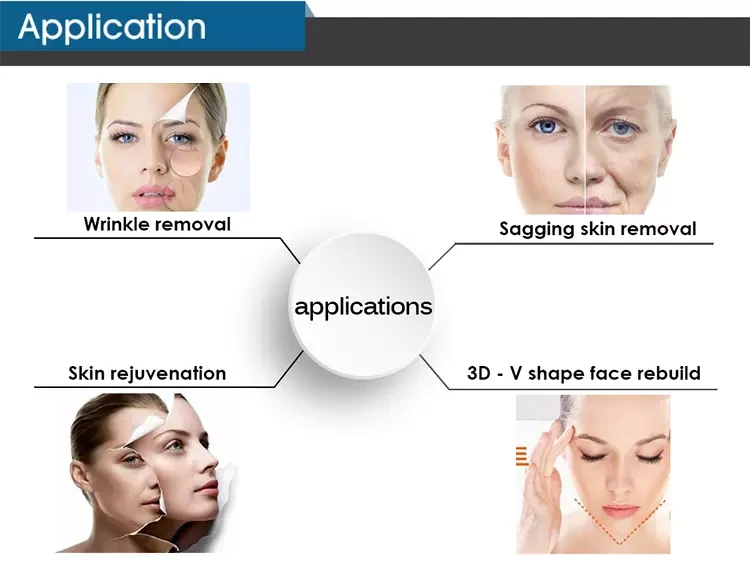 Product Videos
HIFU Treatment Before & After
Treatment Operation Video
4D HIFU Face Lifting Equipment Price
Standard Price
Free Shipping For A Limited Time
Add any language into the machine system
Print your company logo on the machine
Customize the machine's color and appearance
Customize marketing services including posters, brochures, videos, and pictures
Design a machine shell that is customized to your branding needs
Create new user interfaces for the ease of your clients
Support sufficient customer resources in your sales market
Support accessories customization including handpiece, screen, handle, etc
Buy Now
Pro Price
Free Shipping
Add any language into the machine system
Print your company logo on the machine
Customize the machine's color and appearance
Customize marketing services including posters, brochures, videos, and pictures
Design a machine shell that is customized to your branding needs
Create new user interfaces for the ease of your clients
Support sufficient customer resources in your sales market
Support accessories customization including handpiece, screen, handle, etc
Buy Now
OEM/ODM Price
Free Shipping
Add any language into the machine system
Print your company logo on the machine
Customize the machine's color and appearance
Customize marketing services including posters, brochures, videos, and pictures
Design a machine shell that is customized to your branding needs
Create new user interfaces for the ease of your clients
Support sufficient customer resources in your sales market
Support accessories customization including handpiece, screen, handle, etc
Get Custom Made Price