Introduction
Introduction of Portable Skin Analyzer Machine for Beauty Salon
The Portable Skin Analyzer can accurately analyze eight modules of the skin, including pores, oils, elasticity, collagen, lead and mercury, red blood cells, acne and moisture. The data shows test results, text analysis instructions, and automatically recommends matching products, enabling customers to understand the test results and the actual skin changes before and after using the product more clearly and intuitively, and can use real 3D reduction technology, which can be performed at any angle Analyze and observe, and automatically recommend the corresponding products of your company based on the test results. Facial Skin Analyzer analyzes facial images through a computer system, captures subtle changes in facial pores, moisture, pigments, texture, elasticity and sensitivity, finds hidden problems at the bottom of the skin to develop a personalized skin care program.
Working Theory of Skin Analyzer
The Portable Skin Analyzer can detect those skin problems, not only surface skin problem but also those hidden skin base layer through the quantitative analysis. It will put out these problems in the bud. So that you understand their own facial skin spots, flare, red blood silk, wrinkles, skin texture, large pores, acne these eight problems.Ideal for beauty salon use.
Functions of Portable Skin Analyzer Machine for Beauty Salon
The portable Skin Analyzer Updated software allows faster image capture with automatic skin type classification, refined facial feature detection and more.Skin analysis system give a new definition of skin care. Analysis system delivers a significantly improved experience for aesthetic and skin care consultations.
Advantages of Portable Skin Analyzer Machine for Beauty Salon
The Portable Skin Analyzer for beauty saloncross polarized, and UV lighting modes are used to record and measure surface and subsurface skin conditions, all with one quick, automated series of flashes;Capture-only mode enables fast, repeatable facial imaging for photo documentation without pausing to process the images. Analysis may be performed later, if desired; Skin type detection is automatic for streamlined image processing and feature analysis.
Features of Portable Skin Analyzer Machine for Beauty Salon
1.Exquisite appearance, high-end
2.The Portable Skin Analyzer Using the world's largest skin feature database to grade your client's skin relative to others of the same age and skin type.
3.UV photography:provides data for sun damage assessment and analysis
4.It capture module rotates around the stationary subject to capture left, right and frontal facial views Repeatable facial imaging enables you to track treatment progress and outcomes effectively over time.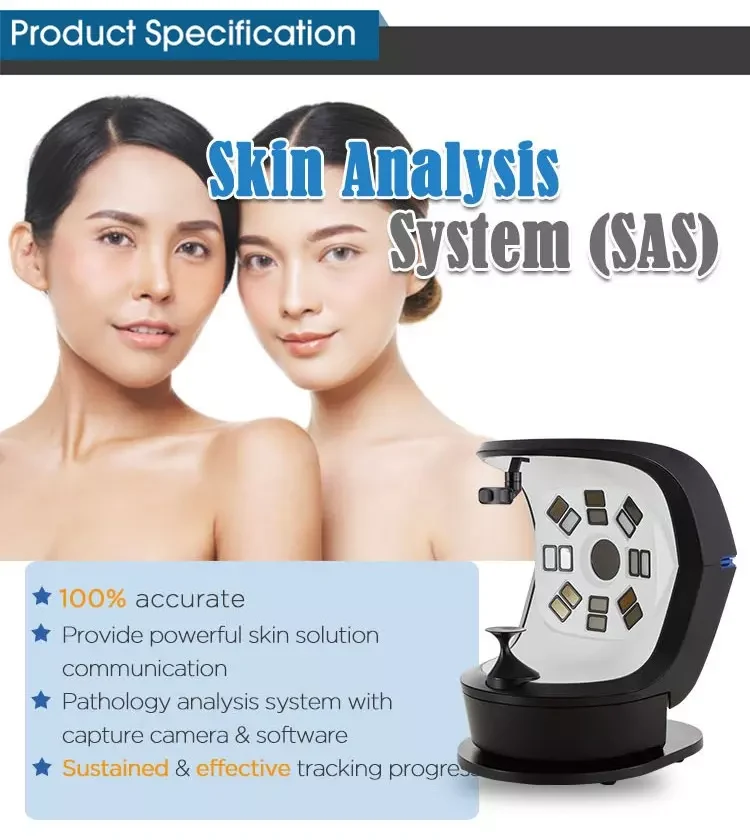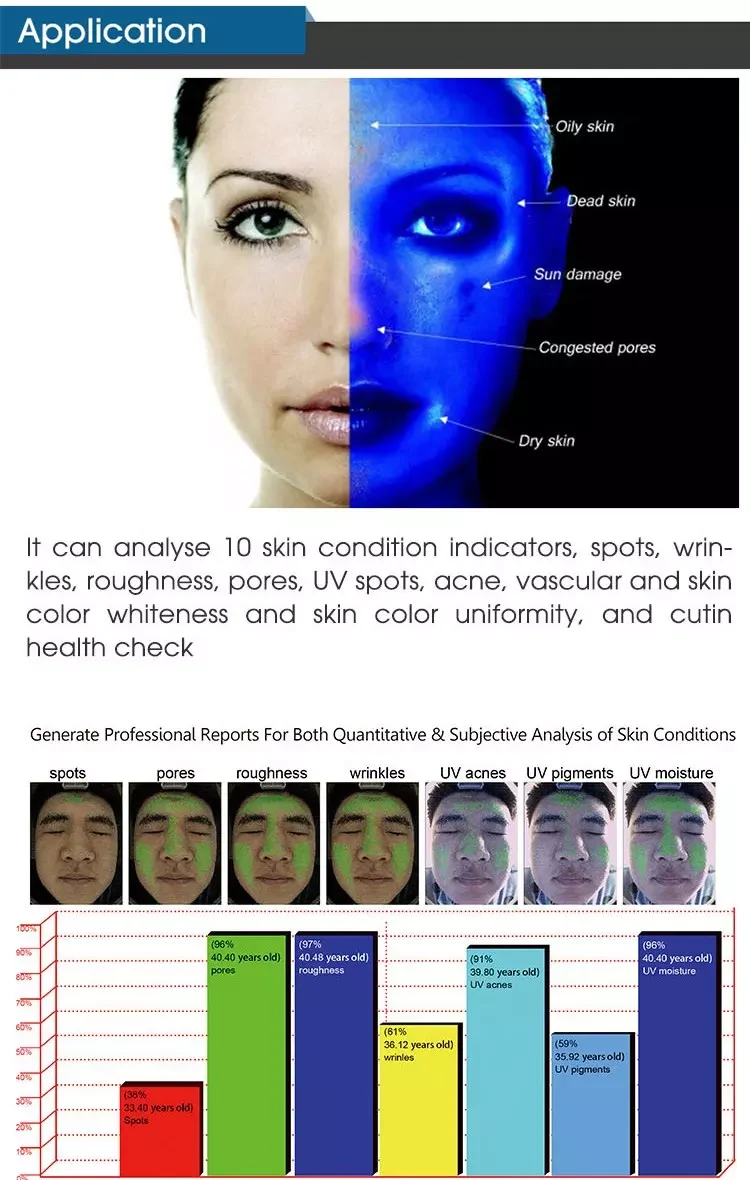 Portable Skin Analyzer Machine for Beauty Salon Factory Price
Standard Price

Manufacturer Price: Negotiable/ (Free Shipping)

Custom Price

Custom Price: Negotiable / (Free Shipping)