Introduction
Product Video
Theory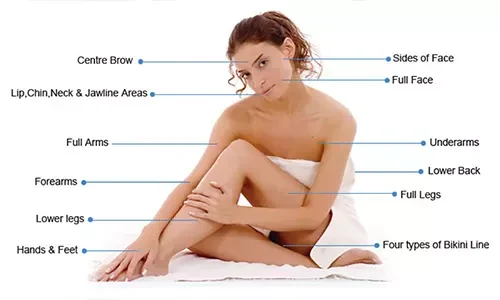 During the laser hair removal treatment, light passes through the skin and is absorbed by the melanin in the hair shaft. This absorption raises the temperature of the hair follicle and thermally destroys the cells responsible for regrowth.
A breakthrough hair removal platform that combines ultimate functionality with unparalleled comfort. Thanks to its large spot size and advanced cooling system, treatments are now much faster and pain free – offering a significant improved solution for patients and practitioners alike. leverages the benefits of three combined wavelengths, with an improved patient experience and a business-oriented approach, creating a unique and result driven new solution in the world of professional hair removal.
Function
Hair removal
Skin rejuvenation
Laser hair removal is one of the most commonly done cosmetic procedures in the U.S. It beams highly concentrated light into hair follicles. Pigment in the follicles absorb the light. That destroys the hair. Lasers can selectively target dark, coarse hairs while leaving the surrounding skin undamaged.
Advantages
1.Effectiveness. Maximum efficiency to achieve freezing and painless hair removal treatment.

2.Warranty. German-made diode laser model, 20 million shots or 2 year warranty.

3.Pain-free. The tip of handpiece cools down to 0-3℃, makes treatment comfortable and effective.

4.Profit. Working non-stop 24 hours every day, maximizes earning for clinics, salons and hospitals.

5.Early treatment results. 2-3 treatment sessions can show permanent results.

6.Virtually pain-free contacted with sapphire of Real -5°C more incomparable comfortable, and safety.

7.Large touch color screen with advanced intuitive and easy human-computer interaction software.

8.Large and stable laser output with the optimized diode laser, ensure the effect of hair removal.
Treatment Operation Video
Before & After the Treatments
Technical Parameters of Diode Laser Hair Removal Machine
| | |
| --- | --- |
| Laser type | Diode Laser |
| Laser wavelength | 1064nm/808nm/755nm |
| Display | 10 color touch LCD screen |
| Output power | 600W |
| Spot size | 12*16mm |
| Pulse width | 8-685ms adjustable |
| Energy | 2-120J/cm2 adjustable |
| Frequency | 1-10Hz |
| Cooling | Water + air + semiconductor |
| Temperature of probe | 0~ -5degree |
| Dimensions | 65x75x62cm |
| Weight | 34kg |
| Gross weight | 50kg |
| Voltage | AC 110V / 60HZ; AC 220V / 50Hz |
| Packing | Aluminum alloy case |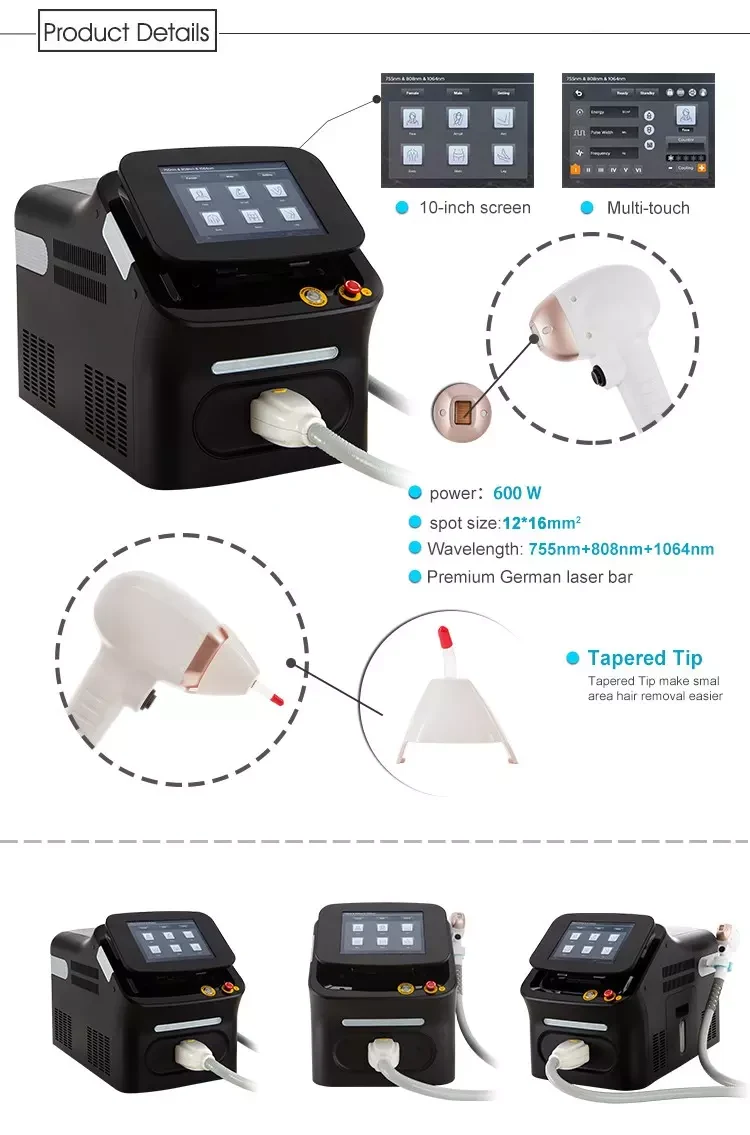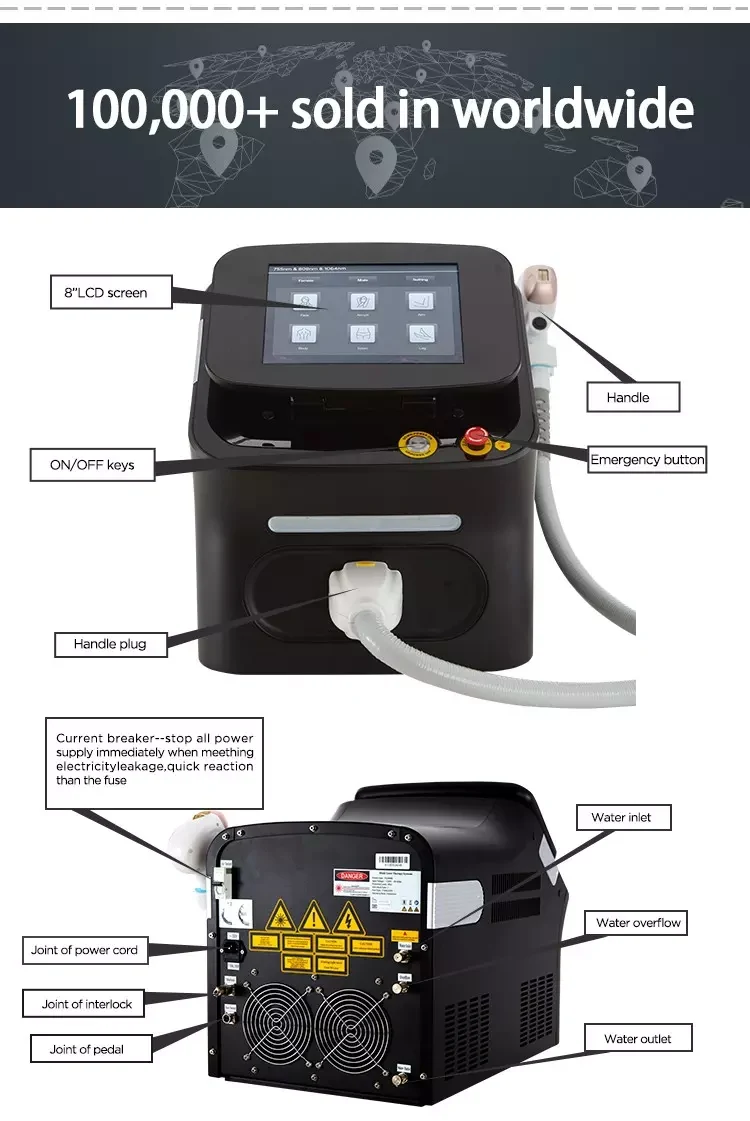 Portable Diode Laser Hair Removal Equipment Manufacturer Price
Standard Price

Manufacturer Price: Negotiable/ (Free Shipping)

Custom Made Price

Custom Price: Negotiable/ (Free Shipping)
Portable Diode Laser Hair Removal Equipment Certificates
ADSS Portable Diode Laser Hair Removal Equipment has FDA, (TUV) CE, (TUV) ISO 13485, Utility Model Patent Certificate; as well as the right of import and export certificate.
Similar Products