Introduction
What is Diode Laser Machine?
During the laser hair removal treatment, light passes through the skin and is absorbed by the melanin in the hair shaft. This absorption raises the temperature of hair follicles and thermally destroys cells responsible for regrowth
Working Theory of Diode Laser Hair Removal?
The latest in laser hair removal (laser hair removal) is here, its international success is causing a stir because it is the fastest equipment on the market (diode laser) by Pulsing in motion ™ technology that practically sweeps the areas to be treated without leaving hollows, in addition to having the highest effectiveness of permanent hair removal equipment that allows virtually all types of hair to be removed, coupled with unprecedented safety. This results in sessions in a few minutes, less sessions per treatment and all this with unmatched comfort and safety.
Functions of Portable Diode Hair Removal Machine
1.Compared with other forms of hair removal, painless and effective, it does not harm the skin.

2.The 5 adjustable modes, suitable for all skin types, help eliminate unwanted hair from different parts of your body.

3.Durable effect, prevents hair regrowth, keeps your skin soft and anti-aging.

4.For home use, it can be applied to both men and women.
Advantages of Portable Diode Hair Removal Machine
1.Scientific Structure, provides constant temperature environment to the bars, prolong handle's lifespan

2.German imported laser bars 20million shots lifespan

3.Easy operation interface

4.USA imported radiator, improving the efficiency 2 times than normal system

4.FASTER, sessions of only 30 minutes (typical full body)

5.MORE EFFICIENT, up to 40% fewer sessions to achieve total hair eradication (compared to traditional lasers)
Benefits of Portable Diode Hair Removal Machine
1.Effective.Maximum efficiency to achieve freezing and painless hair removal treatment

2.Warranty.German-made laser module, 20 million shots lifespan

3.Pain-free.The tip of handpiece cools down to 0-3℃,makes treatment comfortable

4.Profit.Can work non-stop 24 hours every day, maximizes earning for clinics, saloons

5.NO PAIN.faster and more comfortable sessions (for its advanced cooling system and shorter session times)
Technical Parameters of Portable Diode Hair Removal Machine
| | |
| --- | --- |
| Laser type | Diode Laser |
| Laser wavelength | 1064nm/808nm/755nm |
| Display | 10 color touch LCD screen |
| Output power | 600W |
| Spot size | 12*16mm |
| Pulse width | 8-685ms adjustable |
| Energy | 2-120J/cm2 adjustable |
| Frequency | 1-10Hz |
| Cooling | Water + air + semiconductor |
| Temperature of probe | 0~ -5degree |
| Dimensions | 65x75x62cm |
| Weight | 34kg |
| Gross weight | 50kg |
| Voltage | AC 110V / 60HZ; AC 220V / 50Hz |
| Packing | Aluminum alloy case |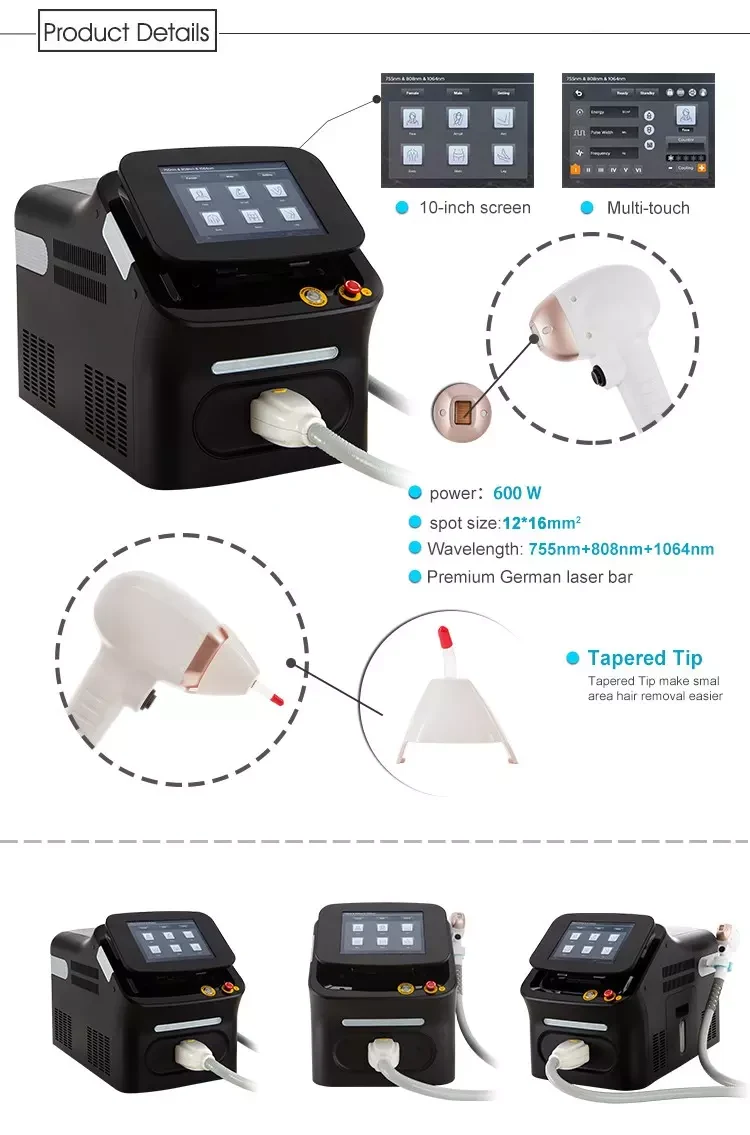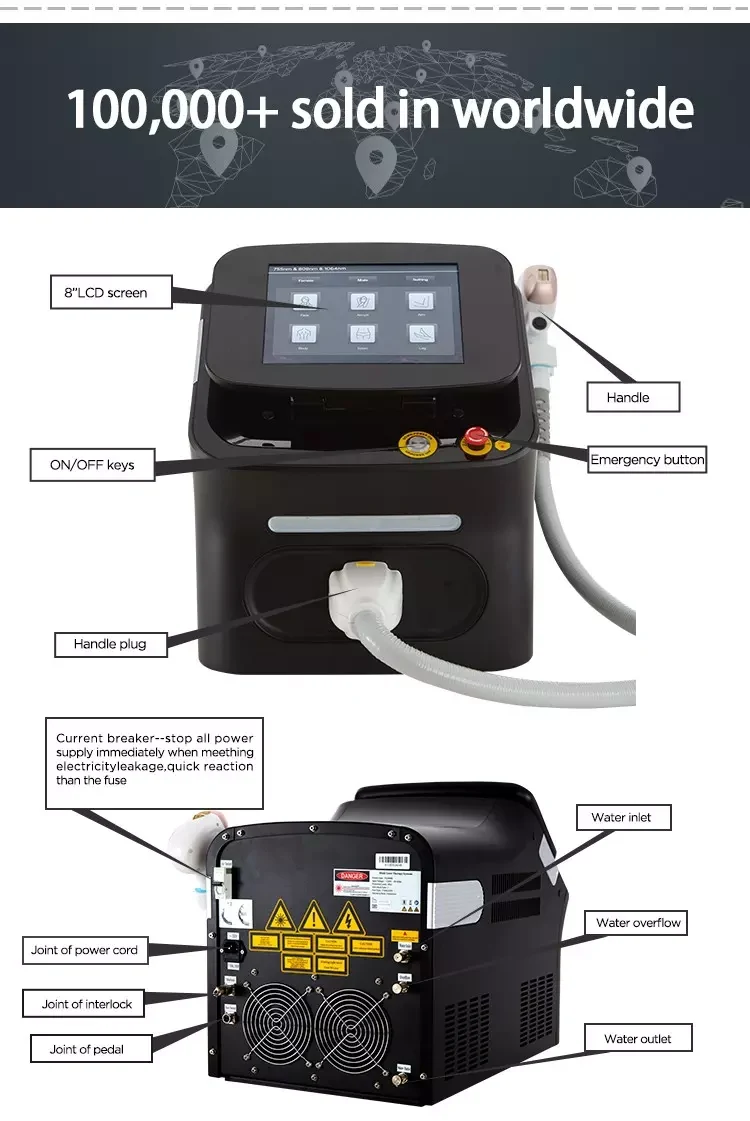 Product Videos
Before & After the Treatments
Treatment Operation Video
Portable Diode Laser Hair Removal Machine Price
Standard Price

Manufacturer Price: Negotiable/ (Free Shipping)

Custom Price

Custom Price: Negotiable / (Free Shipping)