Introduction
EM Time——ADSS groundbreaking innovative device that simultaneously lifts the facial skin and muscles without invasive treatments, brings a rejuvenating facial solution, an entirely new aesthetic procedure that contours the face, reduces wrinkles, improves skin laxity, and delivers natural lift results.
EM Time treats all 3 key elements of aging: structure, contour, and texture. It produces the lifting effect on the face without surgery or injections, by activating the triple elements-muscles, skin, and structure.
Have you heard of the technology addressing facial skin and muscle simultaneously in a single treatment? ——Now EM Time makes it possible for Non-Surgical Facial Lifting and Muscle Tightening in One!
As we age, the visible effects of muscle tone loss become more apparent, leading to sagging and wrinkles. Studies reveal that, on average, we lose 3% to 8% of our muscle mass after the age of 30. Furthermore, habitual muscle use can deepen wrinkles, leaving noticeable lines that appear on our faces.
EM Time offers a natural solution to reverse the signs of aging at a time by simultaneously targeting both facial muscles and layers without the need for invasive surgery or extended recovery times.
1. 2-in-1 Cutting-edge Technology: EM Time combines hands-free patches to gently tighten and lift facial muscles, revealing a naturally defined contour. Simultaneously, it rejuvenates the skin by stimulating the production of collagen and elastin fibers.
2. Effortless Transformation: Say goodbye to the inconvenience of surgery and weeks of recovery. EM Time delivers a more defined jawline, firmer cheeks, and an overall radiant complexion, all without needles or downtime.
3. Precision and Personalization: EM Time adapts to your unique needs. With customizable settings and personalized treatments, we provide a truly individualized facial contouring experience.
4. A Combination of Multiple Benefits: As the latest non-invasive alternative to injection, In addition to skin tightening and wrinkle reduction, it enhances facial muscle tone and elevates the support of facial tissues, delivering natural and rejuvenated results fundamentally.
Join us in celebrating the launch of EM Time and experience a transformation that exceeds your expectations!
Contact us to learn more about EM Time technology or take advantage of our limited-time discount. Our dedicated team is ready to assist you.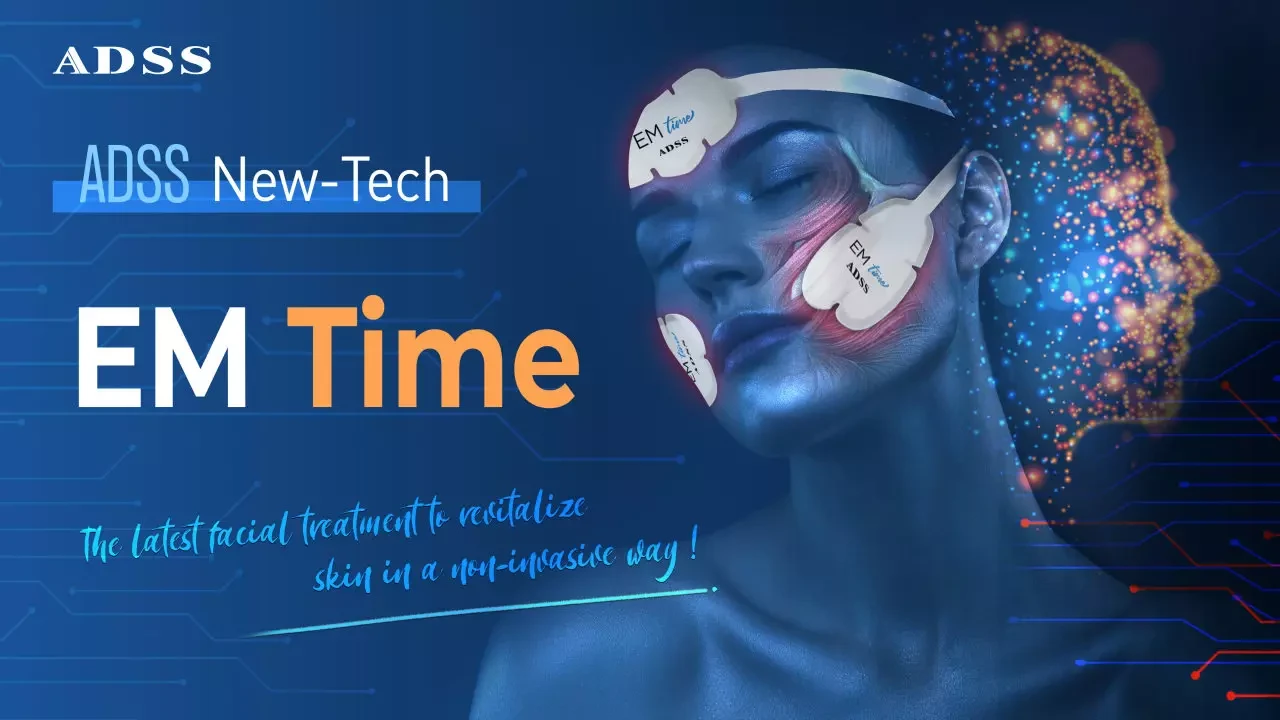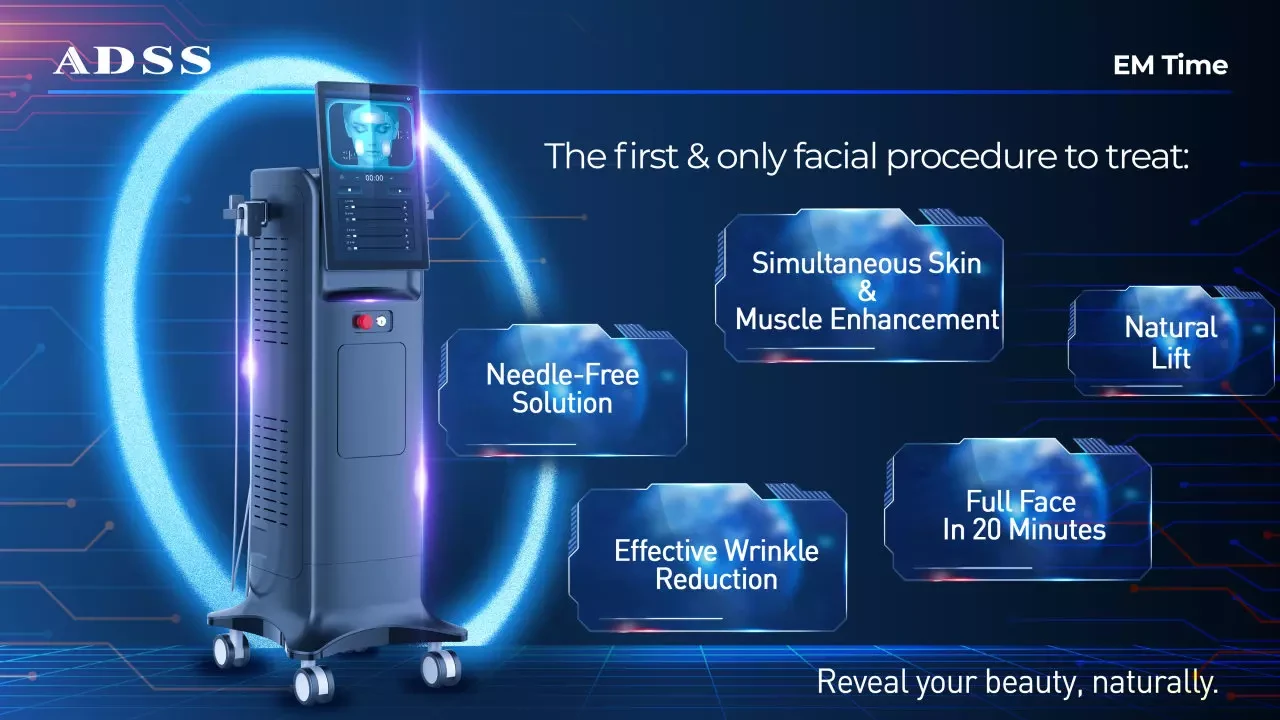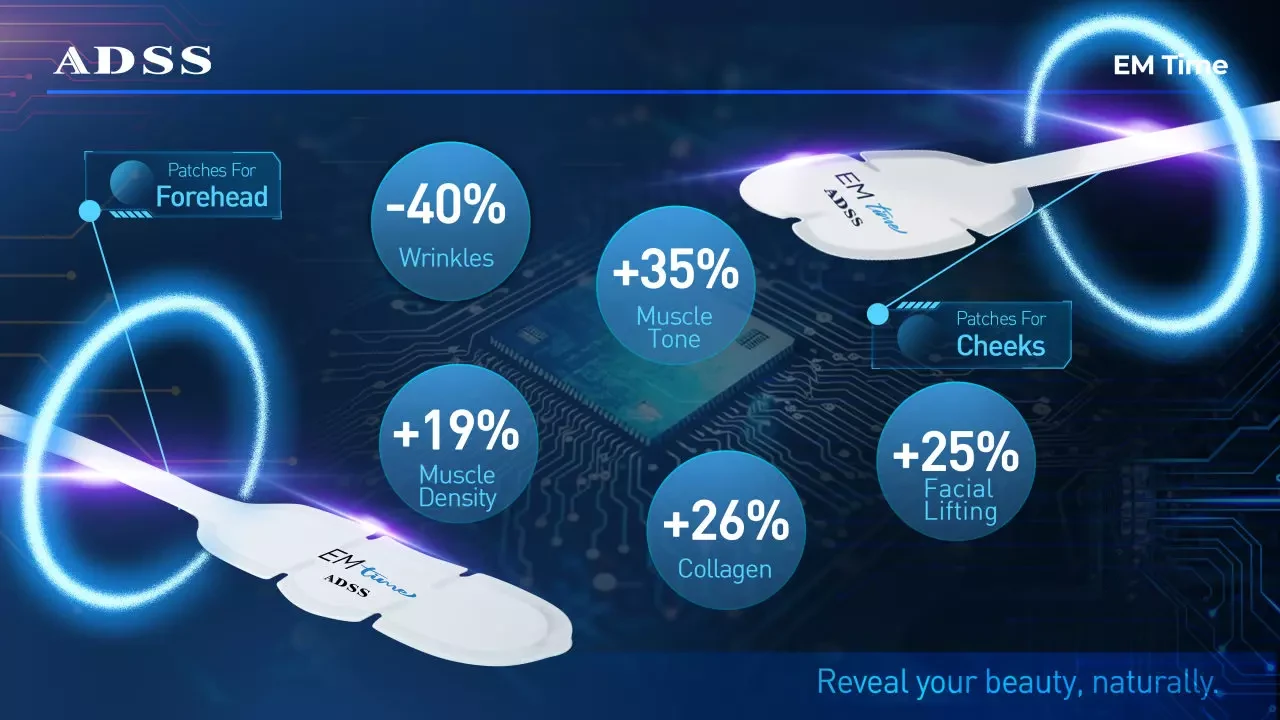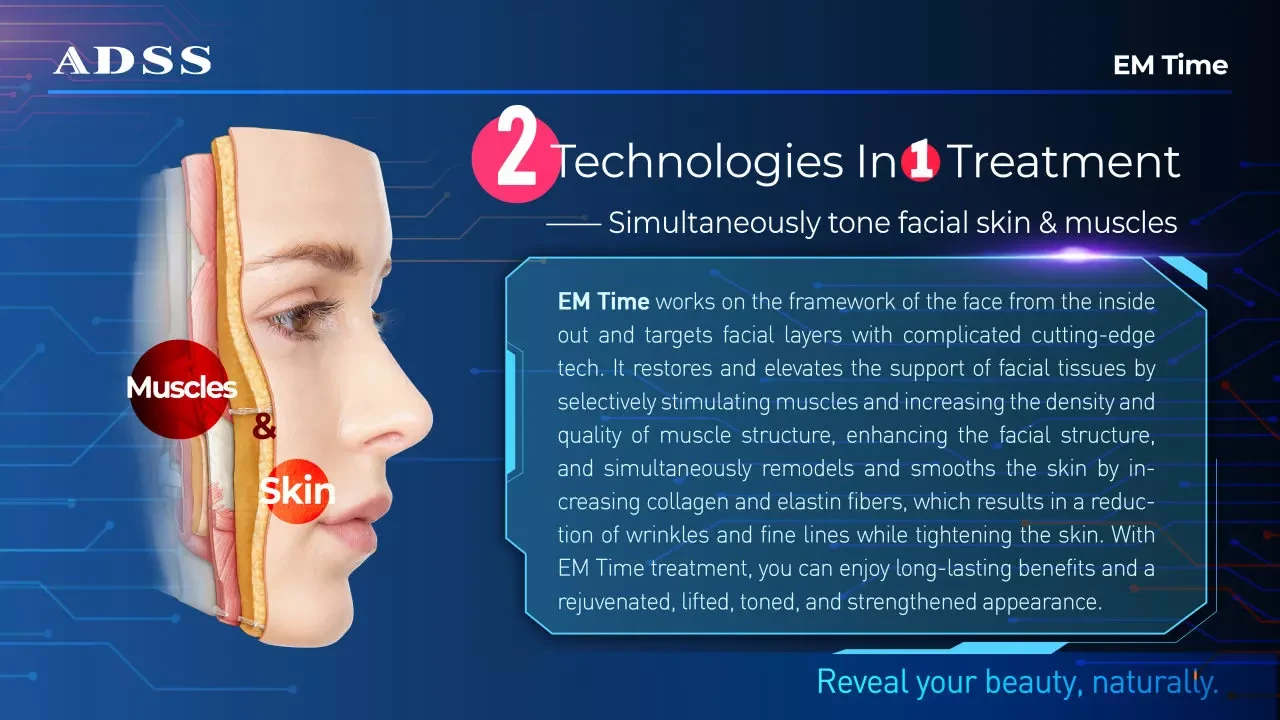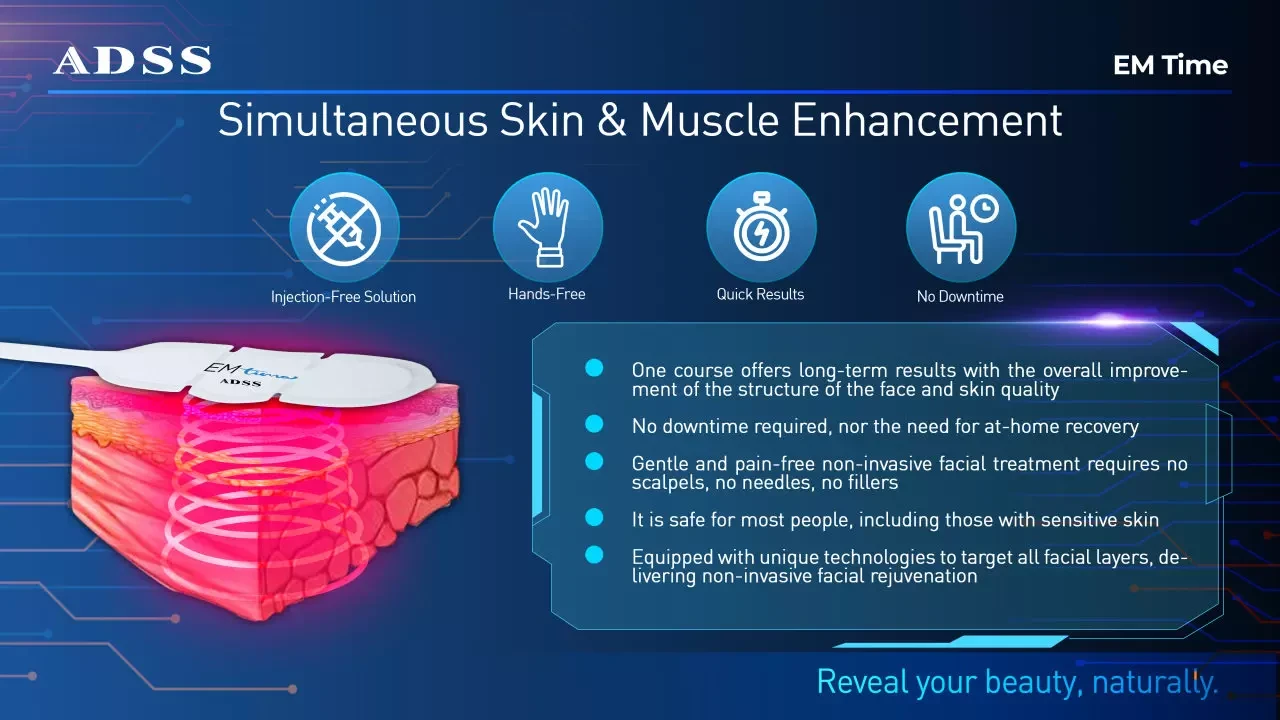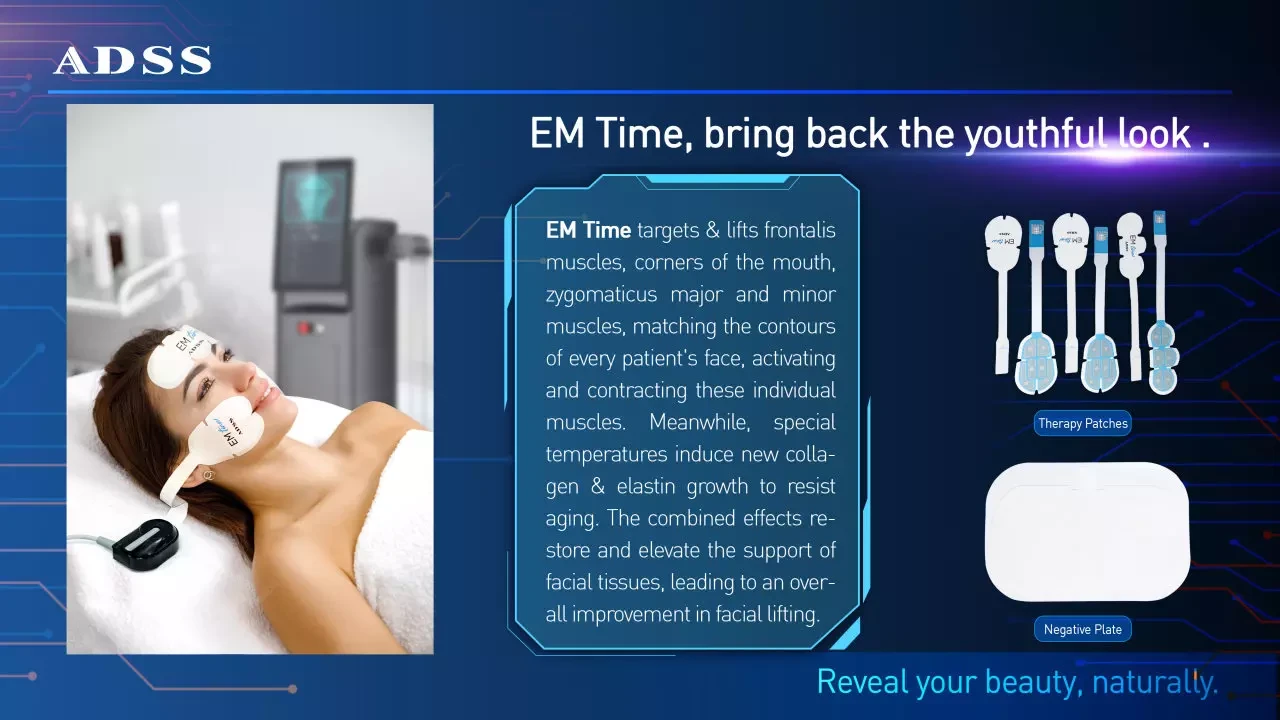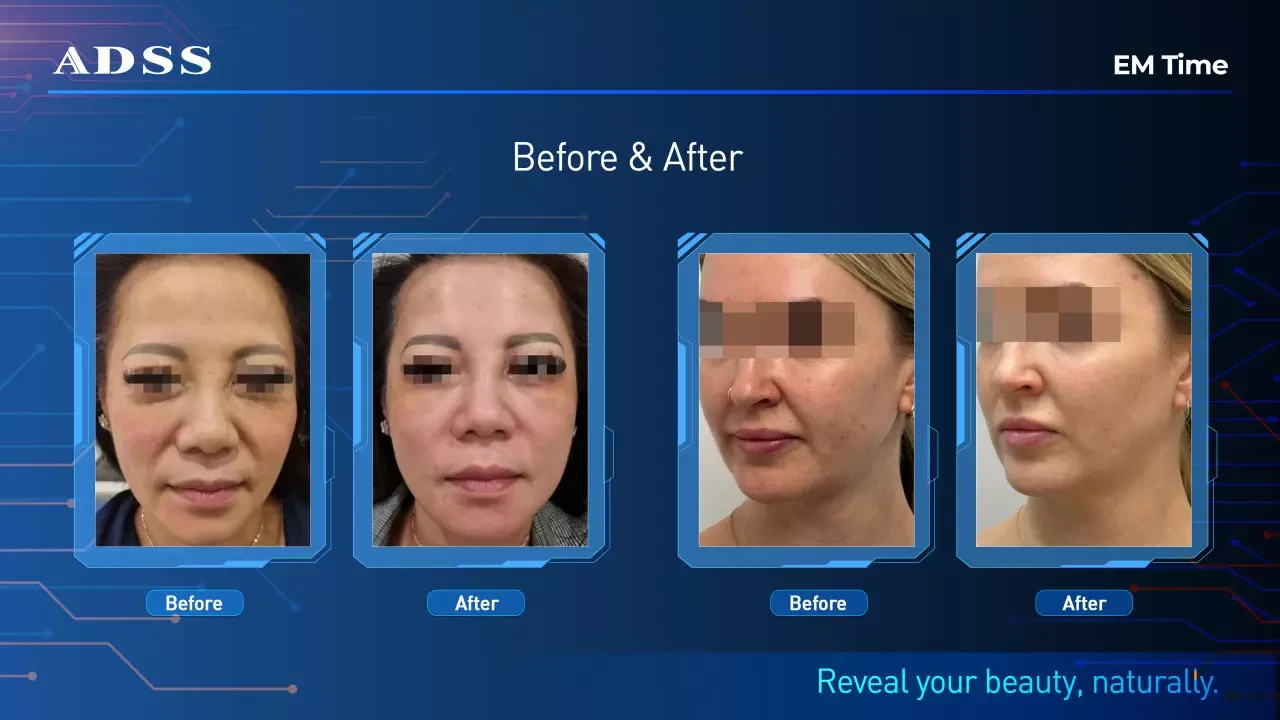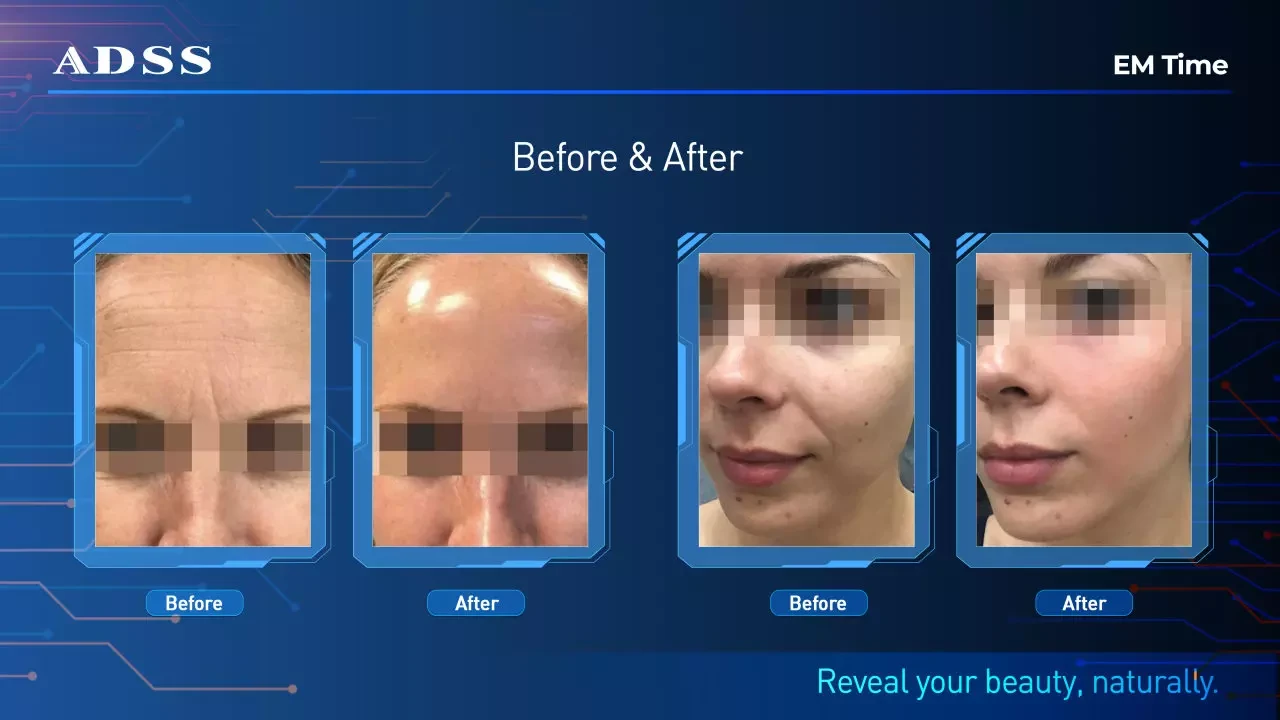 Product Videos
Before & After the Treatments
Treatment Operation Video
EM Time Price
Standard Price
Free Shipping For A Limited Time
Add any language into the machine system
Print your company logo on the machine
Customize the machine's color and appearance
Customize marketing services including posters, brochures, videos, and pictures
Design a machine shell that is customized to your branding needs
Create new user interfaces for the ease of your clients
Support sufficient customer resources in your sales market
Support accessories customization including handpiece, screen, handle, etc
Buy Now
Pro Price
Free Shipping
Add any language into the machine system
Print your company logo on the machine
Customize the machine's color and appearance
Customize marketing services including posters, brochures, videos, and pictures
Design a machine shell that is customized to your branding needs
Create new user interfaces for the ease of your clients
Support sufficient customer resources in your sales market
Support accessories customization including handpiece, screen, handle, etc
Buy Now
OEM/ODM Price
Free Shipping
Add any language into the machine system
Print your company logo on the machine
Customize the machine's color and appearance
Customize marketing services including posters, brochures, videos, and pictures
Design a machine shell that is customized to your branding needs
Create new user interfaces for the ease of your clients
Support sufficient customer resources in your sales market
Support accessories customization including handpiece, screen, handle, etc
Get Custom Made Price