Introduction
What is Diode Laser?
A laser diode is an optoelectronic device, which converts electrical energy into light energy to produce high-intensity coherent light. In a laser diode, the p-n junction of the semiconductor diode acts as the laser medium or active medium.
Working Theory of Diode Laser
During a laser hair removal treatment, light passes through the skin and is absorbed by the melanin in the hair shaft. This absorption raises the temperature of the hair follicle and thermally destroys the cells responsible for regrowth.
Functions of Medical Portable 808nm Laser Hair Removal Machine
Safe permanent hair removal on all skin types; no pain, very comfortable during the treatment ;
Suitable for any unwanted hairs on areas like face, arms, armpits, chest, back, bikini, legs...
it also have the skin renewing and skin tightening at the same time.
Advantages of Medical Portable 808nm Laser Hair Removal Machine
1.deluxe and smart body design

2.90% spare parts of handpiece are origin imported from Germany, USA and Japan, assure machine stable performance, amazing results and long time working.

3.perfect cooling system--- the sapphire temperature cools down 0~3°C, clients feel comfortable and painless during the whole treatment.

4.simple and friendly treatment menu, and auto alarm protection system of water flow, water level and water temperature on menu, avoid any risk at the first time

5.1:1 energy test with USA Coherent energy meter
Benefits of Medical Portable 808nm Laser Hair Removal Machine
808nm diode laser enables the light to penetrate deeper into skin and is safer than other lasers because it can avoid the melanin pigment in the skin's epidermis. We can use it forpermanent hair reduction of all color hairs on all 6 skin types, including tanned skin.
808nm diode laser allows fast repetition rates up to 10Hz(10 pulses-per-second), with in-motion treatment, fast hair removal for big area treatment
Probe built in with excellent contact cooling technology, PAIN-FREE hair removal
Technical Parameters of Medical Portable 808nm Laser Hair Removal Machine
| | |
| --- | --- |
| Laser type | Diode Laser |
| Laser wavelength | 1064nm/808nm/755nm |
| Display | 10 color touch LCD screen |
| Output power | 600W |
| Spot size | 12*16mm |
| Pulse width | 8-685ms adjustable |
| Energy | 2-120J/cm2 adjustable |
| Frequency | 1-10Hz |
| Cooling | Water + air + semiconductor |
| Temperature of probe | 0~ -5degree |
| Dimensions | 65x75x62cm |
| Weight | 34kg |
| Gross weight | 50kg |
| Voltage | AC 110V / 60HZ; AC 220V / 50Hz |
| Packing | Aluminum alloy case |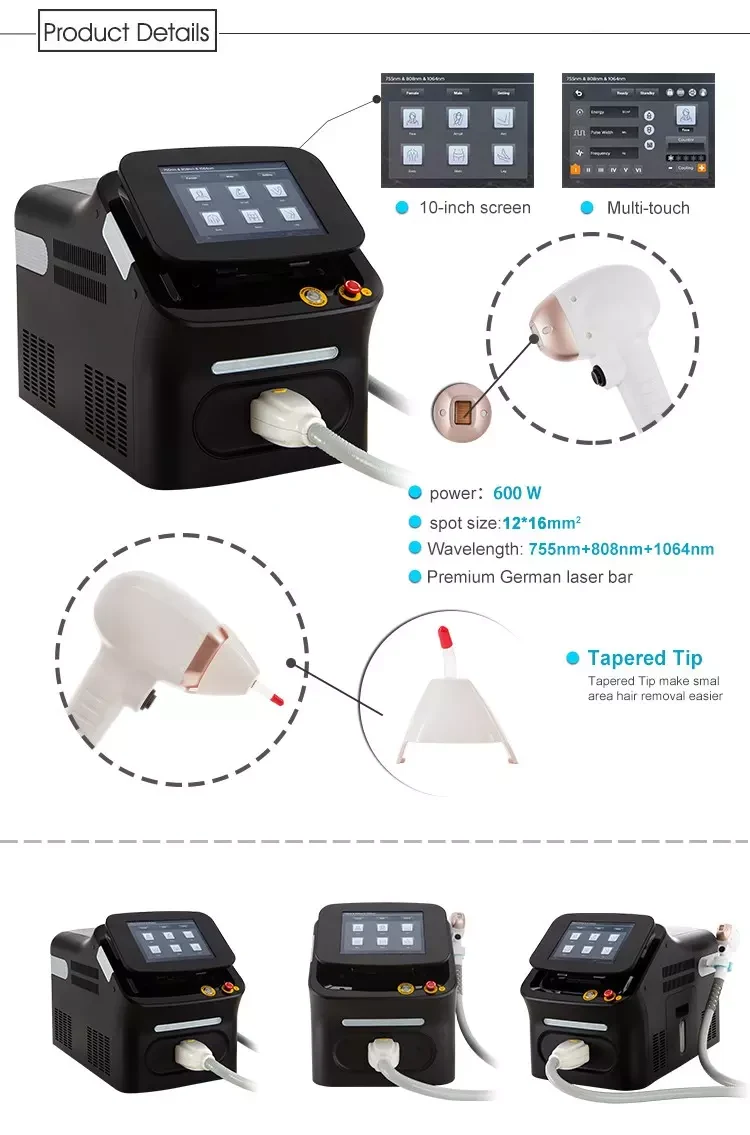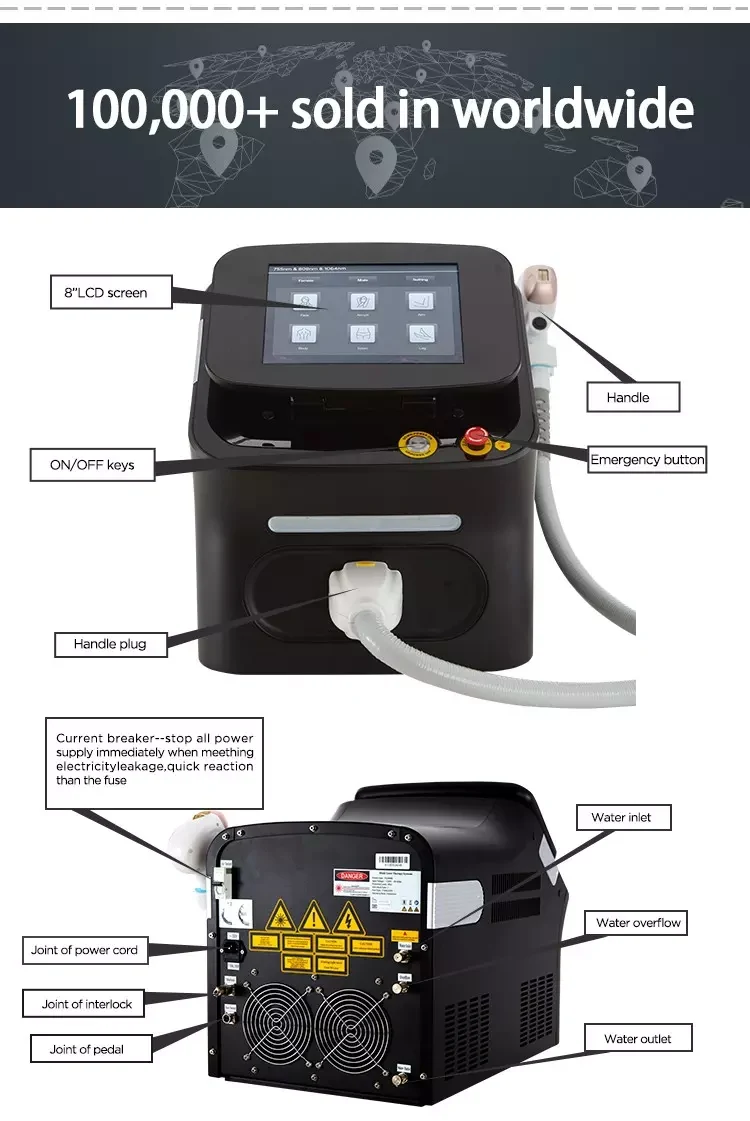 Product Videos
Before & After the Treatments
Treatment Operation Video
Medical Portable 808nm Laser Hair Removal Machine Price
Standard Price

Manufacturer Price: Negotiable/ (Free Shipping)

Custom Price

Custom Price: Negotiable / (Free Shipping)